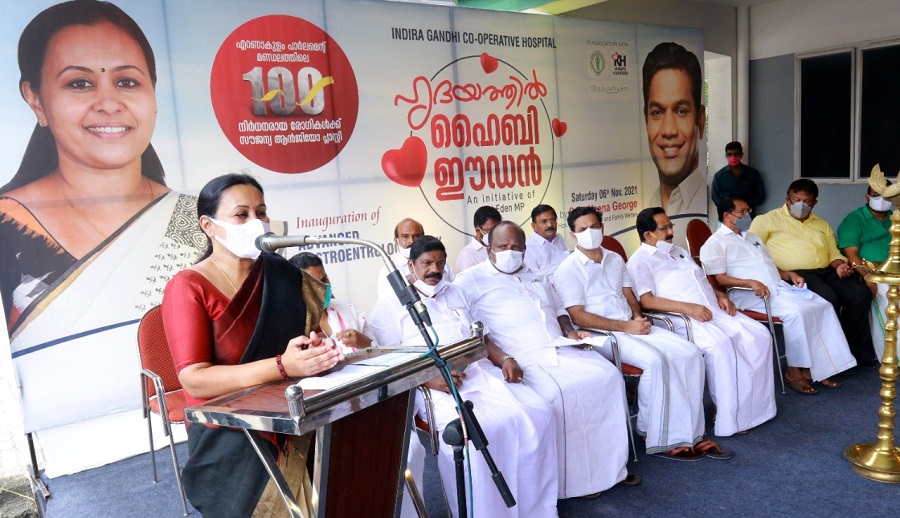 KOCHI:
A comprehensive plan will be prepared to provide health check-up cards at the panchayat level to every individual above 30 years of age for initial detection and treatment of lifestyle diseases like heart disease and abdomen diseases, minister for health Veena George has said.
She was inaugurating free angioplasty program named 'Hrudayathil Hibi Eden' being implemented for the needy heart patients in Ernakulam Parliamentary constituency by Hibi Eden M.P in collaboration with Karunya Hridayalaya and Soukhyam Charitable Society at Kadavanthra Indira Gandhi Co-operative Hospital here on Saturday. The refurbished Gastroenterology Unit at the hospital was also inaugurated by the minister. The Minister said that the state government will take the initiative to implement a health tourism scheme that will enable people from other states and countries to avail the best medical care in the state.
Hibi Eden MP said that a team of experts led by Interventional Cardiologist Dr. Nigel Cletus would perform free angioplasty for 100 patients selected by the medical board headed by former DMO Dr. MI Junaid Rahman and 60 free pacemakers would be fitted in collaboration with the Rotary Club.
Under the leadership of Karunya Hridayalaya's project the Indira Gandhi Hospital, which has become the cheapest cardiology center in the district, is currently offering free cardiology up to Rs 5 lakh to those eligible for the government's Karunya Health Care Scheme (CASP) and AYUSHMAN programs, hospital secretary Ajay Tharayil said. Hospital President MO John, TJ Vinod MLA, Dr. MI Junaid Rahman, Ranjit Warrier, JB Mether, CPR Babu, Iqbal Valiyaveettil, Augustus Cyril, P VV Ashraf, and Dr. S. Sachchidananda Kammath spoke on the occasion.