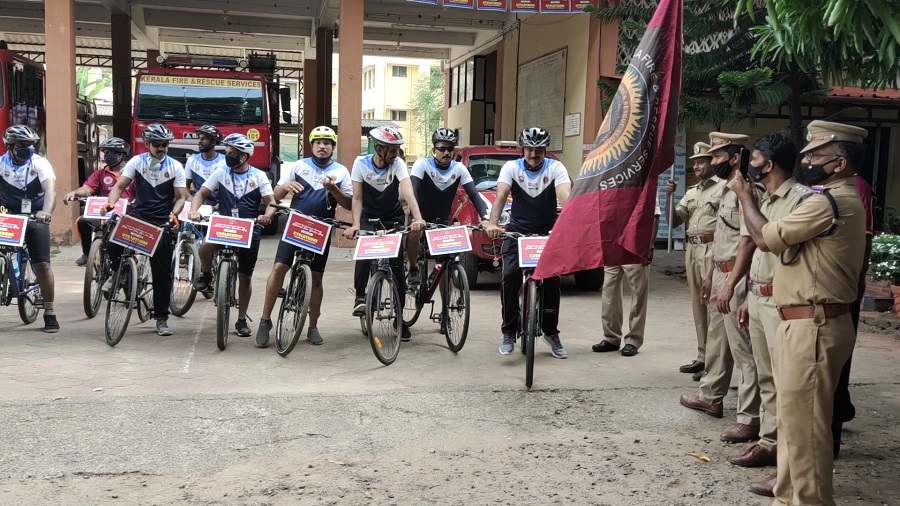 KOZHIKODE:
As part of an awareness campaign initiative for 'Agni suraksha', Kerala State Fire and Rescue Department and Kerala State Civil Defense Service started a cyclathon on 14th April 2021.
Two teams comprising of Fire and Rescue as well as Civil Defense Service members will commence their cycling journey from Chacka Fire station in Trivandrum and Meenchanda Fire station in Kozhikode respectively and will meet at Gandhinagar Fire station in Ernakulam. Throughout their journey they will be spreading awareness for the Agni suraksha campaign. Both teams will cover a distance of over 200km over a span of 3 days before finally meeting at their destination.
In 1944 a tragic event was witnessed in mumbai aboard the ship SS Fort Stikine which caught fire and during the fire and rescue team's effort to subdue the fire there was an explosion which cost many firefighters their lives. This campaign on April 14th aims to honor the memory of those Fire and rescue members who died in the line of duty and is being taken as a day to honor and commemorate the selfless acts of Firefighters and Defense service members in our state and country.