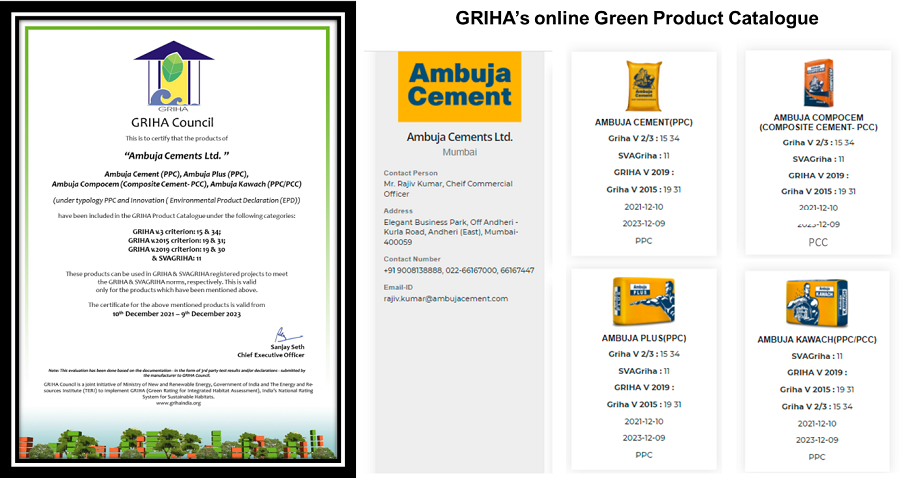 MUMBAI:
Ambuja Cements Ltd., a member of Holcim, and one of the leading innovative and sustainable companies in India, has been recently listed in GRIHA's green product catalogue for its blended cement.
Green Rating for Integrated Habitat Assessment (GRIHA) is a National Green rating system of India conceived by The Energy & Resources Institute (TERI) and developed jointly with the Ministry of New and Renewable Energy, Government of India.
GRIHA Council has developed the GRIHA Product Catalogue. This online catalogue provides all necessary information on Green Building Products available in the country to the Green Building Designers, Architects, Engineers and clients which can be used to make GRIHA compliant green buildings.
Ambuja's products have been evaluated based on the various 3rd party test results, benchmarks and environmental certifications etc. This evaluation was successfully completed by GRIHA Council for all of Ambuja's blended cements manufactured from all of their plants & GU's across the country.
Neeraj Akhoury, CEO India Holcim and MD & CEO of Ambuja Cements Ltd. said, "At Ambuja Cement Ltd., sustainability is the core of our business and we will continue to innovate and develop products & solutions along with sustainable construction practices in the future. This recognition bestowed upon us by GRIHA will further strengthen our commitment to build sustainable solutions for communities and contribute towards circular economies of the future.
Ambuja's blended cements portfolio consists of Ambuja Plus, Ambuja Kawach, Ambuja Compocem and Ambuja Cement (PPC). These products are aligned with Ambuja Cement's sustainability goals and objective of inspiring & exploring innovative ways in promoting sustainable construction.
Ambuja Cements inclusion in GRIHA's catalogue has accelerated Company's commitment towards achieving Net Zero by 2030.