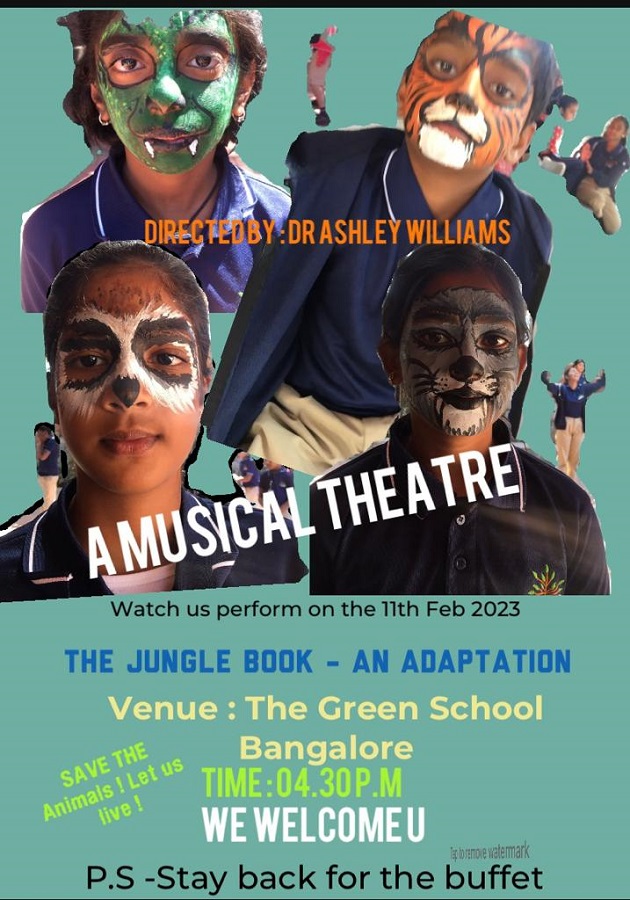 BENGALURU:
Living up to is name of being a green school, the students of The Green School Bangalore (TGSB) in Whitefield will be putting up a unique green themed theatrical performance called The Jungle Book- An Adaptation in the school campus on Saturday Feb 11.
The performance is based on the classic story of the all-time favourite Mowgli in the jungle which promises to be an enthralling one for people of all age groups.
Directed by the super talented showman and international celebrity artist Dr Ashley Williams, the theatrical performance will showcase the talent of the TGSB students in the field of dramatics.
"The entire evening promises to be one of high electric music, dance, and theatre. We have painstakingly made the sets, sound and stage to suit the theme and do hope that everyone will come with their family to enjoy the show," says Usha Iyer, Founder & Director, The Green School Bangalore ( TGSB).
Talking about his experience in directing the play, Dr Ashley Williams says, "I enjoyed working with the enthusiastic students of TGSB. I believe that it is one of the best new schools in terms of talent of both the students and teachers. The founder director is a visionary as she believes that this event is a great way to promote inclusivity among students and serves as a valuable learning experience."
The event is open to public. Those who wish to see the spectacular event can call 97405 76165 or log in to https://facebook.com/events/s/annual-musical-theatre/509752157934242/ to book their tickets.