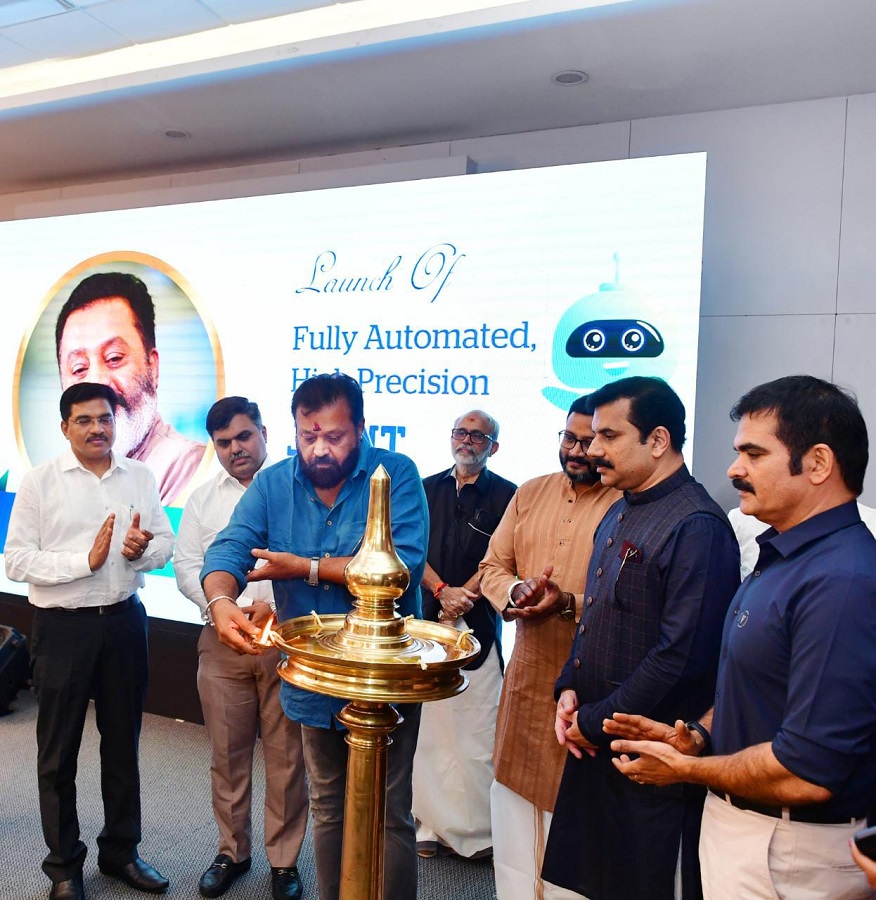 KOCHI:
Celebrating the successful completion of the 2500 knee replacement surgeries at Aster Medcity, the leading healthcare brand launched the fully automated, high precision, joint replacement robot for knee replacement surgeries. Suresh Gopi, Ex-MP and popular Malayalam Film actor launched the new equipment inculcating upgraded features.
"We all know Aster Medcity is a well-acclaimed health enterprise in Kerala. Their sheer dedication to provide the most advanced and quality services to common people is commendable. Knowing patients who came with unavoidable pain are walking steadily, happily and most comfortably after surgery overwhelms me. Aster Medcity improves the lives of thousands of people." said Suresh Gopi launching the equipment. "I am very happy to inaugurate this advanced joint replacement machine that allows surgeons to perform complex procedures with more precision, flexibility and control than the conventional techniques." He added.
Knee Replacement Surgery is a surgical procedure conducted to relieve pain by replacing the affected surfaces of the joint. It is most often recommended when conventional methods do not help to diminish the pain. Knee replacement surgery involves removing the damaged part of the knee joint and replacing it with artificial surfaces that form the new surfaces of the joint. The surgeon uses a robotic arm to cut the bone and insert the knee components using the virtual model as a guide.
"When all other conservative methods, such as anti-inflammatory medicines, cartilage-protecting medicines, injections and physical therapy have proven futile, the surgical procedure of knee replacement is the last resort. The use of robot in knee replacement surgery is a revolutionary move as it ensures 100 percent accuracy in alignment and balancing to provide the patient with the most favourable possible surgical outcome," says Dr. Vijaya Mohan, Senior Consultant – Orthopaedic Surgery Aster Medcity.
Using robotic surgery, surgeons can plan personalized surgeries using 3D images. The risk of infection is also reduced since fewer instruments are used than in conventional surgery. As a leader in healthcare, Aster Hospitals is assisted with the most advanced minimal access robotic facilities for knee replacement surgery which makes an individual's life easier through early rehabilitation and quicker recovery. An implant placed more accurate results in a more natural feeling after surgery, which translates into better long-term results.
"Our multispecialty hospital is renowned for its excellent medical expertise, nursing care and quality diagnostic services. With highly experienced surgeons trained in robotic surgery, we are equipped to deliver superior treatment solutions for patients at an affordable cost", said Farhaan Yasin, Regional Director, Kerala and Tamilnadu, Aster DM Healthcare.
Farhan Yasin, Regional Director, Kerala & Tamil Nadu, Aster DM Healthcare, Dr. T R John -Senior Consultant – Psychiatry, Director of Medical Affairs, Aster Medcity, Dr. Vijay Mohan S-Senior Consultant – Orthopaedic Surgery, Aster Medcity, Jayesh V Nair – Head of Operations – Aster Medcity attended the event held in the Knowledge hub at Aster Medcity.