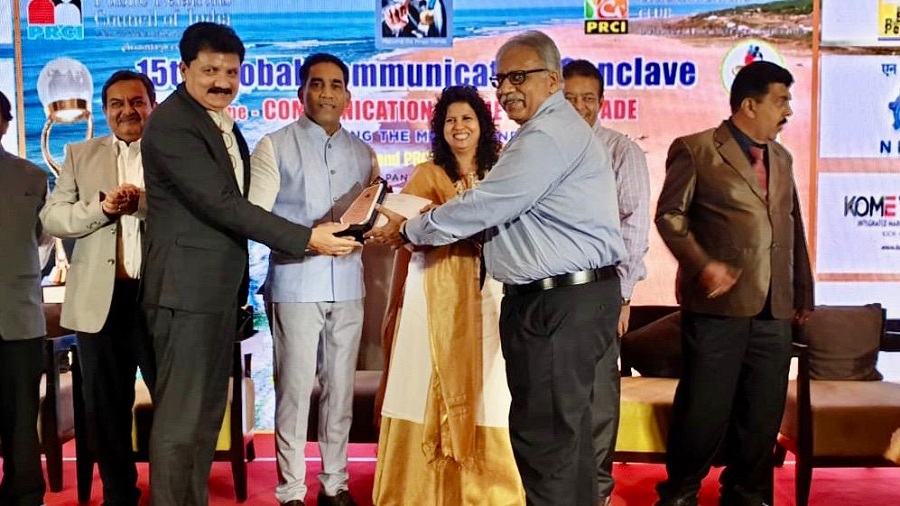 MUMBAI:
Bharat Petroleum Corporation Limited (BPCL), a 'Maharatna' and a Fortune Global 500 Company bagged a total of 15 awards at the Global Communication Conclave hosted by Public Relations Council of India (PRCI) in Goa on 18th September 2021. Govind Gaude, Minister of Art & Culture, Goa presented the awards at an event held to felicitate the awardees.
Abbas Akhtar, Chief General Manager (PR & Brand), BPCL and Anil Ahluwalia, General Manager (ESE), BPCL received the awards representing the Company.
The Company received 1 'Diamond', 2 'Gold', 5 'Silver', 4 'Bronze' and 1 each in 'Consolation', and 'Jury Special'.
Company was also conferred 'Champion of Champions' Second Runners-up award, for their multifaceted contribution to the branding and communication activities in last one year.
Following were the awards that Company received:
• Diamond in 'Covid Management in Public Sector'
• Gold in 'Corporate & Business Communication Campaign' and 'Internal Communication Campaign (ESE)
• Silver in 'Best Use of Media Relations', 'Best Use of Content', 'Best Corporate Event', 'Best Music Video' and 'Marketing Strategies during Covid (LPG)'
• Bronze in 'House Journal Print (Regional)', 'Digital Newsletter (ESE), Annual Report' and 'Corporate Film'
• Consolation in 'Best in Communication – COVID19'
• Jury Special Award for Presentation Excellence
Commenting on the Awards, Abbas Akhtar, CGM (PR & Brand) said, "We are pleased to be recognised by PRCI for our efforts in communicating effectively during such critical times. Through our communication, we have consistently position our company living up to its core purpose, 'Energising Lives'to the nation".
Earlier in the day, speaking at a panel discussion on 'Corporate Response to Covid-19', Abbas Akhtar, spoke how the staff and channel partners of Bharat Petroleum went beyond their line of duty to not only meeting the demand of petroleum products, especially during the lockdown, but serving the society, needy and stranded citizens.