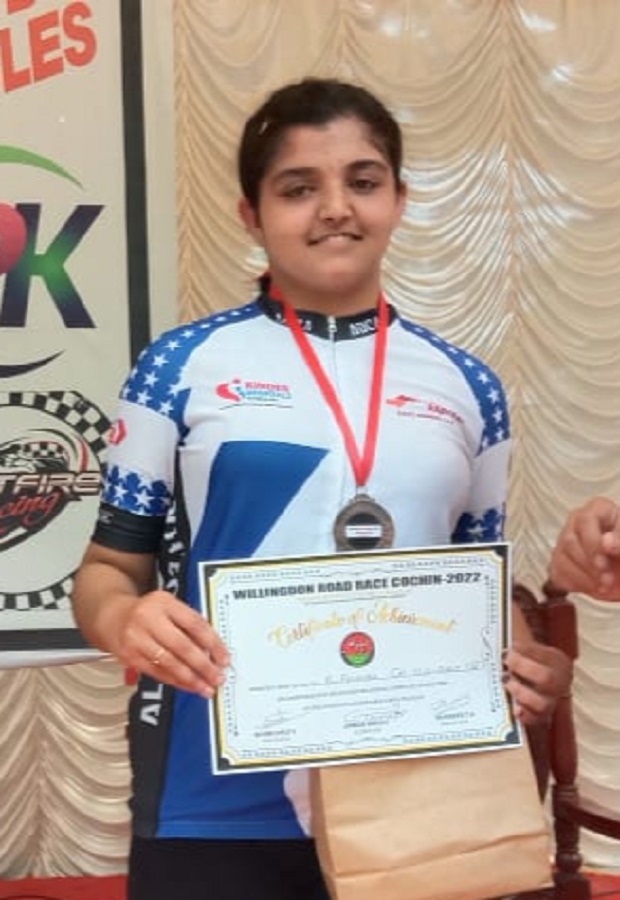 KOCHI:
BYJU'S 16-year-old student Pavithra R, from Kerala, has made her state and India proud by creating a mark in ISKU World Karate and State Level Road Cycling Championships. She is a perfect example of sheer determination, perseverance, and strength to achieve spectacular feats while managing both her education and sports journey.
BYJU'S believes that sports provide an unstructured environment that helps in developing and honing real-life skills like performance under pressure, controlled aggression, leadership skills, etc. While participating in various national and international sporting events, Pavithra has been able to seamlessly achieve her academic goals with the help of BYJU'S learning content and pedagogy. She has represented India since 2018 at the USKU E-Kata Championship in Japan and Kerala. Additionally, she has participated in the Willingdon Road Race Championship since 2019 and secured 6th place in the 2021 competition.
Pavithra's interest in Karate began when she was in class 5, and she started cycling professionally from class 8th onwards. Ever since then, she has participated in these competitions every year. She started studying with BYJU'S in 2020 and has been able to strengthen her problem solving, experimentation, and critical thinking skills. While she is a class 10 student, Pavithra has been confidently managing both her studies and passion at the same time. She aims to win a gold medal in the upcoming Karate Competition and Road Race Championship.
Pavithra R, BYJU'S student, says, "I have always believed in maintaining a balance between studies and extracurricular activities. My parents have always encouraged me to follow my dreams, without hindering my learning journey. BYJU'S has empowered me to continue my passion without worrying about my studies. The learning sessions have been very informative and engaging. Even when I travelled for the competitions, I could just log in and learn on the go. I would recommend this to anyone who wants to keep learning and still fulfil their dreams to achieve more in their lives."
Vinay MR, Chief Content Officer, BYJU'S, said, "We at BYJU'S strongly believe that sports and education go hand in hand. We understand that every student has a different learning journey and our programs are designed in such a way that it suits every kind of learner. The app provides a personalised environment for students to continue their academic goals seamlessly while pursuing their passion. We are extremely glad to contribute to Pavithra's success and extend heartfelt congratulations for her achievements. Such testimonies of encouragement uplift our spirit and push us to provide innovative solutions. Our endeavour is to ensure that students love every minute of their learning experience and achieve their truest potential like Pavithra."