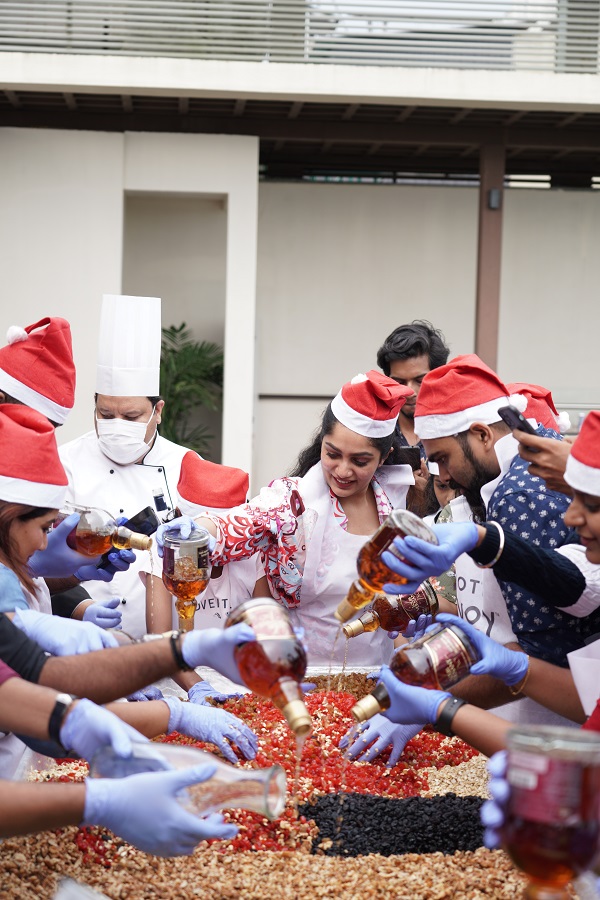 KOCHI:
Marking the onset of Christmas and October being considered as 'Eat Better, Eat Together' Month, Four Points by Sheraton, Kochi celebrated its annual Cake Mixing Ceremony with a cause yesterday. This year, the hotel will celebrate its Christmas by distributing cakes at Karunyalam Oldage Home, Kakkanad as part of Marriott Internationals' CSR initiative, 'Serve 360-Doing Good in Every Direction'.
In the traditional cake-mixing ceremony, dry fruits like cashew nuts, raisins, figs, almonds etc, along with candied orange peel and ginger were mixed with lots of spirits. The event was held at the infinity poolside on the 14th floor the hotel. The stunning ambience, beautiful surroundings and live band performance added to the festive charm. As Christmas is all about sharing happiness, along with the month of October being celebrated as Eat Better, Eat Together Month, this cake-mixing ceremony shows the importance of caring and gifting each other during this festive season.
The cake-mixing ceremony held for a cause was attended by invited guests, influencers and other celebrities. Influencer and Entertainer, Arya -Model and Actress. The event was followed by high tea for the attendees.
On the occasion Vikas Kumar, General Manager quoted 'This year we are mixing for a good cause, we would be sharing the joy of Christmas by distributing cakes at Karunalayam Old age home Kakkanad. We are doing this as a part of Marriott Internationals' Serve 360 – Doing Good in Every Direction &we commit to creating positive and sustainable impact wherever we do businesses."