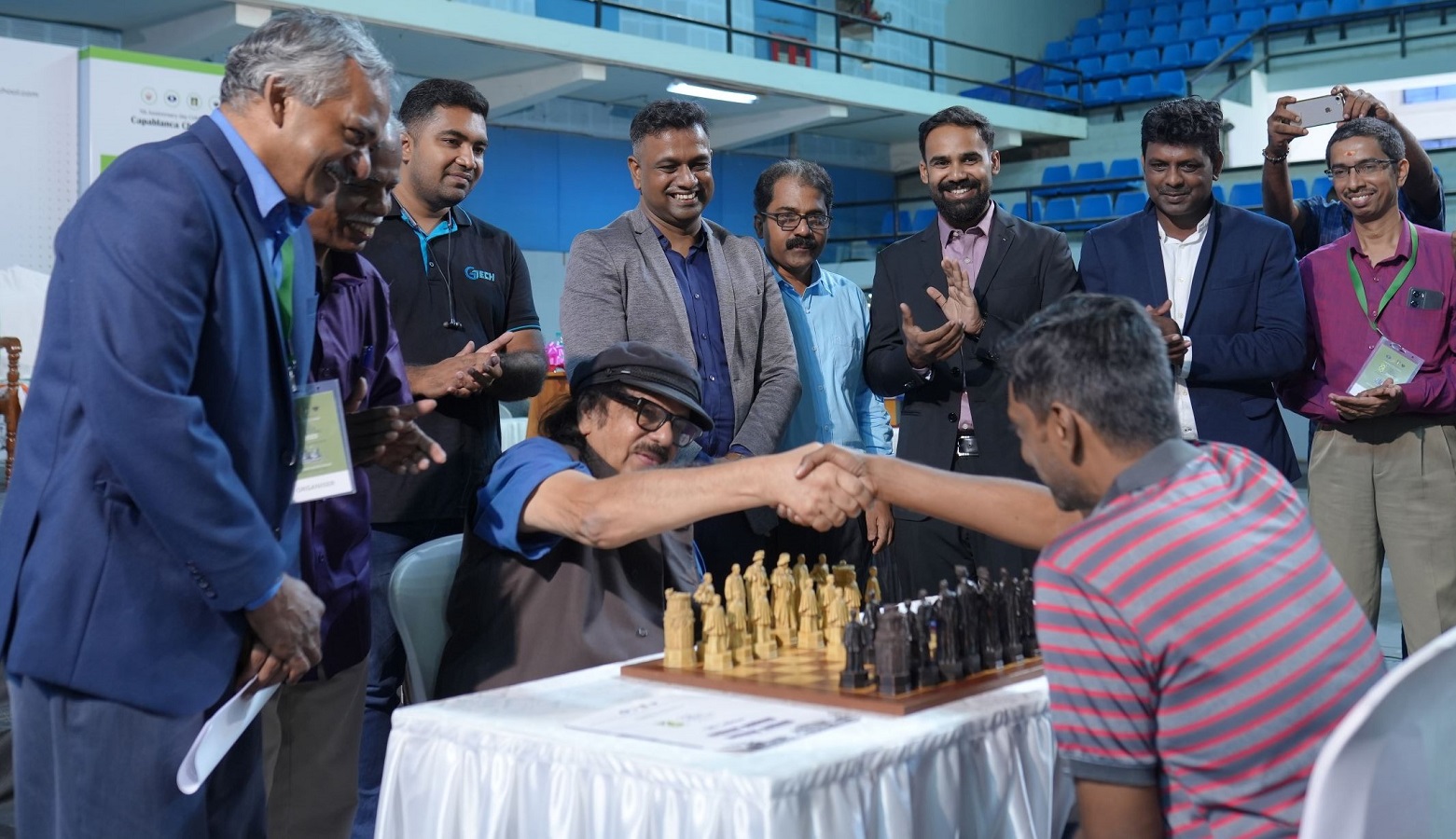 THIRUVANANTHAPURAM:
Capablanca Chess School, one of the leading chess academies in India, kicks off the Capablanca Chess School (CCS) Chess Festival 2023, which takes place from 30th March to April 6th at the Jimmy George Indoor Stadium in Thiruvananthapuram, Kerala. The tournament was inaugurated by Soorya Krishnamoorthy, Founding Director of Soorya Stage & Film Society, through a game of chess, played against Konguvel Ponnuswamy, top seed international master.
"Arts and sports are two very quintessential aspects of human life, defining our lives and making us proactive. Both of these are incorporated most beautifully in a friendly, healthy game, such as chess, and I would like to appreciate Capablanca Chess School for this initiative in promoting this", said Soorya Krishnamoorthy, Founding Director of Soorya Stage & Film Society, in his felicitation address.
The CCS Chess Festival is a week-long celebration of chess, bringing together the best players, coaches, and enthusiasts from around the globe. The tournament is being held in celebration of the school's 7th anniversary and promises to be an exciting and highly competitive FIDE-rated tournament with cash prizes worth 25 lakhs and awards for the top performers. Players from all over the country, from across 18 states, have poured in, making it a national event.
In addition to the exciting tournaments, the Capablanca Chess Foundation was also launched at the event by Dr. Martin Payyapilly, Chief Advisor – Hypnotherapist, Capablanca Chess School and Rajendran Achary, Secretary of Chess Association of Trivandrum & Joint Secretary of Chess Association Kerala. The foundation is a non-profit organization committed to providing fellowships and sponsorship for deserving chess players. Furthermore, the launch of 'Below – 1600', set to be conducted in May, was also held, with Vishnu Nair, CEO of Group of Technology Companies, presenting the event brochure to Sreekumar P, Principal of Capablanca Chess School.
"The Capablanca Chess Foundation was formed with a vision to promote research in the field of chess, and to advocate for chess as a social rehabilitation program, especially in juvenile homes in Kerala. Through sponsorships, aids and providing resources, we hope that the foundation plays a pivotal role in the lives of many, as a turning point in their journey", said Sachin K Salim, Director – Capablanca Chess Foundation.
The CCS Chess Festival 2023 features three tournaments: Classic, Rapid, and Blitz. The Classic tournament will be held from March 30th to April 3rd, the Rapid tournament from April 4th to April 5th , and the Blitz tournament on April 6th. The tournaments will be conducted according to the FIDE rules and regulations.
"We believe that chess is a valuable tool for education, personal development, and social rehabilitation, and we are committed to promoting the game and supporting talented players. As one of the most highly anticipated chess events of the year, we hope that the festival will provide a platform for players to compete, learn, and connect with others who share their passion for the game", said Vijin Babu S, Founder and CEO, Capablanca Chess School, Thiruvananthapuram
Capablanca Chess School is the first of its kind in India, offering a unique combination of chess education and cognitive enhancement modules and has a presence in over 14 countries and has trained more than 10k students. Since its inception in 2016, the school has conducted over 25 district and state-level events throughout Kerala. The organisation has positively impacted the chess community in Kerala by producing 42 district champions and 12 state champions through several official category competitions.