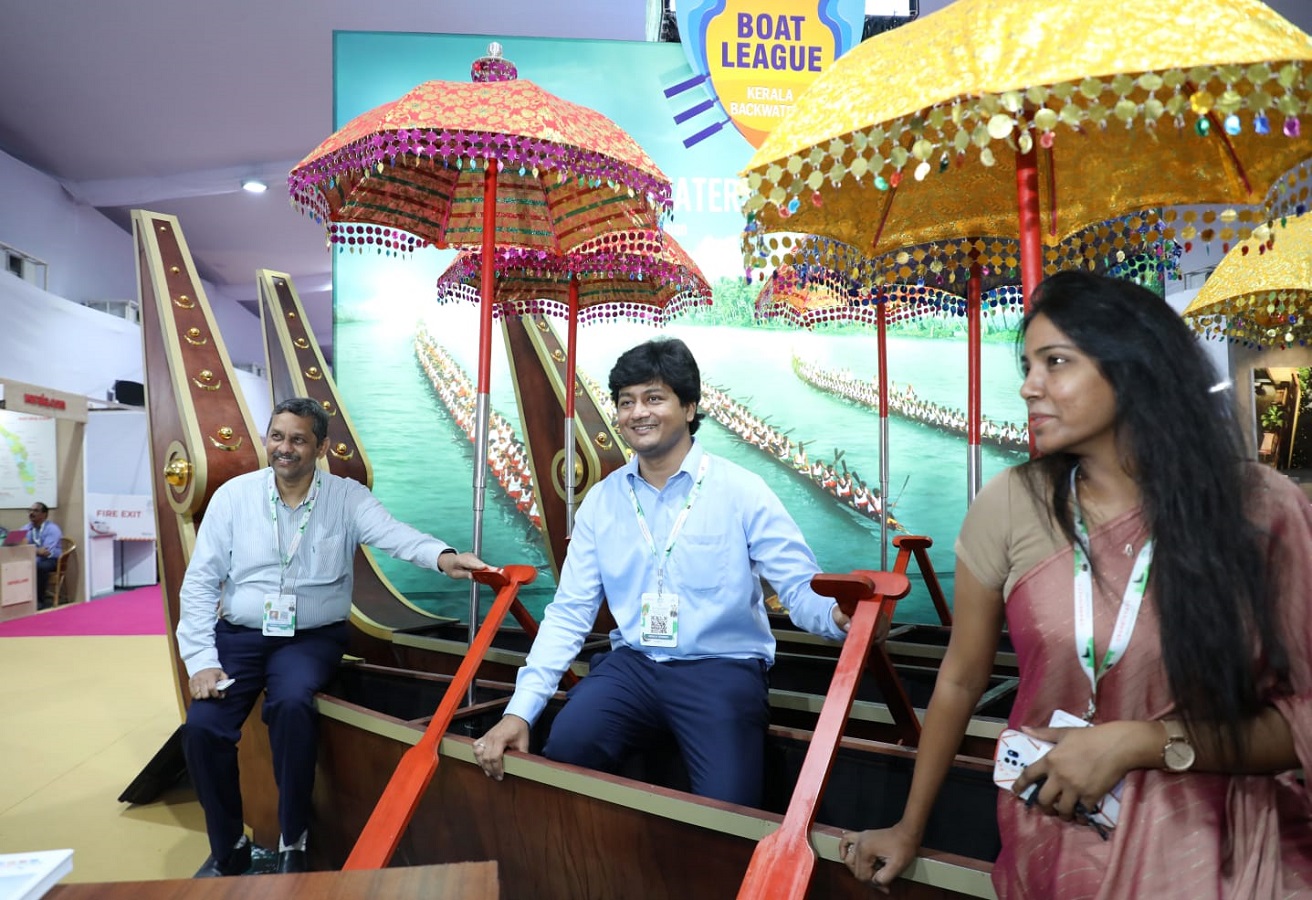 KOCHI:
Decked up with paddles and parasols, three model snake boats of 20 feet length are inviting visitor attention at the ongoing Kerala Travel Mart (KTM), billed as the country's biggest tourism buyer–seller event.
As KTM Society facilitates around 55,000 business meets across the three days of the international event ending this Sunday, delegates from around the world are making enquiries at the stall set up by Kerala Tourism to promote the spirit of the innovative Champions Boat League (CBL) conceived as an annual water-race extravaganza after monsoons. Buyers from as any as 70 countries are attending the meet.
The inaugural event of KTM-2022 at Grand Hyatt in Bolgatty Island last evening was preceded by a colourful curtain-raiser to the second edition of the CBL which has been modelled on the famed IPL cricket championships. The sample show by four 'chundan vallom' boats was a highlight of the opening session of the mart that aims at reviving Kerala's tourism after two years of COVID-induced lull.
CBL organisers said the upcoming 12-race water extravaganza in as many weekends will feature nine boats even as the inaugural heats might be held three months later than mid-August as was the original idea.
"Given that the peak rains in June-August typically may upset rehearsals of the races and allied preparations, the boat-owners and other stakeholders suggested that the CBL be started in November," a top official said.
CBL, which couldn't be held in 2020 and '21 owing to the global pandemic, had its debut edition in end-2019, inviting a viewership of 22 lakh people directly and otherwise. The oarsmen totalled 3,000 and the 12 races were held in five districts: Ernakulam, Alappuzha, Kottayam, Kollam and Thrissur.
The three specimen boats at KTM-2022 at Samudrika Convention Centre in Willingdon Island are made of plywood and designed specifically for the tourism mart that was inaugurated on Thursday by Governor Arif Mohammad Khan. The CBL's is among 325 KTM stalls at the green event held in 1.5 lakh sq-ft space.
The 2000-constituted KTM Society, which is the country's biggest organisation in the travel and tourism segment, has been working towards reviving the industry since the spread of the novel coronavirus two years ago.