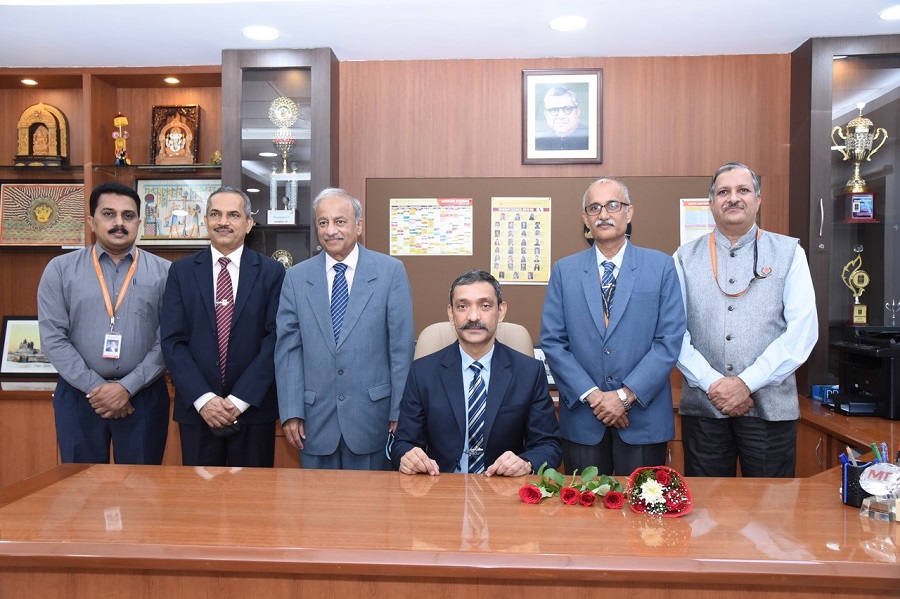 MANIPAL:
Cdr (Dr) Anil Rana took charge as the new Director of Manipal Institute of Technology (MIT) on 16 July 2021. Dr. Rana succeeds Dr. D Srikanth Rao who completed his tenure as Director of MIT, Manipal.
Dr. Rana is an ex Indian Navy Commander from the engineering branch who has a record of distinguished service both in the navy and the field of education. He graduated from Naval College of Engineering, Lonavala in 1992. He then obtained his Masters from IIT Delhi in 1999 and PhD from IIT Mumbai. Post his naval service, Dr. Rana served as Professor (Mechanical Engineering) JECRC University, Jaipur from 2012 to 2013. He then served as Associate Dean (Higher Education and Research) and Professor of Mechanical Engineering in the prestigious Fiji National University, Fiji Islands from 2013 -2018. Dr. Rana served as Dean (Academics) and Professor in Symbiosis Skills and Professional University, Pune from 2018 to 2019. He then served as Dean and Professor, Faculty of Manufacturing Bhartiya Skill Development University (BSDU), Jaipur from April 2019 to February 2021.
The handing over ceremony was held at Board Room, MIT, Manipal on 16 July 2021 in the presence of Vice Chancellor, MAHE Lt. Gen. (Dr.) M. D. Venkatesh, Dr Narayana Sabhahit, Registrar, MAHE, Dr. Somashekar Bhat, Joint Director, MIT and the members of Team MIT. Speaking on the occasion, the Vice Chancellor, MAHE Lt. Gen. (Dr.) M. D. Venkatesh, welcomed Dr. Rana to the fold of MAHE family and wished him all the success. He expressed the view that the institute would achieve greater things under his leadership. After the signatures were affixed, a sandalwood sapling was handed over to Dr Rana, as a symbol of handing over the reins of MIT.
A special felicitation was made to the outgoing Director – Dr. D Srikanth Rao. The Vice- Chancellor showered praise on the exceptional leadership put in by Dr Srikanth Rao. The Vice Chancellor appreciated the way in which Dr Rao held all the jobs entrusted to him with utmost commitment and professionalism. Lt. Gen. (Dr.) M. D. Venkatesh highlighted how Dr Rao steered the course of the institute with enlightened leadership during the challenging times. The Vice chancellor mentioned that MAHE was grateful to Dr Rao and wished him the very best in his future endeavors.
Dr Narayana Sabhahit, Registrar, MAHE, recalled the journey of Dr. Rao who spent most of his life in Manipal as a student, faculty and finally administrator. He reminisced how Dr. Rao was an integral part of the institute in his journey of 32 years and made meaningful contribution throughout. Dr. Sabhahit welcomed Dr. Anil Rana, the new Director of MIT and assured him all the support from the administration.
Dr. Srikanth Rao welcomed Dr. Anil Rana as the next Director and expressed the view that he is convinced of Dr. Rana taking MIT to further success. He highlighted the academic achievements and the administrative credentials of Dr. Anil Rana. He assured that dedicated faculty and staff of MIT would provide support to the new Director. Dr. Rao expressed his gratitude to the Chancellor and his family along with the senior leadership at MAHE. Dr. Rao showered praise on all the faculty and staff of MIT.
Dr. Anil Rana, the new Director MIT thanked MAHE leadership for their faith in him and Dr. D Srikanth Rao for creating a wonderful working culture at MIT which would help him settle down in the new role quickly. He mentioned that he was a team player and that he likes to work on the ground with his team. He wished Dr. Rao the very best and hoped they would be able to work together in the future.
Dr. M. Vijaya Kini, Associate Director, (Alumni, Public and International Relations) was the Master of ceremonies.