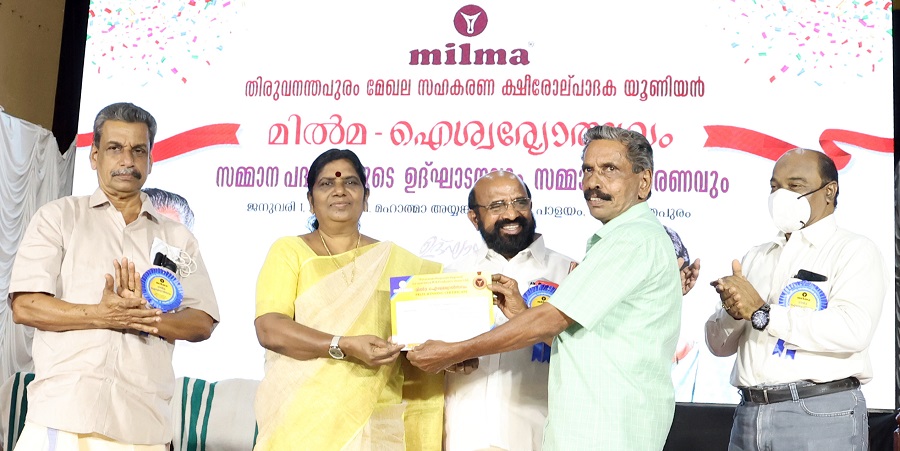 THIRUVANANTHAPURAM:
Minister for Animal Husbandry and Dairy Development, J Chinchurani today called for concerted efforts to ensure that the state's demand for milk is entirely met by the domestic output and discourage sale of milk coming from outside as the state is poised to achieve a record in milk production.
The Minister was speaking while distributing the prizes of the 'Milma Aiswaryolsavam' project, launched by Thiruvananthapuram Regional Cooperative Milk Producers Union of Milma (TRCMPU-Milma) during Onam, 2021, for the recognized agencies in the region.
Milma's agencies play a crucial role in keeping it as Kerala's prominent dairy brand and as the first choice of consumers, Chinchurani said at the function held at Mahatma Ayyankali Hall here.
The Minister said Milma had set a record in sale of milk during Onam 2021 and the contribution of the agencies was significant in achieving this. Smt Chinchurani urged them to keep on striving to further scale up the sale of milk produced in the state.
"All the three regional milk producers' unions of Milma are vying with each other in stepping up production. While the Malabar Region is leading in milk production, the central and south regions also have envisaged various projects to increase production. As per last month's figures, TRCMPU has recorded an increase in production of 65,000 litres of milk daily," Chinchurani said.
Noting that subsidy on Milma's cattle feed has been extended till January-end as a New Year gift to dairy farmers, she said about 80 percent of Milma's profit is being spent for the wellbeing of the farmers affiliated to cooperative milk societies.
With the milk powder factory in Malappuram going operational in eight months from now, the state would be free from its dependence on neighbouring states to convert the surplus milk to milk powder.
Around 52 Milma agencies from the four southern districts were selected through draw of lots based on the volume of sale by them in last August. They were given prizes worth Rs 4,71,677.
TRCMPU Administrative Committee Convenor N Bhasurangan, who presided over the function, said TRCMPU has recorded an increase of 30,000 litre of milk per day in four districts under its ambit.
Increasing the commission for agencies will be considered when there is a revision of milk price. An amount of Rs one crore was earmarked for 'Milma Aiswaryolsavam' project which included special incentives for the agents, he added.
TRCMPU Managing Director DS Konda, who proposed a vote of thanks, said the wellbeing of dairy farmers is the ultimate goal of Milma, which also considers satisfaction of the customers as vital. He added that TRCMPU has set a target of achieving Rs 1,200 crore as turnover in 2022.
TRCMPU Administrative Committee Member K.R. Mohanan Pillai and TRCMPU Assistant Manager, Marketing, Jaya Raghavan, were also present.
Milma has disbursed a total of Rs 51,74,943 as incentives to its recognized agencies as part of the 'Milma Aiswaryolsavam' project. Through the implementation of the project, an eight percent increase in sale was clocked in August 2021 compared to last year.
The agencies were also given one percent incentive for the sale of milk during Onam in August 2021. Besides, the agencies that lifted a minimum of 600 sachet of milk per day in August were given Rs 200 each as a special incentive.