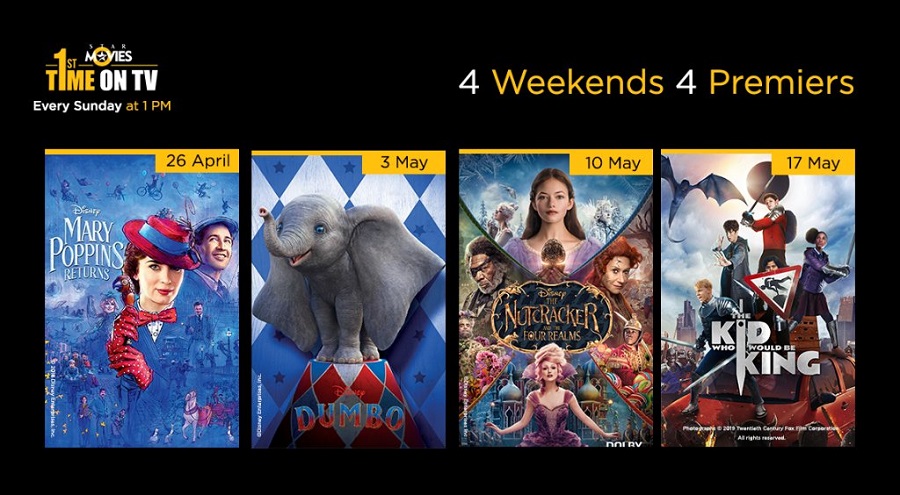 MUMBAI:
Catch the Disney retelling of classic stories from the tale of a magical mystical British nanny, to the Christmas ballet story of whimsical enchantment, or the story of a flying baby elephant – there's a story for every Disney lover. Star Movies is set to showcase, for the first time on Television, 4 premiers in 4 weeks, starting Sunday 26th April at 1pm.
But the channel has got something more up its sleeve! Dial up the excitement higher with #PlaydatewithStarMovies, featuring more fun and engagement on its Instagram/Twitter @StarMoviesIndia.
But that's not all! The premier weekends end with a bang – with The Kid Who Would Be King – a modern medieval Arthurian adventure featuring swords, knights, armies and lots of thrilling action.
Prefer remembering the simpler times? Re-visit feel-good classics from the golden era of Hollywood, with [email protected], Mon to Fri 3 PM on Star Movies. Watch timeless romance, that'll 'make your heart go on and on', and hang out with memorable characters like the sprightly and giddy Vivian Ward, in movies like Titanic and Pretty Woman.
Tune in to Star Movies and interact with their socials on Instagram/Twitter @StarMoviesIndia, for a whole lot of fun around some of your favourite movies.