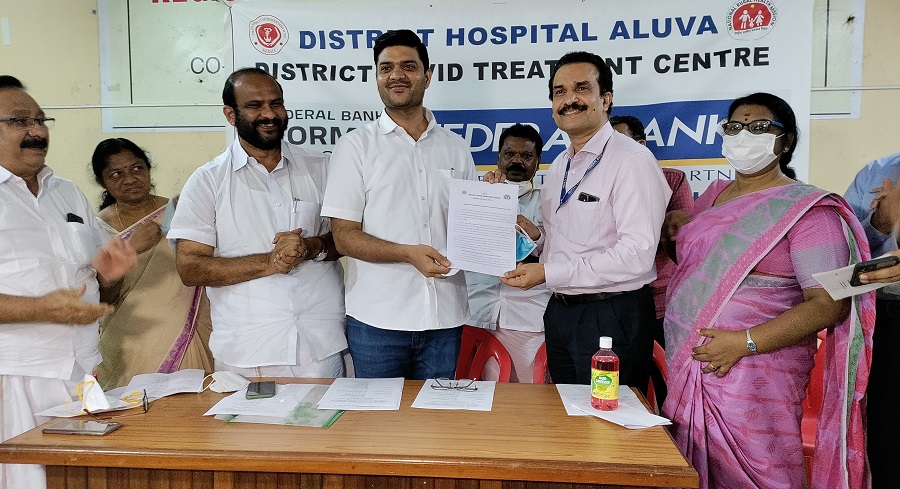 KOCHI:
Continuing its support to the State Government's fight against Covid, the ICU Block at District Hospital, Aluva has been renovated with the CSR funds from Federal Bank.
In a function held at the hospital today, Ernakulam District Collector Jafar Malik honoured the Bank by handing over the project completion certificate to Ajith Kumar K K, Chief Human Resources Officer and Executive Vice President of the Bank. The function was attended by a host of dignitaries including Dr.Prasanna Kumar, Superintendent of the Hospital, Ullas Thomas, President, Ernakulam District Panchayath, Dr. V Jayasree, District Medical Officer, Dr.Sajith John, Programme Manager, M O John, President of Aluva Municipality, Thomas K C, Vice President, Federal Bank, Thambi George Simon K, Vice President & Head- CSR Department, Federal Bank etc.
Federal Bank assisted the District Covid Treatment Centre, which was formed as an integral part of District Hospital, Aluva in the wake of increasing covid patient numbers in the district to resolve issues pertaining to critical services such as air conditioners, generator, medical gas, biomedical equipment etc. Pharmacy and Laboratory were made functional. Net connectivity was established. The entire building was revamped to exclusively cater to critically ill COVID 19 patients.
Jafar Malik, District Collector said, "Federal Bank has been always in the forefront to lend helping hands during the adversities. The bank was there for people during the worst floods in Kerala as well."
The project, cost of which is Rs.3.55 Cr., forms part of various infrastructure, logistic and awareness programmes that Federal Bank Hormis Memorial Foundation, the CSR arm of Federal Bank, has recently undertaken to help combat the second wave of Covid in the country.