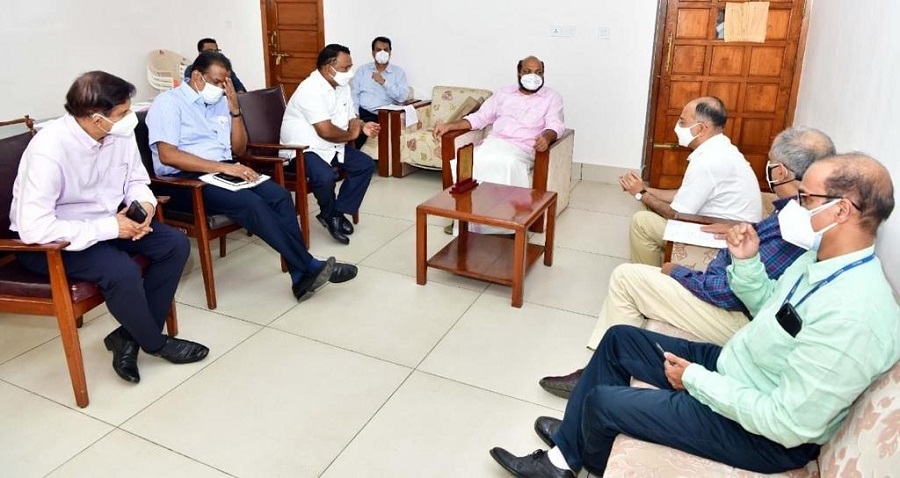 KOCHI:
P. Rajeeve, Minister for Industries, Law & Coir held discussion with Ullas Kamath, Chair, FICCI Karnataka State Council at the office of Minister for Industries at Thiruvananthapuram on 05 August 2021 along with FICCI officials in setting up a FMCG (Fast Moving Consumer Goods) Cluster in Kerala. Industries Department, Govt. of Kerala and FICCI agreed to take the proposal ahead at a top priority with detailed Action Plan.
FICCI delegation gave comprehensive proposal about the opportunities and advantages of setting up a FMCG Cluster in Kerala and FICCI played a key role establishing FMCG clusters in Dharwad, Guawathi.
Best location of the FMCG Cluster in Kerala will be at Palakkad with 300 to 500 hectors of land with sufficient electricity, water and good roads and proximity to rail connectivity. Palakkad is ideally located as it is almost middle of Kerala and caters to the entire market of Kerala besides targeting the market of Tamilnadu and Karnataka. Proposed FMCG Cluster would target 20 prominent FMCG brands in the country.
FMCG cluster targets creating 2 lakhs job opportunities with 35% economic growth of the region by 2027. The region will be the flag-bearer for the next Industrial Revolution in Kerala. Government of Kerala looks at FMCG Cluster Park as a 'One-of-its-Kind FMCG Cluster in India' and as a major step towards making Kerala a 'FMCG Manufacturing Hub of India'.
Along with P Rajeeve, Minister, Industries, Dr. K. Ellangovan, Principal Secretary Industries & Commerce, M G Rajamanickam, MD, KSIDC and Santhosh Koshy, MD, KINFRA represented Industries Department. FICCI delegation was led by Ullas Kamath, Chairman, FICCI Karnataka State Council, Dr. M.I Sahadulla, Co-Chair, FICCI Kerala State Council, Shaju Mangalam, Head, FICCI Karnataka State Council and Savio Mathew, Head, FICCI Kerala State Council.
Fast-Moving Consumer Goods (FMCG) industry is a unique industry, it focus the average consumer FMCG market in India is around INR 4 Lakh Crore and our estimate of the Kerala market is INR 20,000 – 25000 Crore, one of the main markets of consumer products in the country. FMCG sector is also environmental friendly sector. FMCG sector is currently estimated to be the 4th largest sector in the country, with household and personal care products accounting for about 50% of the total FMCG sales. The future trend would be to set up the factories closer the consumption centre to cut short the transportation cost and to take advantage of the likely changed scenario in FMCG segment in the country.
Indian FMCG sector has, therefore, emerged as a fertile hotspot for domestic & foreign investments, with sustainable growth with country's ever growing middle class and sourcing investments from Indian and foreign companies. Semi-urban and rural consumption has recently witnessed a significant rise such that the rural FMCG market is estimated to grow exponentially.
Government of India has approved 100% foreign direct investments in the cash and carry and single-brand retail segment and about 51% in the multi-brand retail segment. The Production Linked Incentive scheme (PLI) proposed by Union Cabinet in November 2020 proved extremely beneficial to boost exports and India's manufacturing capacity.
The food and beverage segment is one of the largest contributors to the FMCG sector in India and accounts for almost 30% of the total household spending in the country. Post COVID Scenario healthy alternatives and products that promoted hygiene are being rolled out at an unprecedented rate by FMCG companies. Reports suggested that over 1800+ health and hygiene products were launched in the first 6 months of the pandemic. India in 2030 will have 37 crore generation Z consumers, with changed priorities when it comes to purchasing goods.
On the fundamentals of 'Atmanirbhar Bharat', contributing to the India's ambition to become US$ 5 Trillion economy – FMCG park will be a true Win-Win-Win situation for Society, Industry & the Government.