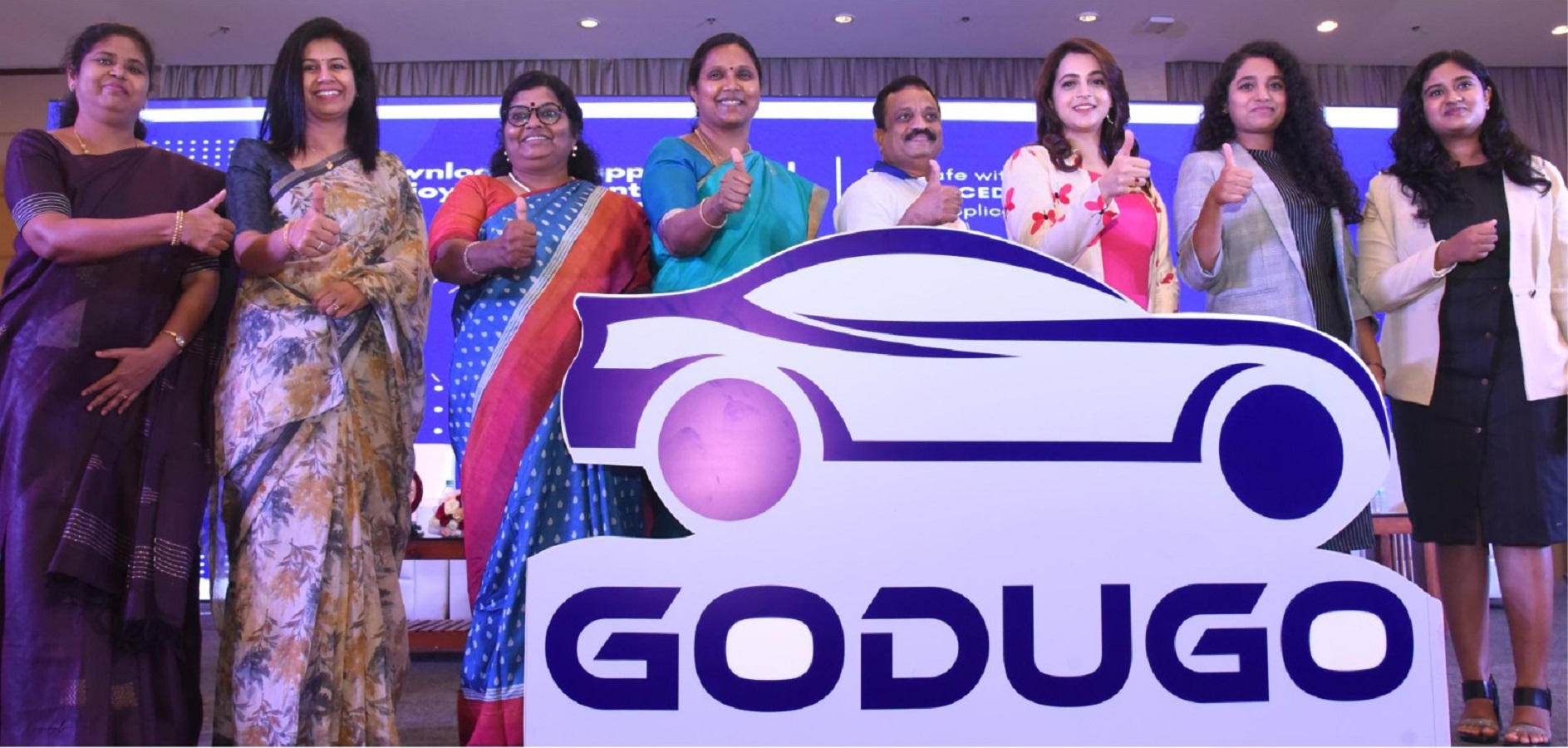 KOCHI:
Coimbatore-based start-up GODUGO Travel Solutions Pvt Ltd's ' GODUGO' taxi booking App launched in Kerala.
Cochin Port Trust Chairperson Dr. M Beena, actress Bhavana, WriterK.A Beena, Indian Air Force Former pilot Srividya Rajan, company managing director I. Clarissa and director Caitlin Mistica jointly inaugurated the app here in Kochi at the JW Marriott Hotel .
GODUGO managing director I. Clarissa and director Caitlin Mistica says that ' Godugo App' gives priority to the passengers of the most modern technology. Providing more safety and convenience to the passengers and drivers.'Godugo' app will be available all over Kerala irrespective of urban and rural areas.
GODUGO'using advanced SOS system.In normal SOS, which is available with all the Taxi Booking Apps, transmits only the location of the affected person to their saved contacts. However, If the saved contacts are far away from that affected person, then there is no use of this SOS.
The affected person needs immediate help and someone to rescue from the nearbyvicinity.GODUGO's Advanced SOS system will help all the passengers and Drivers as well.The affected person either the passenger or the Driver, in case if they have emergency, they press 'Advanced SOS'.
Automatically, their location, vehicle number will be intimated to their saved contacts, nearest Police station, All the passengers / drivers within 1 km of surroundings and also to GODUGO's control station of the respective district.This alarm will be a continuous alarm till the time the receiver sees it and immediately, someone nearby will try to help the affected person.
This safety feature is ensured only in GODUGO's Advanced SOS system'.Technical expert Moses explained the technology of Godugo App. K.A Beena inaugurated the GODUGO Logo and Srividya Rajan inaugurated the GODUGO App in the function.Godugo management honored Technical expert mosses,Godugo employees and women drivers in the app launching ceremony. Godugo Chairman S.I.Nathan, Regional Director S.Shyam Sundar,H R Director TR Akshay, Operations Director J. Dhana Venkatesh and Advisor Captain Shashi Manikath also attended the ceremony.