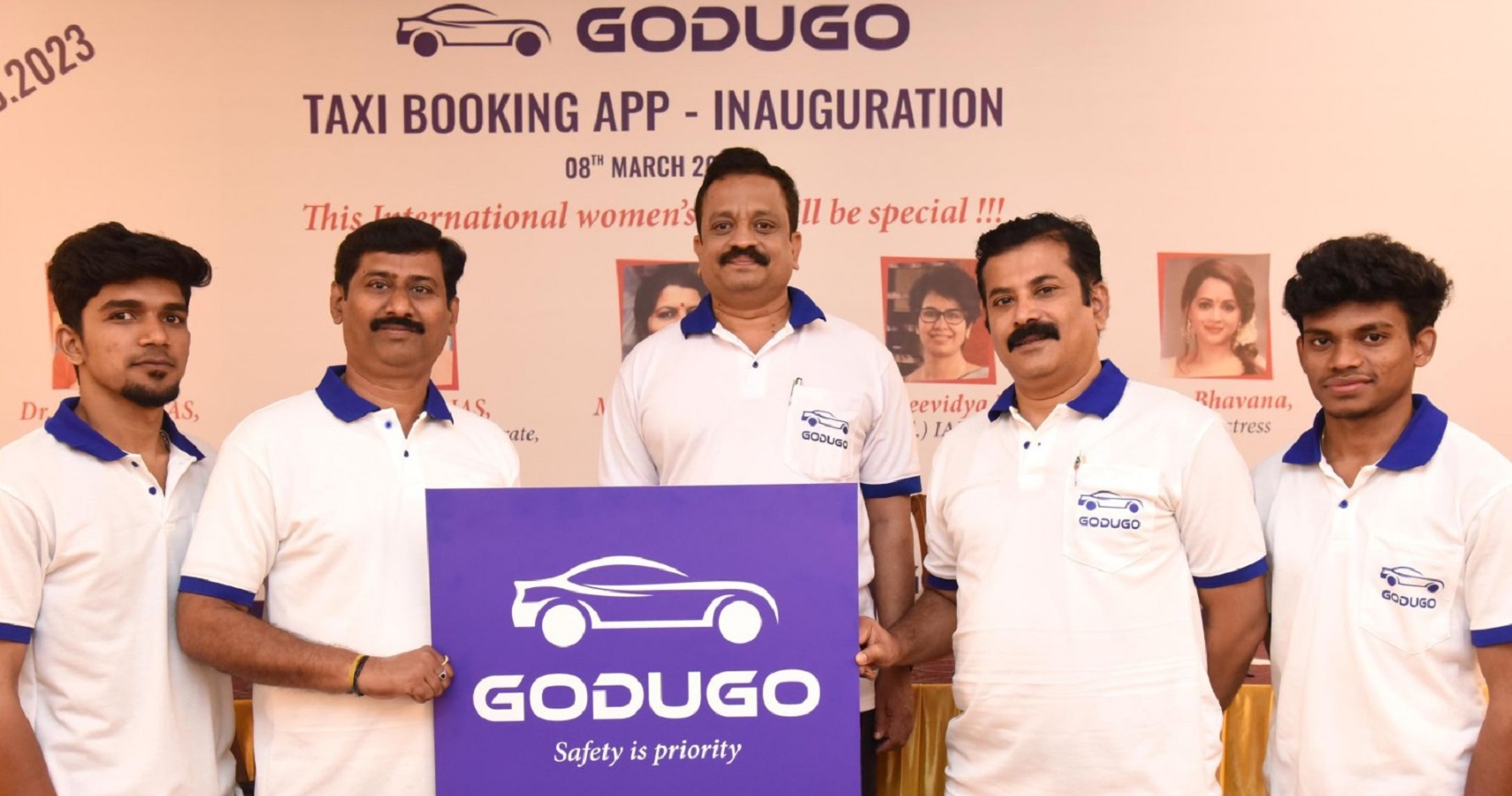 KOCHI:
GODUGO's App, a taxi app by GODUGO Travel Solutions Pvt Limited, will be launched at Kochi on the Women's International Day, February 8.
The app the startup company will be launched by Dr. M. Beena, Chairperson, Cochin Port Trust, Dr. Renu Raj, Collector and District Magistrate, Ernakulam District, K.A. Beena, Writer, Sreevidya Rajan, IAF Pilot and Bhavana, Film Actress.
Unlike, other taxi apps which are operating only in a few selected cities, the service will be available in entire State of Kerala reaching to all cities and villages.
In normal SOS, which is available with all the Taxi Booking Apps, transmits only the location of the affected person to their saved contacts. However, If the saved contacts are far away from that affected person, then there is no use of this SOS. The affected person needs immediate help and someone to rescue from the nearby vicinity.
GODUGO's Advanced SOS system will help all the passengers and Drivers as well. The affected person either the passenger or the Driver, in case if they have emergency, they press 'Advanced SOS'. Automatically, their location, vehicle number will be intimated to their saved contacts, nearest Police station, All the passengers / drivers within 1 km of surroundings and also to GODUGO's control station of the respective district.
This alarm will be a continuous alarm till the time the receiver sees it and immediately, someone nearby will try to help the affected person.
This safety feature is ensured only in GODUGO's Advanced SOS system. GODUGO has the patent right for this 'Advanced SOS'
GODUGO'S Advances SOS system will be more helpful to women passengers and women drivers.
Customers using the other apps have a very common complaint that drivers cancel their trip after asking the destination, However, GODUGO App driver cannot ask the destination or cannot cancel any trip, since the option is not enabled for the drivers. You can try using our App.
If a passenger using GODUGO App, and if the driver is going out of track from 1 km then intimation will be given to the travelling passenger and GODUGO's control monitoring system in the respective district as GODUGO has 'Out of track alarm' Monitoring Office – All Districts of Kerala
GODUGO has Monitoring office in every district for recruiting drivers, assigning vehicles, monitoring safety of passengers and taking immediate steps in case of emergency.
GODUGO has given direct employment to nearly 150 fresh graduates and nearly 10000 (Expected) indirect employments engaging various vehicles. No Extra fare "Demand Charge" during PEAK Hours / Season in GODUGO.
In other Taxi Apps if demand is more for a route, then automatically the fare increases and the passenger has to pay more money, However, GODUGO do not use 'demand charge'. Therefore, the passengers are saved for paying extra ordinary money for a trip even in peak hours / seasons.
In other Apps drivers demand extra money than the trip cost. Here in GODUGO drivers will not demand extra charges. If any passenger reports then GODUGO will take immediate action to cancel that driver. This issue is mainly happening because other Taxi app companies cut nearly 30-40% of the fare as commission from the drivers. Therefore, the driver, demands the passenger extra money or the driver instructs the passenger to cancel that trip and takes money privately. Whereas, GODUGO Charges only 5% of commission from the driver. Therefore, the Drivers and passengers will be happy to use GODUGO.
In GODUGO, passenger can use any kind of Mode of payments like cash, UPI, Cards, Wallets etc., In other Apps Drivers will not get their wallet money quickly. Therefore, they refuse to accept trip those who are paying with wallet. Whereas GODUGO settles every trip immediately to the driver in any form like cash, UPI, wallet etc., Therefore in GODUGO you can make payment in any kind of ways.
Every vehicle is inspected and then registered to GODUGO app, by which passengers will get Clean vehicles for usage, unlike other Taxi companies use only online registration without vehicle inspection, which may result of unclean vehicles leading to passenger's dissatisfaction rides.
GODUGO registers all the drivers and vehicles after personal interview and verifying their original documents. Therefore, passenger using GODUGO will experience better choice of drivers/vehicles and satisfactory rides.
Immediate solution for any issues will be available in GODUGO. After completing the trip, if any issue faced, then Passenger shall raise 'Ticket' of the respective trip. GODUGO's monitoring and control team which is working 24X7, will address the issue to give the solution. Passenger can check the status of their Ticket raised and they will have a better experience in GODUGO.
Passenger will get their Trip E-receipts in the App soon after their trip completion and also to their registered email id for any claim and bill purposes. GODUGO, assigned trips to a driver for pick up has to be mandatory without denial or late arrival or wrong direction, failing which leads to wallet deduction of Rs.50. and transferred the respective passenger wallet.
Passengers can book Auto, mini, sedan and SUV through GODUGO App. Passenger can book for trip, rental and outstation through GODUGO App.