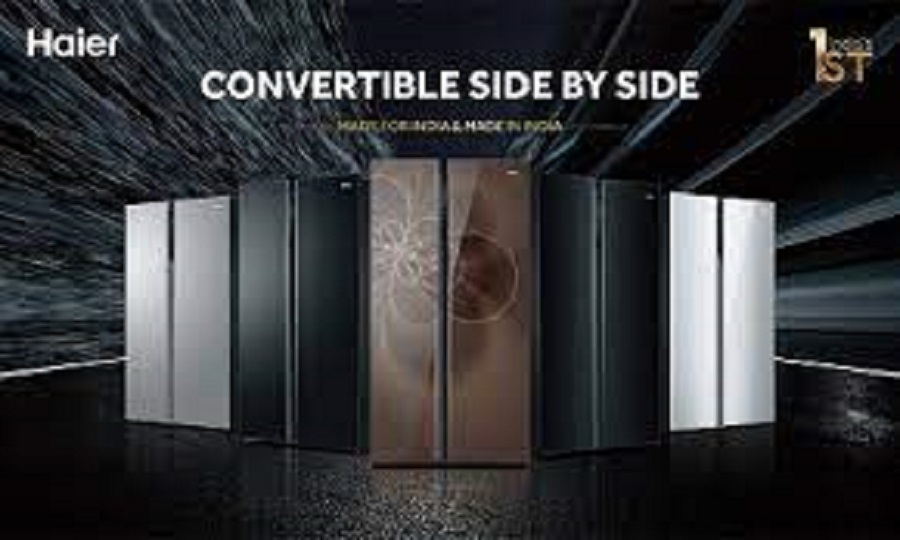 KOCHI:
Haier, the global leader in home appliances & consumer electronics and the world's number 1 brand in major appliances for 12 consecutive years*,will be setting a record to be India's first brand to launch 'Made in India, Made for India' 2 & 3 door convertible SBS (side by side) 682 and 683 refrigerator series at a starting price of INR 1,27,00 and INR 1,40,000.
After conducting intensive consumer research in India to understand the usage patterns of customers owning a side by side(SBS) refrigerator, Haier landed with a key insight that consumers today not only wish for an SBS refrigerator that has a bigger refrigerator section but also gives the control in their hands to personalize it the way they want. Since most households in India are vegetarian, the large freezer space in a side by side refrigerator is usually under-utilized, while the need for a larger refrigerator section is rarely met. To address these concerns, Haier has introduced two iconic side by side refrigerators which are 'Made in India and Made for India'.
Haier 683 Series 3-door convertible side by side refrigerator
Haier's revolutionary offering for the Indian market this festive season is India's first 3-door convertible side by side refrigerator (683 series). With a 21% convertible section on the top left, it will allow users to increase the refrigerator space from 62% (dedicated) to 83% with just 17% reserved for the freezer at the bottom left, making it truly customizable to complement the needs of a contemporary Indian home. If in case, a user requires more freezer space, they would have the flexibility to increase it to 38% using the convertible section.
Haier 682 Series 2 door convertible side by side refrigerator
Another innovation that Haier is introducing for its customers is the all-new 682 series side by side refrigerator which will be India's first 2-door 100% convertible SBS with the capability to work as a 100% refrigerator unit. With an improved fridge to freezer ratio of 66:34, users will be able to convert
and use the 34% of freezer space as a refrigerator, to suit their needs.
Reiterating its commitment to the Indian consumers, Eric Braganza, President, Haier Appliances India said, "At Haier India, we constantly thrive on bringing a change in the lives of the people with best-in-class innovation that is truly beneficial to Indian consumers. Rooting to our deep alignment
with the Government's 'Make in India' initiative and as a part of Haier India's commitment to producing innovative products for the Indian consumers, we have launched India's first 'Made in India' 2 & 3 door convertible SBS refrigerators. We will continue to strengthen our commitment towards 'Make in India' and innovate for the evolving needs of our customers as part of our core philosophy of inspired living."
The new convertible side-by-side series allows a fridge space of 83% to accommodate a variety of different food items with convenience and for longer periods. Moreover, the new Deo-Fresh technology and Magic Cooling helps in retaining the freshness of the food. Haier India's first 2 and 3 door Convertible Side-by-Side Refrigerators allow a mega fridge space, expert inverter technology, and magic cooling with noise reduction technology to cater to the Indian audience's need. To enhance the consumer experience, the Side-By-Side Refrigerator is equipped with a fresh box, a jumbo ice maker, and additional door pockets that will allow for more vegetables, beverages, and cold food items to be stored fresh for a long time. The 683 range has also introduced a Hanging flexi box that is meant for the storage of cosmetics and other utility items of the consumers.
Furthermore, this range has also taken environment consciousness to be an important factor and has an environment-friendly refrigerant gas in both the Convertible Side-by-Side series. The refrigerators also come with WiFi connectivity and control (in selected models),which will make them easier and more comfortable to use.
Haier India's commitment to producing innovative products for the Indian consumers has remained at the core of the business and the brand has constantly evolved to meet the consumer demands for inspired living. A complete 'Made in India' and 'Made for India' product, Haier's SBS convertible refrigerators are being manufactured at its state-of-the-art facility in Ranjangaon, Pune. The manufacturing facility has continued to evolve the brand to innovate for Indian customers through the manufacturing of premium and high-end products such as front load Washing Machines, big capacity Bottom & Top Mount Refrigerators, large screen LEDs, inverter air conditioners, and now India's first Convertible SBS refrigerator. The brand's Pune industrial park today has an annual production capacity of 2 million units of refrigerators and 0.5 million units each of other categories such as Washing Machines, Air Conditioners, LED TVs, and Water Heaters.
The refrigerator comes in a wide finish range of glass, floral and steel to complement the Indian kitchen space and has multiple aesthetic appearances – Mirror Glass, Floret Glass, Granite Glass, Black Glass, Caramel Glass, Black Shiny Steel, and Inox Steel. These designs have been selected while keeping in mind the contemporary Indian kitchen space.
Price, availability, and Warranty: The new refrigerators in the 682 and 683 Series come with an assured warranty of 10 years on the compressor and fan motor.