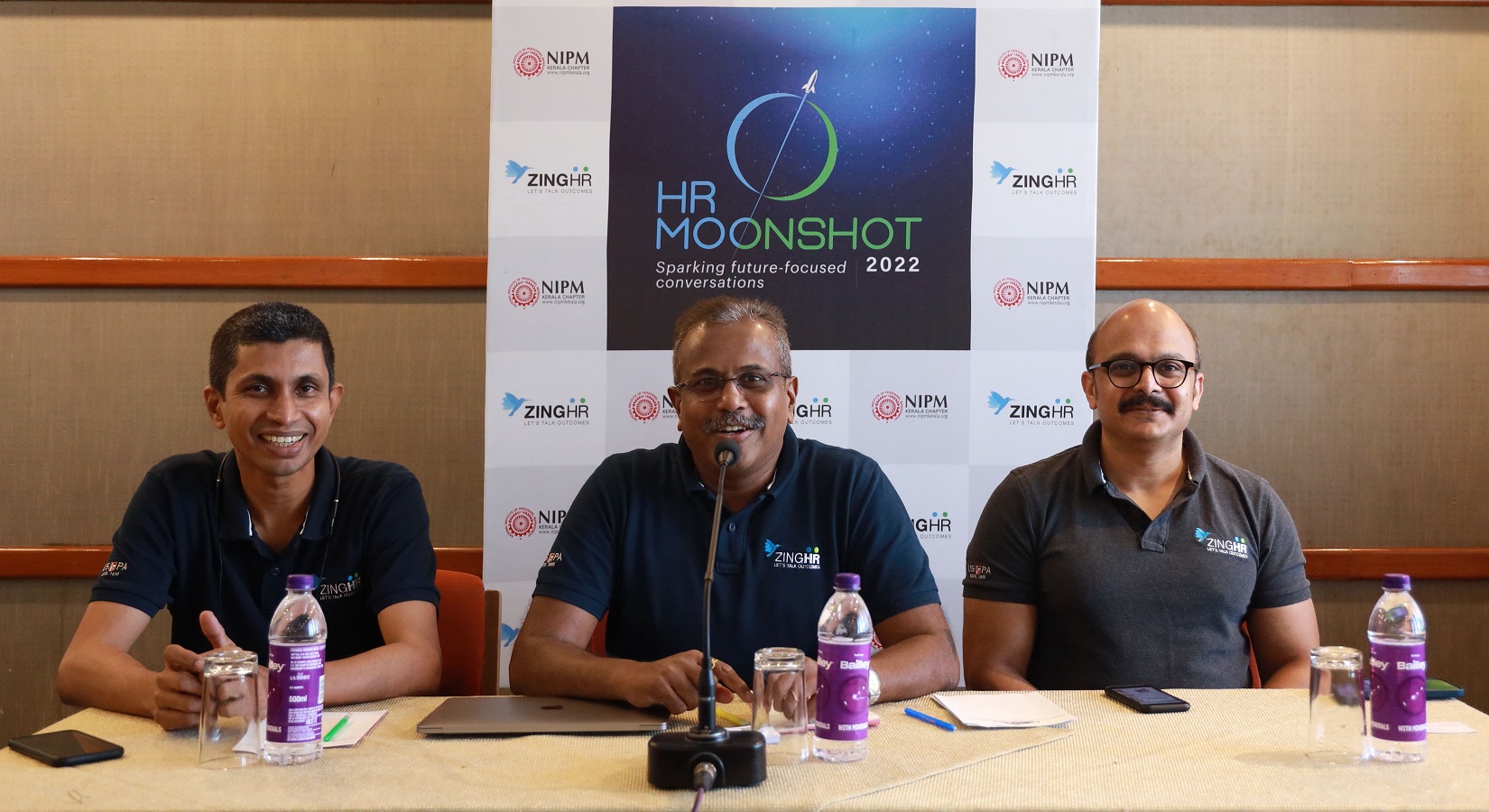 KOCHI:
ZingHR – India's premier HCM (Human Capital Management) Platform and leaders in Transformative HR practices are at the forefront of sparking conversations around shaping future-focused solutions for people management and business growth through HR. With this in view, together with National Institute of Personnel Management (NIPM), Kerala Chapter, they host a two-day conclave HR Moonshot 2022 on 29th and 30th July 2022 at Grand Hyatt, Kochi – Bolgatty.
The event will include a series of thought-provoking discussions, inspirational talks and opportunities to network and ideate with talented go-getters and leaders from different fields of expertise. The aim is to create a decisive platform for forward-looking conversations and an ideas playground that will help redefine HR practices for tomorrow.
HR Moonshot 2022 has lined up a stellar selection of speakers, from industry leaders to sports personalities and military leaders, who will inspire debate and discussion with their ideas on transformative people management. They will share the stage to bring a unique perspective and engage the audience in conversations that emphasize the need for ground-breaking innovations in sustainable HR practices.
The onset and passing of the pandemic has changed the way we work, and businesses have had to focus more on continuity, hybrid workflows and performance management. At the same time, the HR industry is increasingly being seen as a key player in driving business profits, taking a definite seat at the decision-making tables.
To meet the new work needs created by these transformations, ZingHR has rapidly innovated and developed technologies that are scalable, industry specific and highly implementable in every scenario. "HR Moonshot 2022 is the stage for taking these innovations forward through discussion, inspiration and collaboration. We are confident that the ideas at HR Moonshot 2022 will help do so," said Prasad Rajappan, CEO and Founder of ZingHR, when speaking at the session launch. "We are extremely excited to partner with the NIPM Kerala chapter for this edition of Moonshot as we believe this will redefine the way you engage with your employees and bring out newer strategies and innovations to bring out best practices for your organization," he added.
According to Joe Varkey, Chairman, NIPM, Kerala Chapter, "NIPM's goal is to always work toward better personnel management. Technology is the present and future of HRD. Our partnership with ZingHR for HR Moonshot 2022 is a testament to our commitment to transform HR practices and drive innovative solutions for today and tomorrow. We hope that all participants will benefit from the idea exchange that will happen at this event."
HR Moonshot 2022 is poised to become a lasting stage for proactive, forward-looking thought exchange and the place to be for anyone who wants to become a part of the change it heralds.