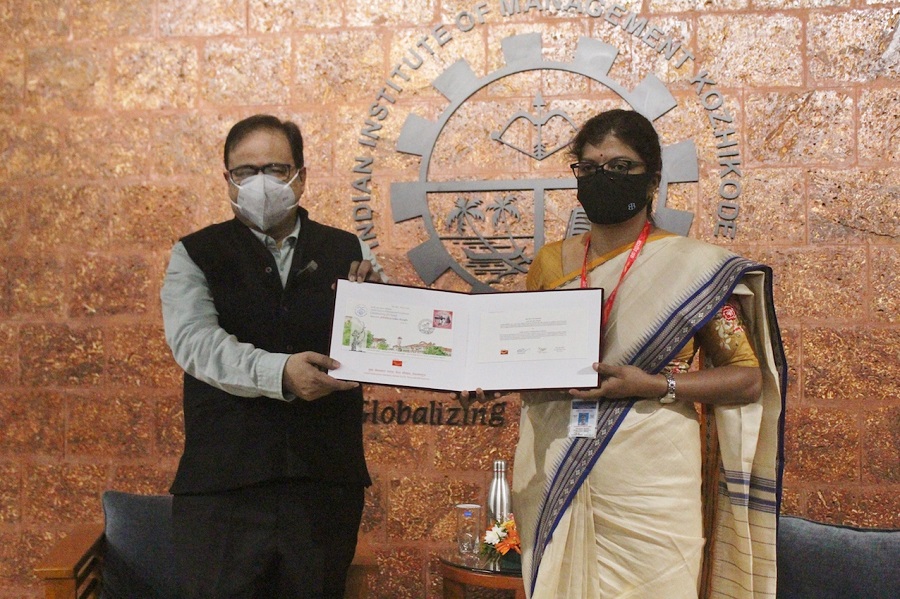 KOZHIKODE:
To mark an epoch-making twenty-five years of the journey of IIM Kozhikode, the country's premier government B-School, India Post (Department of Posts, Govt. of India) and IIM Kozhikode together released a commemorative 'Special Cover', here at the Institute premises today. Director IIM Kozhikode Prof. Debashis Chatterjee and T Nirmala Devi, Post Master General, Northern Region, India Post did the honours in the presence of a small representative gathering comprising of faculty, staff, students and India Post members – following all social distancing protocols.
Making the occasion all the more special the Director also unveiled the IIMK 'Gurukul' and dedicated it to the faculty and students of IIM Kozhikode. Speaking on the occasion, Prof. Debashis Chatterjee expressed his happiness on the unique collaboration with India Post to bring out this collector's delight and imprint IIMK's journey forever in the postal legacy of the country. Adding further, Prof. Chatterjee said "The IIM Kozhikode Gurukul is an experiment in open learning and uninhibited thinking. The Institute has always prided itself in introducing concepts which challenge and invoke the learner to go beyond contemporary learning methods in the pursuit of knowledge and excellence. By means of creating this 'Gurukul' in the renowned IIM Kozhikode Library, we want to offer a free and holistic space for unhindered exchange of ideas for the next generation of thought leaders. I am sure this experiment in learning transcending mental boundaries, will serve as an inspiration to other institutes."
On behalf of India Post, T Nirmala Devi, Indian Postal Service (IPoS) congratulated IIMK Director and stakeholders for reinventing learning and carving out a niche for itself over the years with some remarkable initiatives. She further added "Special covers are released as part of promotion of philately activity and the Department of Posts is privileged to commemorate IIM Kozhikode's Silver Jubilee by means of this Special Cover. IIM Kozhikode has been a pioneer in research and development, academic excellence, consultancy and we cherish our mutual association which goes back a long way, wherein we have conducted many in-service short term as well as long term courses for Postal Service officers at the IIMK Campus. We wish IIM Kozhikode grows from strength to strength from this landmark milestone."
The India Post Cover on the front side depicts the Kerala style of architectural marvel which is the highlight of IIM Kozhikode buildings. The rear side of the Postal Cover is a gratitude message from the institute to all stakeholders who have been an integral part of the Institute's Silver Jubilee run from the year 1996. A special cancellation seal depicting the iconic IIMK Bell Tower at the administrative block entrance is another captivating aspect of the cover. Enthusiasts can purchase this Special Cover from the Calicut Philately Bureau at the Calicut Head Post Office.
The Director also launched the new IIM Kozhikode website on the occasion which is a dynamic upgrade to the earlier IIMK website.