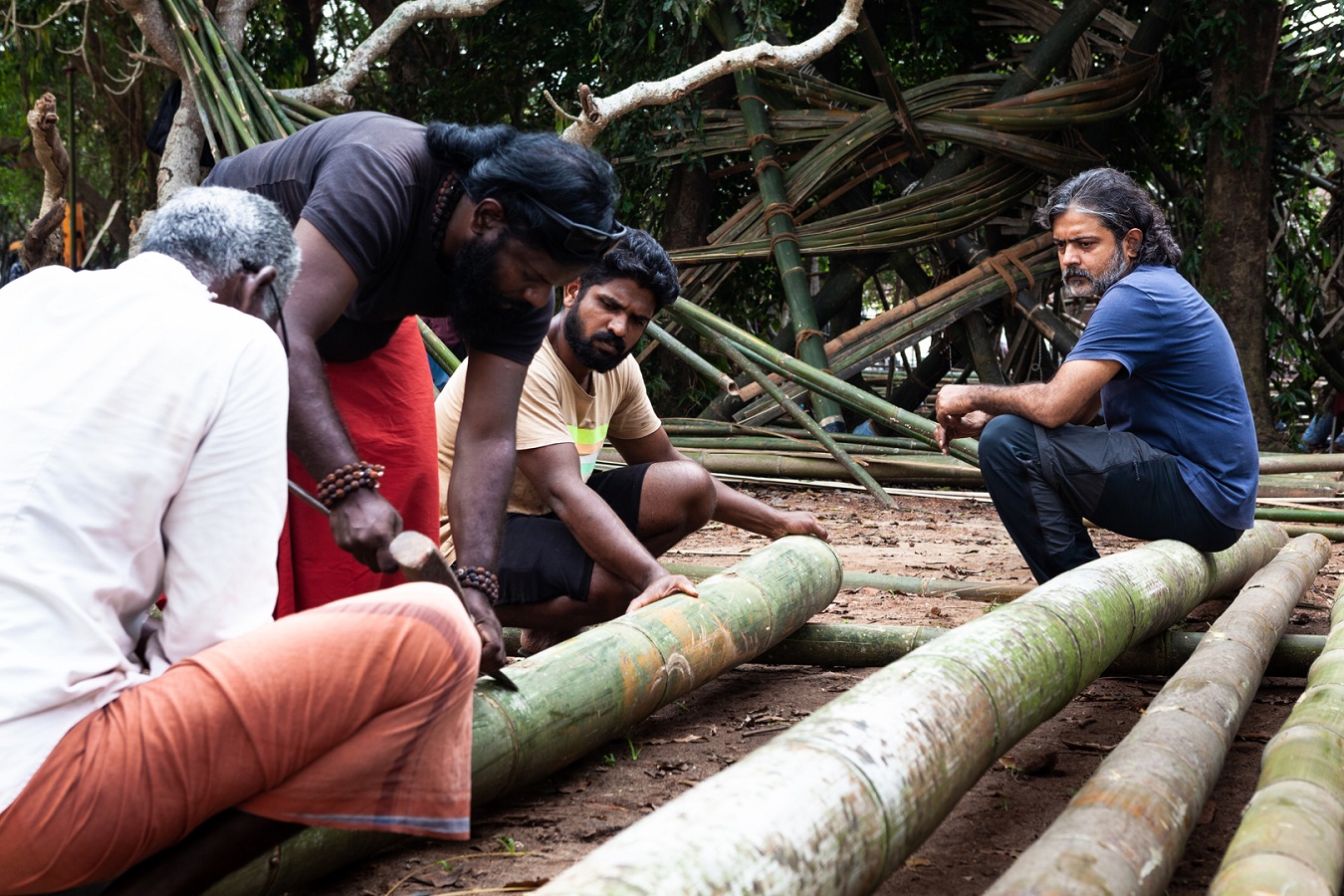 KOCHI:
Famed artist Asim Waqif is creating a wonder world with bamboo, coir, pandanus leaves and panambu at Biennale 2022. The installation titled 'Improvise,' made chiefly of bamboo in over 20 feet height at the compound of the main venue of the Aspinwall House, delivers a novel experience, not just because of its artistic excellence but also due to the message of social commitment it reflects.
The installation consists of musical instruments made of bamboo to light-emitting objects, and even a cradle on which one can lean and swing endlessly. The beholder wouldn't miss the exceptional beauty carved by the sculptor. He will certainly notice how bamboo and other such things commonly thought of as insignificant get such a profound meaning in the hands of an artist.
Asim Waqif says that he intended to drive home the same message through his works. He is trying to establish the relevance, potential, and importance of things that are discarded in day-to-day life by people as insignificant. A lot many factors have inspired Waqif to come up with his masterpiece installation. These days, when discussions focus on sustainability, the solutions such as converting to renewable energy sources and making the food system more energy efficient, etc., are being projected as innovative ideas.
However, Waqif, whose work is influenced by interdisciplinary fields of art, architecture, ecology and design, believes all these are, in fact, traditional ideas. He points out that traditional, localized technologies and materials have got much relevance in these modern times and they can't be simply neglected.
Asim Waqif, who was born in Hyderabad and settled in New Delhi, said his attempt is to connect the average, common masses with contemporary art. That explains the conscious effort to include local natives in setting up his interactive installations and sculptures wherever he presents them. Even the team that assists him in setting up the installation at the Kochi Muziris Biennale comprises wholly of Malayalis.
The 44-year-old contemporary artist, also renowned for his sculpture works, has a Bachelor's degree in Architecture from the Delhi School of Planning and Architecture. Waqif, who is interested in Environment, Anthropology, and TV-Cinema art direction, has done numerous art exhibitions, including in foreign countries, that bagged him critical acclaim.
Waqif and his team of 20 assistants toiled day and night for the last two weeks, making use of hundreds of bamboo sticks before they could give the finishing touches to the eye-catching 'Improvise' installation. Artists like Bindhi Rajagopal and Pali helped him with the coordination activities. A team of women artisans from the Kottapuram Integrated Development Society (KIDS) led by Deepa John etched artworks in palm leaves. Expert employees weaved column-shaped bamboo baskets for decoration of the installation.
62-year-old A.N. Soman, hailing from Bekkur tribal colony, Kattikulam, Wayanad, is the man behind erecting the bamboo structure without losing any sheen of the beauty of the amazing magical installation. He is the head of the BattaKurumar tribe.