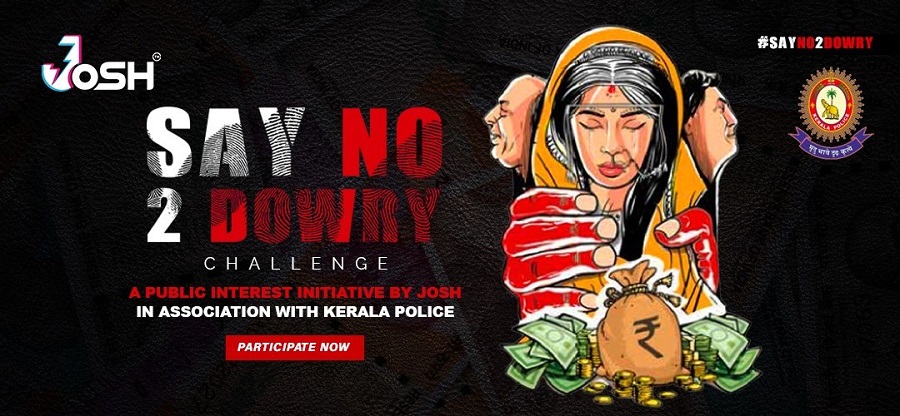 THIRUVANANTHAPURAM:
Josh, India's fastest growing and most-engaged short video app, today announced its collaboration with Kerala Police to help eradicate the social malaise, dowry. The police division marks its debut as a short form content creator on Josh and will exclusively host its '#SayNo2Dowry' campaign on the app. The collaboration aims at informing users about the evil practice of dowry still existing in the state and its harmful consequences that range from oppression of women and their families to domestic violence and emotional stress.
Under the #SayNo2Dowry challenge on the app, Josh aims to raise 1000 unique voices and has hence, urged its users, creators and influencers to leverage the power of short-format content and raise their voice against the barbarity of this social evil that has objectified women and ruined families over decades. Josh creators like Rahul R Nambiar, Vrinda Gopalakrishnan, Jobin Varghesz, Silpa NS, Nikhil & Lena have come forward to voice their opinion and support the campaign by posting impactful videos on the app. In order to generate more awareness around the campaign, the Kerala Police has also been posting videos through their profile on the Josh app.
Commending the initiative by Kerala Police, Sunder Venketraman, Head of Creator and Content Ecosystem, Josh, said,"We are humbled to partner with Kerala Police and extend our support in their efforts to abolish the evil practice of dowry that looms largely in the state. At Josh, we have always tried to create a positive impact on the society by partnering for good and taking a stand for sensitive issues like this. Through the #SayNo2Dowry challenge, we aim to inform the masses about the evil associated with dowry and look forward to collectively resolve the issue."
"Kerala Police has initiated the campaign #SayNo2Dowry as a measure to curb the system of giving dowry in connection with marriage. This is one of the social evils that still exists in Kerala, and we feel that this is the right time to wipe out this menace from our society. Keeping this target in mind, Kerala Police has decided to rely upon social media to a large extent.", saidManoj Abraham, Additional Director General of Police, Thiruvananthapuram Range. "The Kerala Police is happy to associate with Josh, one of the pioneer mobile applications for promoting this campaign. As we are aware, this mobile app has already become a trendsetter among the youth,and any awareness on such a prominent application can winthe hearts of the netizens and further amplify the campaign to a larger audience. As the campaign especially targets the youth, Josh is the right platform for showcasing the message in the form of short videos. Any such awareness on this app will become an icebreaker among the youth. We, at Kerala Police are sure that we can go ahead in our campaign by associating with the Josh app.", he further added.
To support the campaign and raise your voice against the injustices inflicted upon women, please share your videos here: https://share.myjosh.in/challenge/744ff3bb-ea21-4580-97bf-73bff0443b87
Josh is a made-in-India, short-video app launched in September 2020 by VerSe Innovation. It represents a confluence of India's top 1000+ best creators, 20000 strong managed community of creators, the 10 biggest music labels, 15+ million UGC creators, best in class content creation tools, the hottest entertainment formats, and formidable user demographics. Josh has been consistently rated as the leading Indian short-video app in India on the Play store with 100 million downloads. Currently, Josh is the fastest growing and most engaged short-video app in India with 110 million MAUs (Monthly Active Users), 54 million DAUs (Daily Active Users).