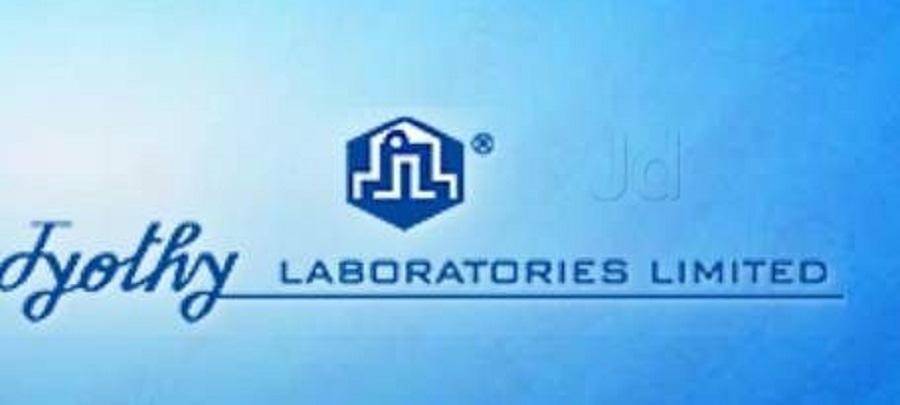 MUMBAI:
Jyothy Labs Limited one of the leading Indian FMCG companies announced today its financial results for the quarter ended 30 June 2020. The Company delivered sales of Rs 433 crores, increase of 2.5% value growth (FMCG sales grew by 4.1% while volume grew by 6.1%) against the same period previous year based on consolidated financial results.
We would like to acknowledge the efforts of our employees and business partners who have worked relentlessly to ensure availability of essential products in these challenging times. While challenges remain, the Company remained agile and delivered Positive Growth on all parameters. Due to the spread of COVID 19 from mid-March and consequent nationwide lockdown, the business operations were suddenly disrupted across the country. The Company quickly aligned its manufacturing
operations, sales team to the new working environment. We are currently operating at near Pre-COVID levels capacity utilisation.
The impact of Covid-19 seems to have affected the rural geographies lesser in comparison to the urban cities. Accordingly, our focus remains more on General Trade, Rural Markets and Ecommerce Platform. Modern Trade stores ('MT') and Canteen Stores Department ('CSD') operations are still facing issues on the ground. Our Brand Equity and Strong Distribution footprint has helped us maintain our Leadership across Brand Categories supported by our backward integration of manufacturing plants and our dedicated sales team.
CONSOLIDATED FINANCIAL HIGHLIGHTS (Q1FY2021 results over same period last year)
 Net Sales at Rs 433 Crores, up by 2.5% (FMCG Sales Volume up by 6.1%)
 EBITDA improved from 15.5% to 17.7% at Rs 76.5 Crores, up by 16.6%. The current quarter other expenses include Rs 5 crore donation paid towards COVID 19 relief funds.
 Net Profit at Rs 50 Crores, increased by 33.8%.
SEGMENT PERFORMANCE
FABRIC CARE – Fabric Whitener, Fabric Enhancer, Bar Soap and Detergent Powder.
• Fabric Care sales declined by 23.8% as consumption of Post Wash Category – Ujala Fabric Whitener and Crisp and Shine had reduced during the lockdown period which has started showing early signs of revival in the month of July.
DISHWASHING – Dish Wash Bar, Liquid, Gel, Powder and Scrubbers.
Dishwashing sales increased by 16.6% as during the lock-down phase the entire dishwash portfolio has seen a good momentum backed by greater emphasis on hygiene. Exo, India's first Anti-bacterial dishwash brand has seen a good demand with consumers.
HOUSEHOLD INSECTICIDES – Mosquito Repellent Coil, Incense Sticks and Liquid Vaporizer.
Household Insecticides sales increased by 151%. This was as a result of extended season this year and consumers adopting a preventive approach towards health.
Maxo Genius India first Automatic Liquid Vaporiser Machine continues to register good growth given its unique offering.
PERSONAL CARE – Body Soap, Face Wash, Hand Wash, Sanitizer and Toothpaste.
Personal Care Sales remained flat over same period last year. Our Neem based Margo portfolio of Soaps, Facewash, Handwash and Sanitizers are positioned to witness strong demand as hygiene is of utmost importance for consumers. We have witnessed increased demand especially of smaller SKU's leading to higher penetration with new users.
Commenting on the financial performance of Q1FY2021, M R Jyothy, Managing Director, Jyothy Labs Limited said "We began this quarter with an uncertain business environment due to COVID 19 with restrictions on supply side, however, our team with flawless execution combined with our portfolio comprising of daily use 'Essential Hygiene' has delivered positive sales growth. We continue to serve the Indian consumers while scaling up our operations and also ensuring health and safety of our employees and business partners. With our differentiated product offerings, wide distribution network and innovative thought process, we are confident of meeting our consumer demands and deliver to our stakeholders' expectations"