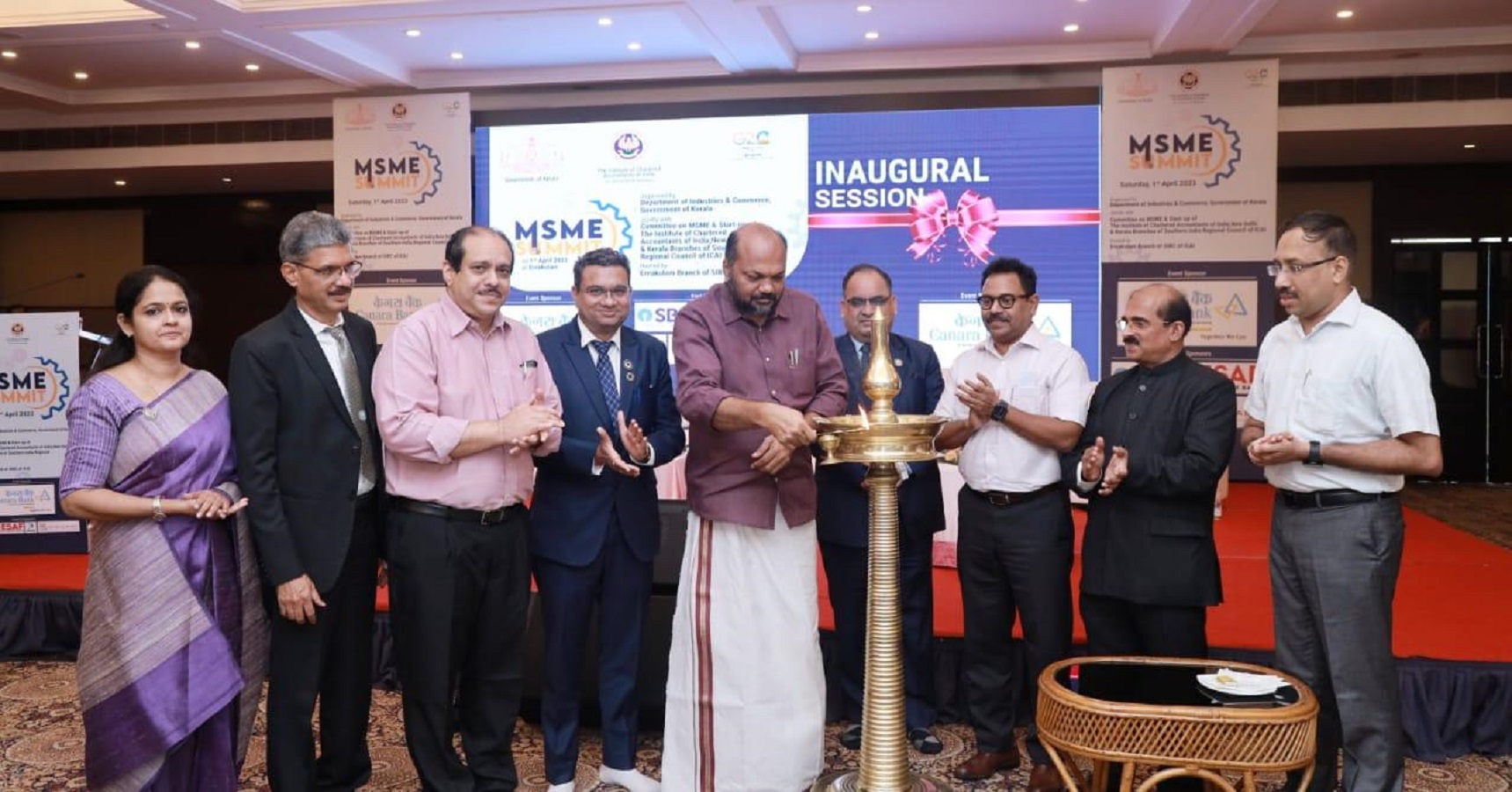 KOCHI:
Minister for Law, Industries and Coir, Government of Kerala P Rajeeve said that Kerala will change rapidly if we all put efforts together. He was inaugurating the MSME summit organized by Department of Industries & Commerce, The Institute of Chartered Accountants of India New Delhi's MSME and Startup Committee and ICAI's nine branches in Kerala, hosted by Ernakulam branch at Kaloor Gokulam Convention Centre, Ernakulam.
The Minister informed that 139815 enterprises registered in the last financial year in the MSME Sector. More than eight thousand crore rupees have been invested in this sector. About three lakh people got new jobs. 35 percent of women entrepreneurs are newcomers. Kerala is a state with well-educated housewives. Many women have ventured into the field of entrepreneurship through the government's new industrial policy.
The Minister appreciated ICAI's decision to provide free services for one year to the new entrants in the MSME sector under the MoU signed between ICAI and Government of Kerala.
The Principal Secretary for Industries and NORKA , Suman Billa and The Principal Secretary for Industries and General Education, Muhammad Haneesh APM delivered the keynote address. ICAI MSME and Startup Committee Chairman CA. Dheeraj Kumar Khandelwal, Vice Chairman CA. Raj Chawla and Chairman of the Southern Indian Regional Council of ICAI CA. Pannaraj S spoke at the programme.
Directorate of Industries and Commerce Joint Director Rajeev G, Kerala State Industrial Development Corporation Managing Director Harikishore S, State Level Bankers Committee Convenor and Canara Bank Kerala Head Prem Kumar S, Chartered Accountants Veeramani P.M. and Deepak Gupta delivered lectures on various related topics.
MSME Summit Convenor CA. Babu Abraham Kallivayalil, welcomed and vote of thanks was proposed by the MSME Summit Joint Convenor CA. Deepa Varghese.