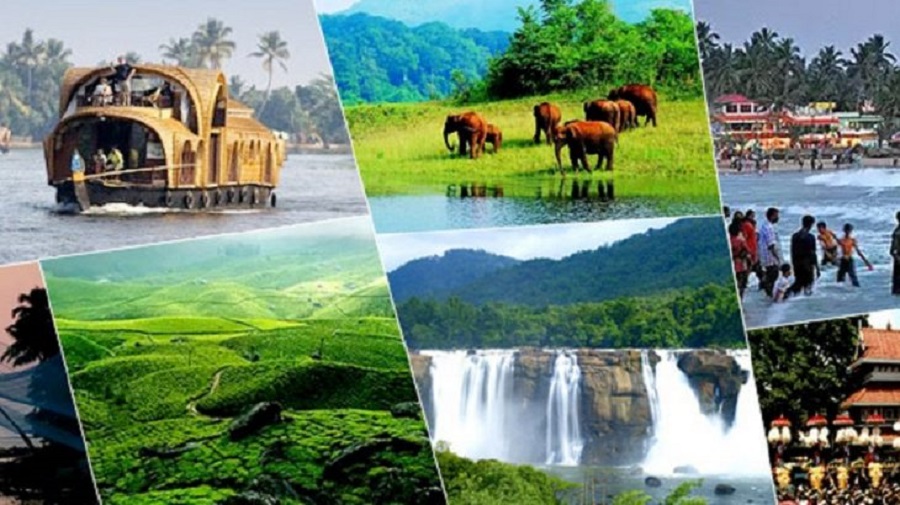 THIRUVANANTHAPURAM:
Kerala today opened its tourism destinations, barring beaches, for visitors by strictly adhering to COVID-19 protocol, signaling the revival of the revenue-generating industry that remained shut for the last seven months following the outbreak of the pandemic.
As per the Standard Operating Procedures (SOP) issued by the Government in this regard, the visitors will have to follow Break the Chain norms including wearing of masks, use of soap and sanitizer and social distancing. The destinations and services that have resumed receiving guests include houseboats on backwaters, personalized boating and adventure tourism spots, which normally have controlled access where it is easy to implement the SMS (Social distancing, Mask and Soap Sanitizer) norm. Hill stations will also be made accessible to tourists, ensuring that there is no overcrowding.
Destinations which have un-controlled access like beaches will be opened from November 1, where also the SOPs will be implemented strictly.
"The State Tourism Department and service providers are totally committed to ensuring a safe and happy stay for guests. Directions have been given to officials also to see that the safety protocols are fully complied with", State Tourism Minister Kadakampally Surendran said.
"The stakeholders in the tourism sector have to follow the SOPs and Guidelines and make Kerala a responsible tourism destination to welcome tourists.
The tourists are also required to follow the Guidelines and support the measures taken by the State Government to combat COVID-19," said Tourism Secretary Rani George.
The domestic tourists coming for short visits of less than seven days are exempted from quarantine but they should register in COVID Jagratha portal. If tourists plan to extend their stay for more than seven days, they have to undergo test at their cost on the 7th day at ICMR/ state government approved laboratories. The visitors are advised to avoid travel if they are symptomatic.
Hospitality facilities, tourism transport operators and other services such as hotels, resorts, house boats, ayurveda centres, homestays, service villas and adventure activity centres will have to go by the SOPs.
The service providers should ensure that health and safety parameters such as temperature check, wearing of mask, frequent sanitization, disinfection and contactless screening for guests are followed.
Health declaration forms should be maintained. Hotel bookings will be allowed only online and a 24-hour gap between check-out and check-in has to be followed. Guests should not be allowed to take uphigh risk activities like pool swimming.
Tourists have to skip public places/ congregations other than the planned purpose of visit and avoid public transport. They should avoid handling cash as far as possible and make payments through digital modes. They may contact health department helpline DISHA 1056 in case they feel symptoms of any illness.
The domestic tourists who visit the state more than seven days have to produce a COVID negative certificate.
The Department of Tourism has also issued a set of guidelines to be followed by its officials and allied service providers and personnel to ensure the stay of tourists safe and smooth. All destinations have to maintain a register at entry points of visitors and facilities such as toilets and washrooms should be kept clean and well sanitized.
Deputy Directors of Tourism and secretaries of District Tourism Promotion Councils have been entrusted with the supervision of compliance of the visitor protocols.