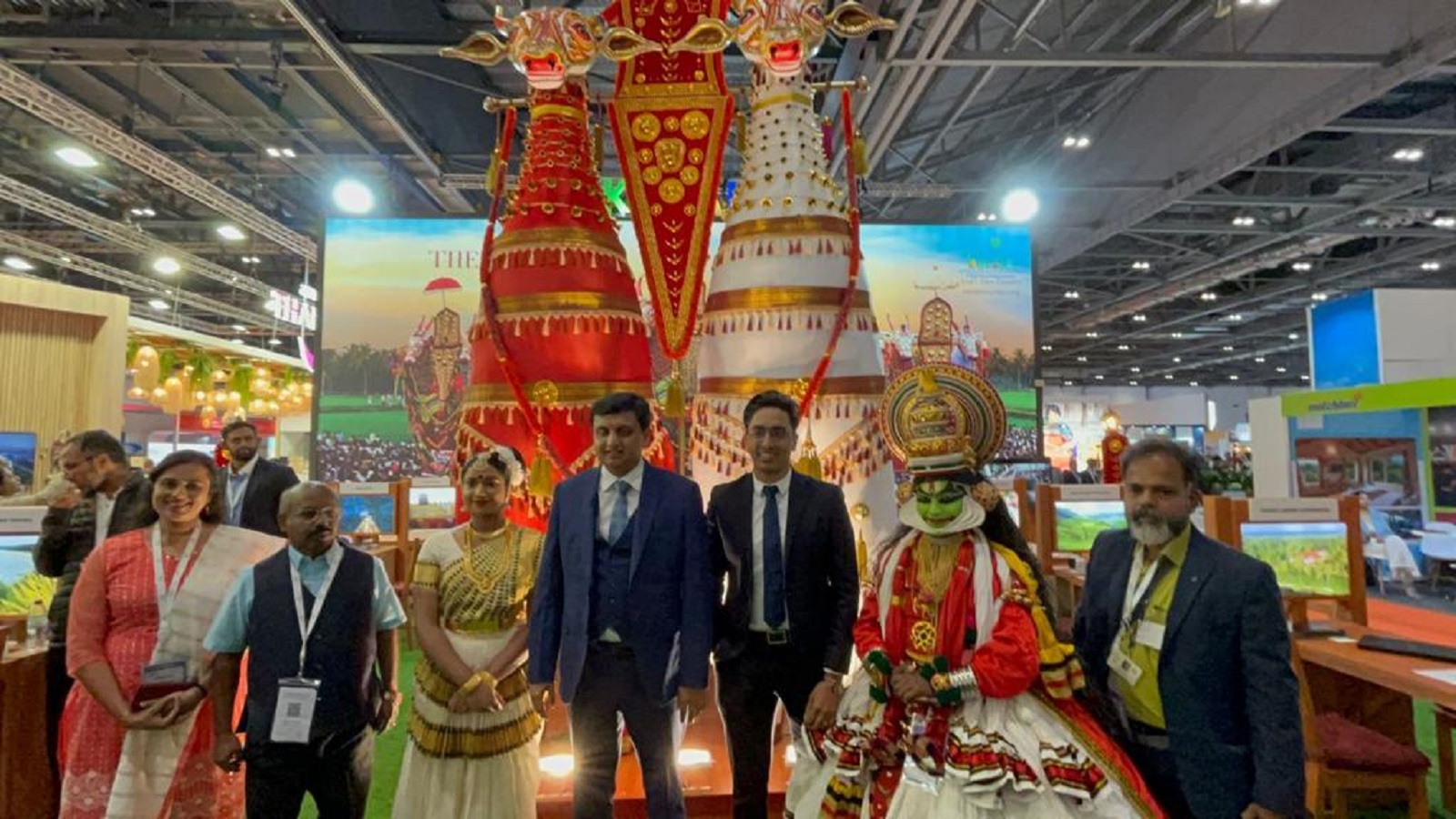 THIRUVANANTHAPURAM:
Kerala Tourism's pavilion, featuring the state's unique festivals and traditions, made a big appeal at the 43rd edition of World Travel Market (WTM) London that got underway at ExCeL London (Exhibition Centre London) on Monday.
Minister for Tourism, P.A. Mohamed Riyas who is leading the state delegation to the three-day event inaugurated the pavilion.
Kerala's 120 sqm pavilion (AS 402) is themed "The Magical Everyday" and it celebrates the festivals of Kerala. One of the major attractions of the pavilion is the huge 'Kettu Kala,' a gigantic effigy of a pair of bulls. The show has been attracting a steady stream of visitors as soon as the event opened.
K.S. Srinivas, Principal Secretary, Tourism: P.B. Nooh, Director, Tourism, and K Rupeshkumar, State Coordinator, Kerala Responsible Tourism Mission are also part of the delegation to WTM London 2022, a meeting place for the global travel trade that attracts top travel destinations and tourism buyers and sellers from all over the world.
Kerala Tourism is participating in the three-day event with 10 trade partners. They include: Alhind Tours and Travels, Pioneer Personalized Holidays, Trail Blazer Tours India, Abad Hotels and Resorts, Citrine Hospitality Ventures, Niraamaya Wellness Resorts, Reen Resorts, Sagara Beach Resort, Tamara Leisure Experiences and Somatheeram Ayurveda Group.
This edition of WTM is significant as it coincides with the opening up of the travel world after the Covid-induced lockdown and travel restrictions.
In a celebration of the state's sustainable tourism practices in the past 15 years, WTM London is scheduled to feature a seminar on Kerala's pioneering RT activities, which have repeatedly won global accolades.
'Looking Back, Moving Ahead: 15 Years of Kerala's Responsible Tourism Journey' is the title of the analytical session to be held on November 9, on the final day of WTM London. Riyas will deliver the inaugural address at the hour-long session.
WTM Responsible Tourism Advisor Dr Harold Goodwin will deliver the keynote address at the session. The panelists to speak will be RT Consultant Adama Bah (founder of ICRT International-West Africa) and ICRT South Africa's Transfrontier Parks Destinations Chief Executive Glynn O' Leary.
Srinivas will moderate the session, while Nooh will welcome the gathering. K. Rupeshkumar will give a presentation on 'Community Empowerment Through Responsible Tourism — Kerala Model'.
The International Tourism Club, London will also be inaugurated at Trinity Centre, East Avenue, London on November 8.