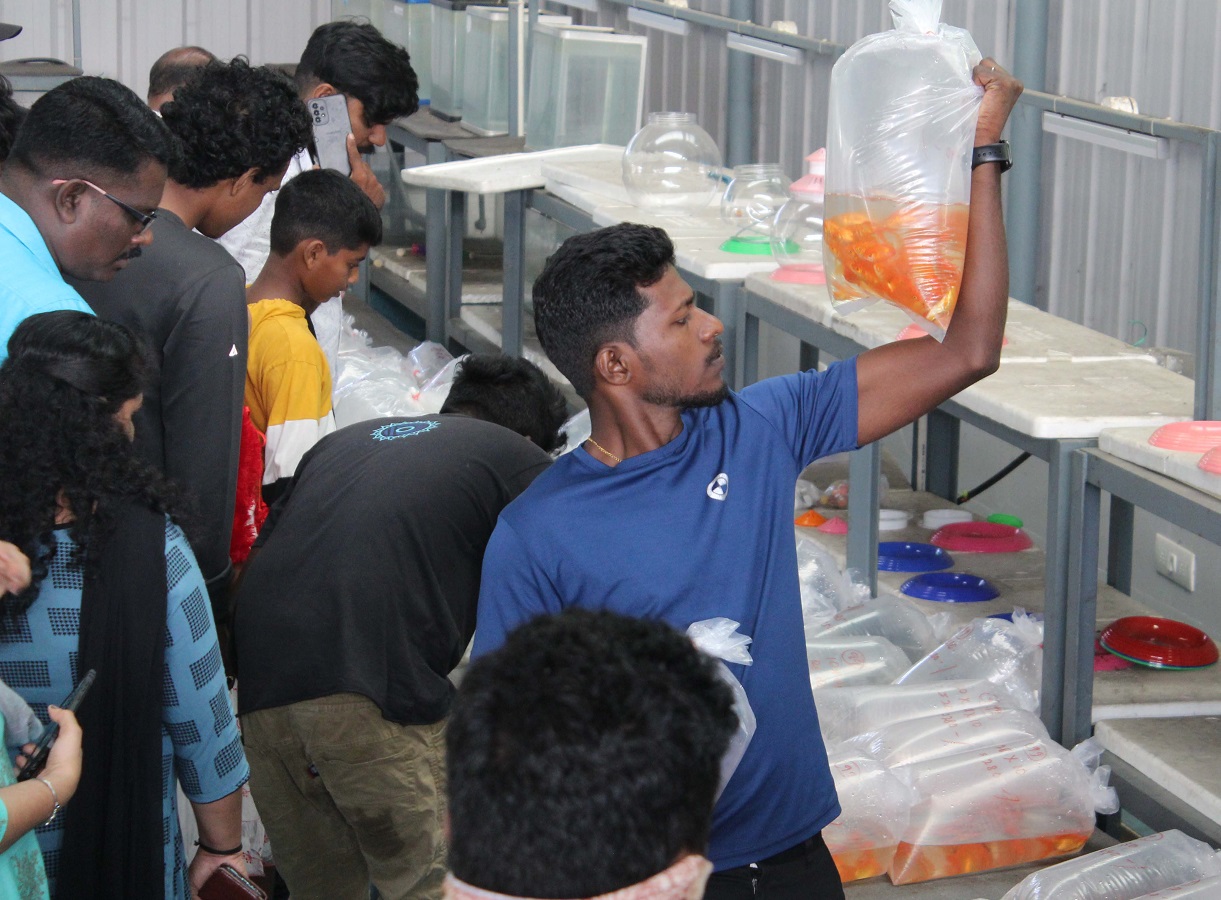 KOCHI:
Over 500 start-up units in the ornamental fish sector are on a course of revival after they suffered a heavy loss during the COVID-19 pandemic, thanks to efforts of the Kerala Aqua Ventures International Limited (KAVIL), a government of Kerala undertaking. Through a slew of initiatives such as buyer-seller meets, start-up training and effective marketing strategies, the body under the Department of Fisheries supported hundreds of families to sustain their livelihood and improve their income.
The buyer-seller meet, in particular, played a major role in streamlining the market avenues and connecting wholesale traders in the sector from across the country to the ornamental fish farmers in the state.
Business worth Rs. 72 lakhs from Buyer-Seller Meet
The meets, being conducted every Monday in a week, yielded good results with potential buyers in the field turning up to buy the fish from the farmers associated with the KAVIL. Within the past two years, the event has generated a business worth around Rs. 72 lakhs", said M S Saju, Managing Director of the KAVIL and Joint Director of the Department of Fisheries. Each session of the event in a week from 9 am to 12 pm witnesses a business of up to Rs. 2 lakhs, turning the ornamental fisheries into a lucrative source of income for farmers, he said.
Aims Rs. 5 crores annually by 2025
"The buyer-seller meet has become a game-changer in the sector as the platform is becoming increasingly popular among farmers and traders, witnessing increased dealings in recent months. We are taking measures to attract wholesale giants in the industry into KAVIL, aiming to do a business of Rs. five crores annually by 2025 through this platform and make the state a hub of ornamental fisheries in the country", Saju said. Additionally, it launched a newly-designed website (www.kavil.in) with an e-commerce facility to further boost the sales of ornamental fishes.
A government nodal agency to improve ornamental fisheries in the state, KAVIL provided intensive training that paved the way for the coming of an increased number of start-up units in the sector. These units now produce quality ornamental varieties and reach targeted consumers with the body playing the role of a facilitator by ensuring a reasonable price to the farmers by avoiding middlemen.
Ornamentals from Kerala are known for good quality and health and varieties such as Koi carp, Oscar, angelfish, cichlid, tetra and morphs in varied colours are the most demanding fishes produced by the farmers.
Large-scale production
Dr Mini Sekharan, the Marketing Consultant of KAVIL and Associate Professor in School of Industrial Fisheries, Cochin University of Science and Technology (CUSAT) said: "The lack of large-scale production for consistent supply to domestic and international markets and proper marketing strategies hindered the growth of a highly prospective industry in Kerala in the past. India is a country with huge domestic market potential which can be explored well with enhanced production and marketing".
A series of start-up training and advanced training would help the farmers enhance technical skills for large-scale production to respond to the demands, she added. KAVIL will organise an advanced training on the technology of large-scale breeding of market-demanded ornamental fishes on 24 and 25 March. Global experts in the field, Kapila Tissera from Sri Lanka and Sriram Hatwalne from Mumbai will lead the training sessions. (For more details on trainings, contact 8304906412, 9745442656)