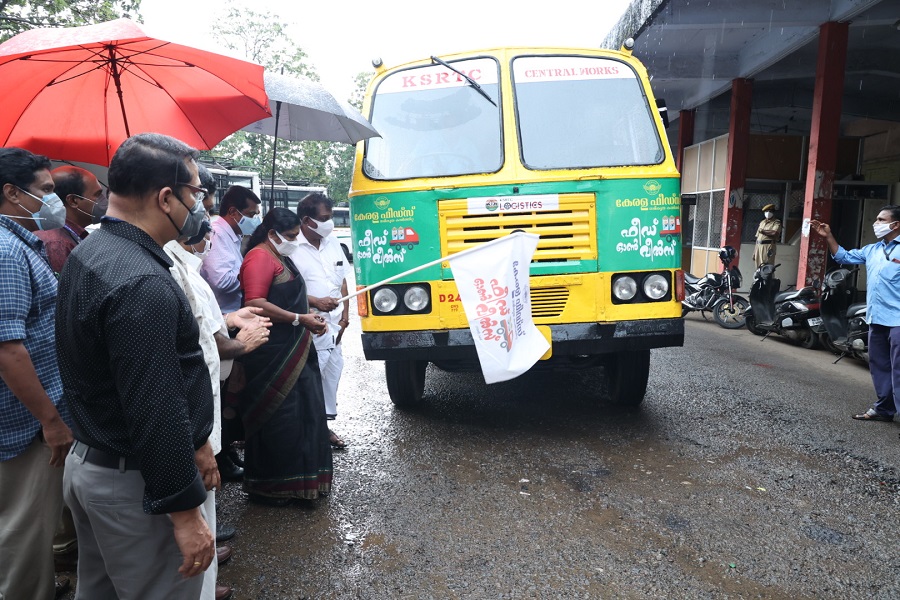 THIRUVANANTHAPURAM:
The public sector Kerala Feeds Ltd (KFL) today launched a novel project to deliver cattle and poultry feeds in KSRTC buses at subsidized rates to farmers across the state, hit hard by the floods, landslides and staggered Covid-19 pandemic.
Minister for Animal Husbandry and Dairy Development J Chinchurani inaugurated the scheme, 'Feed on Wheels', at the Vikas Bhavan KSRTC Bus Depot here.
Transport Minister Antony Raju, who presided over the function, flagged off the KSRTC bus carrying the first consignment of KFL feeds.
Speaking on the occasion, Chinchurani said the project will be implemented in full swing in different districts from November 5, after the successful trial run in Alappuzha and Pathanamthitta.
"The bus will travel across Thiruvananthapuram district on November 3 and 4. Farmers can directly purchase feeds for cattle, poultry and goat, which will be available for them at a subsidised rate ranging from Rs 40 to Rs 300," she said.
Noting that farmers had faced difficulty in getting feed in their respective areas, Chinchurani said they can now book the feed through a phone number or SMS and it will reach their courtyard.
Raju said besides helping farmers in their hour of crisis, joining hands with KFL is also part of KSRTC's plans to generate extra income apart from the ticket sale revenue."When two departments collaborate for such projects, the result will be tremendous. The cash-strapped KSRTC is taking all possible efforts to increase revenue by associating with the projects of other departments," he added.
KFL Managing Director Dr B Sreekumar made the first sale of feed as part of the project at the function.
Dr Sreekumar said the aim of the project is to ensure the supply of KFL products at reasonable rates in places where the company does not have its agency.
Farmers needing KFL's cattle feed can contact the company, which will reach out to the customer by delivering the product at subsidised rates making use of the logistics of the state-owned buses.
For more information on 'Feed on Wheels' can be obtained by contacting 9447490116.
KFL had launched similar relief projects, such as 'Snehasparsham', when the dairy farmers faced misery during the floods of 2018 and '19. Last year, when Covid-19 led to nation-wide lockdown, the PSU ensured the inclusion of cattle feed in "essential commodities" list, thus averting a serious situation.
Dr Jose James, MD, Kerala Livestock Development Board (KLDB); Shine S Babu, Southern Regional Manager, KFLand Mary Pushpam, Ward Councillor, Thiruvananthapuram City Corporation, were also present.