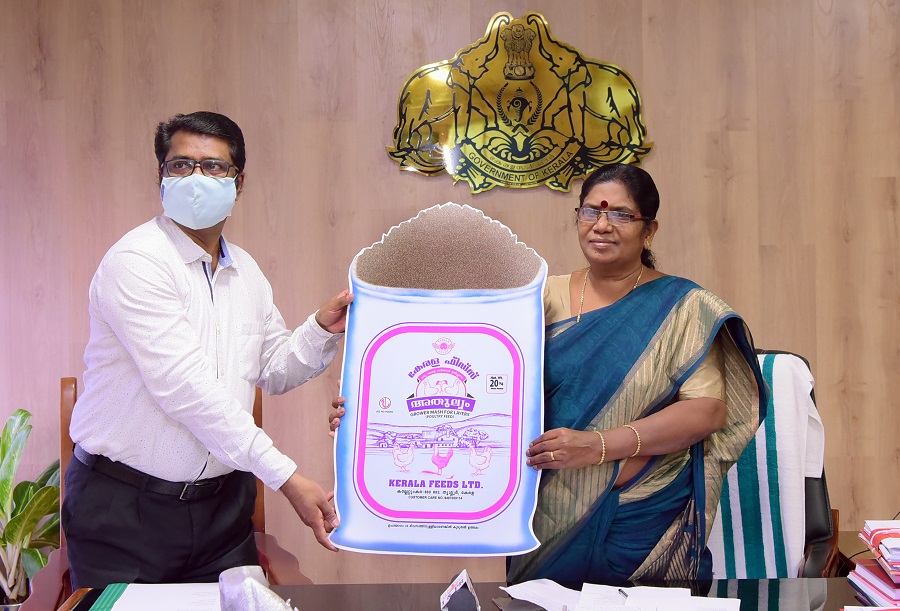 THIRUVANANTHAPURAM:
Kerala Feeds Ltd (KFL) today launched Athulyam Grower poultry-feed that aims for chicken aged between eight and 20 weeks, benefiting small-time farmers in raising hen at the domestic level.
Animal Husbandry and Dairy Development Minister J Chinchu Rani released the product at a function in her official chamber amid online attendance by the PSU's brand ambassador, actor Jayaram.
Chinchu Rani said the Kerala was aiming at self-sufficiency in egg production by promoting quality chicken-feed that breeds healthy hen. Athulyam Grower was the latest step in that direction, she added.
Athulyam Grower has been released amid soaring prices for soyabean which is a key ingredient in chicken-feed. The crop in India is massively exported, leading to its shortage. Considering this, the state's agriculture department has decided to promote the cultivation of soyabean, she added.
The new product will be sold at prices below its production cost of Rs 40 per kg so as to help farmers, the Minister revealed.
Jayaram said an earlier KFL chicken-feed named Athulyam Layer did help improve the egg production in his Anand Farm near his native town of Kalady in Ernakulam district. The hen that the actor brought from Tamil Nadu to the farm in Thottuva by the Periyar river were initially found to be laying small-size eggs, often with weak shells. As most of the hen began losing feathers, they were given Athulyam Layer, following which the health improved and egg productivity doubled.
KFL's cattle-feed and chicken-feed are equally helpful to farmers, he added.
KFL Managing Director Dr B Sreekumar said Athulyam Grower particularly has been conceived keeping in mind that the market currently had no feed for growing chicken of indigenous variety. The PSU aims at high-quality products at an affordable price, he added, informing that Athulyam Grower is prized at Rs 650 per bag of 20 kg.
For more information, call at 9497009114.
KFL had, in end-2019, released nutrition-rich layer feed (Rs 700 per 20-kg bag) for chicken as a premium brand under Athulyam. However, that was meant for chicken above 20 weeks. Both the products are in mashed form and carry the ideal mix of protein, energy, fat, amino acids, vitamins and minerals. They boost the health of the hen and their capacity to lay quality eggs.
The PSU has made arrangements to distribute the product across the state.
KFL Assistant General Manager Usha Padmanabhan proposed thanks at today's function, which was attended online by KFL dealers and officials totalling 70.
The 1995-founded KFL, which is headquartered in Kallettumkara near Irinjalakuda of Thrissur district, produces three varieties of cattle feed, besides feed for goat, hen, rabbit and mineral-rich Keramin and haystacks.