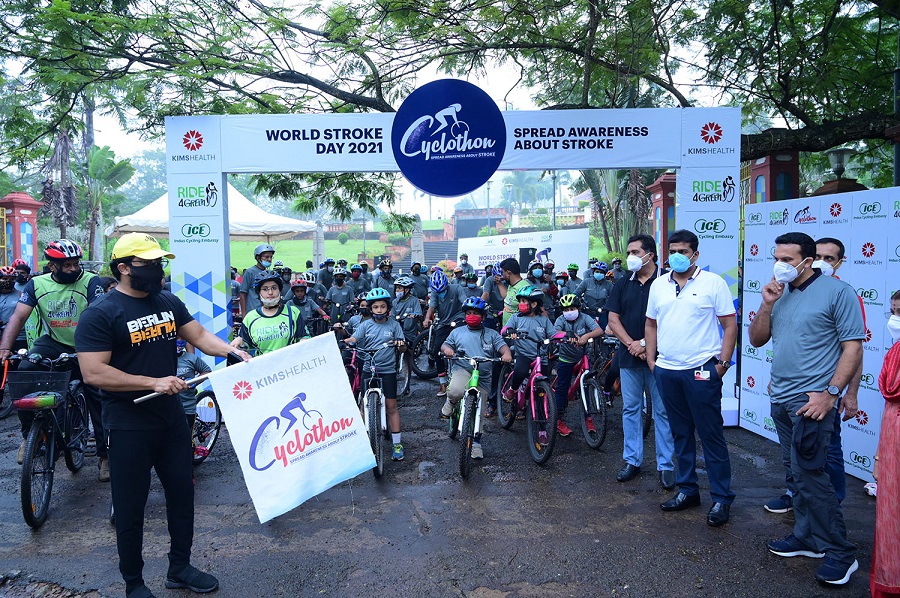 THIRUVANANTHAPURAM:
Marking the World Stroke Day, KIMSHEALTH today conducted a cyclothon to highlight the central message of timely access to quality treatment and the importance of doing exercises regularly to control blood pressure and lifestyle diseases that often lead to stroke.
Actor Manikuttan flagged off the cyclothon, organized in association with Indus Cycling Embassy and Ride for Green, at Kanakakunnu Palace grounds here.
Speaking on the occasion, Shri Manikuttan said maintaining a healthy body and mind is very important in life. "On World Stroke Day, we have to take the pledge that we will make sincere efforts to be in fine fettle by doing regular exercises and following a healthy lifestyle," he said.
As part of the Corporate Social Responsibility (CSR) activities of KIMSHEALTH, Shri Manikuttan also gave away bicycles to select students at the event.
Noting that the message of World Stroke Day 2021 is 'Minutes can Save Lives', KIMSHEALTH Neurology Department Coordinator Dr C J Suresh Chandran said timely treatment is crucial when a person is afflicted with stroke. Stroke can be completely cured with the help of most-modern treatment facilities, he said.
KIMSHEALTH Neurology Department Senior Consultant Dr Syamlal stressed the need for maintaining a healthy lifestyle to reduce the risk of all kinds of diseases, including stroke.
KIMSHEALTH Neurology Department Honorary Consultant Dr Manorama Devi, Associate Consultant Dr Krishnasree, General Medicine Senior Consultant Dr Gopinatha Menon, Chief Operation Officer Jerry Philip, Healthcare Promotions Group Head Y R Vinod and senior office bearers of Indus Cycling Embassy and Ride for Green were also present. More than 100 people participated in the cyclothon.