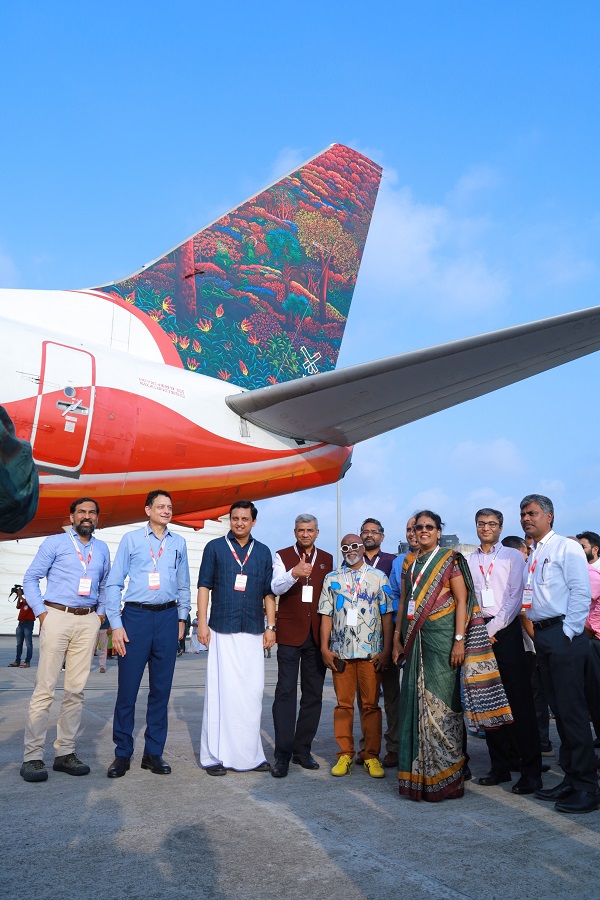 THIRUVANANATHAPURAM:
Air India Express unveiled a new tail art developed at the Kochi-Muziris Biennale and installed on Boeing 737-800 aircraft VT-AXN. The tail art was unveiled by P. A. Mohamed Riyas, Minister of Public Works and Tourism, Kerala, along with Aloke Singh, CEO of Air India Express and President of Air Asia India, and Bose Krishnamachari, President of Kochi Biennale Foundation.
The 25-feet-long tail art is an adaptation of an original acrylic painting by artist Smitha G.S. The painting depicts a parallel timeline through the planes of memory, recreating colourful landscapes filled with chameleons, grasshoppers, micro-organisms and aquatic creatures. The metaphysical painting simultaneously reveals the enigma of tiny creatures and the enormity of hills and flowerbeds. The unveiling event took place at a hangar of Air India Engineering Services Limited situated at Thiruvananthapuram International Airport.
P. A. Mohamed Riyas, Minister of Public Works and Tourism, Kerala, said, "Back in 1935, Mr Tata's first plane landed in this very Thiruvananathapuram international airport and we have seen many such milestones in Kerala. Tourism plays a very important role in our state and it is considered one of the best
tourism destinations. The vibrant tail art that carries the culture of India and this unique partnership between Air India Express and Kochi Biennale shows their commitment to art and culture. Air India Express operates international flights from all four airports of Kerala and I wish it becomes a more formidable force in Indian aviation."
Air India Express has been carrying India's rich culture and heritage through the tail arts since its inception, owing to its commitment to the country's art and culture. This brand new tail art by the Kochi Biennale artists is a priceless souvenir of a partnership of art and aviation – of Air India Express' beautiful
association with the Kochi Muziris Biennale. The Kochi-Muziris Biennale festival, which began in December 2022 and will go on till April 2023, is Asia's largest contemporary art festival and Air India and Air India Express are the official travel partners for the festival.
Aloke Singh, CEO, Air India Express; President of Air Asia, India, spoke about the new and special addition to AIE's tail-art collection, "Kochi – Muziriz Biennale has emerged as one of its kind art event in the country, and by placing a piece of art developed by Biennale on our aircraft, we take the spirit of Biennale to the overseas. I am sure this will go a long way strengthening the tourism potential of this art event."
Commenting on this association, Bose Krishnamachari, President, Kochi Biennale Foundation, said, "Both Air India Express and the Kochi Biennale Foundation believe in giving a platform to local and international artists to showcase their work to the world. We are thrilled to have created such an impactful piece of tail art for Air India Express that will be enjoyed by thousands of people every day."