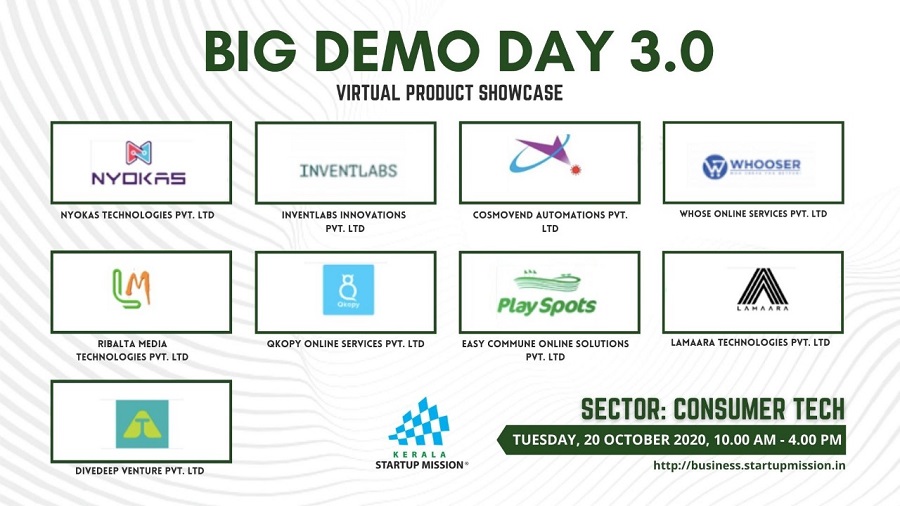 THIRUVANANTHAPURAM:
Setting a platform for industry and investors to leverage products and services from the startup ecosystem at affordable costs to tap post-COVID opportunities, a virtual exhibition will be held from October 19 to 21 in the third edition of 'Big Demo Day' series of Kerala Startup Mission (KSUM).
Around 34 startups from healthcare, consumer technology, Internet of things (IoT) and robotics domains will exhibit their cutting-edge products and services for industry to seize.
The virtual expo is aimed at presenting a slew of ideas and technologies developed by startups before Micro Small and Medium Enterprises (MSMEs) as well as big businesses to help them make use of these products to strengthen businesses, especially in the post-pandemic economic surge.
Organised in association with industry bodies, the programme seeks to make technologies available for industrialists at reasonable costs, besides expanding the market for startups.
The health sector startups will showcase their products on October 19 while those from consumer technology will take part in the expo, scheduled from 10am to 4pm, on October 20. Startups from the Internet of things (IoT) and robotics sectors will put on display their products on October 21.
Industrialists, industry bodies and investors from healthcare, consumer technology, IoT and robotics sectors are also expected to participate.
The programme has the backing of IT entrepreneurs' organisation G-Tech and various Indian corporate firms.
To watch the expo, visit https://business.startupmission.in/ at 10 am. The previous editions of the event had received encouraging response from industry.
KSUM is the nodal agency of the Kerala Government for entrepreneurship development and incubation activities in the state.