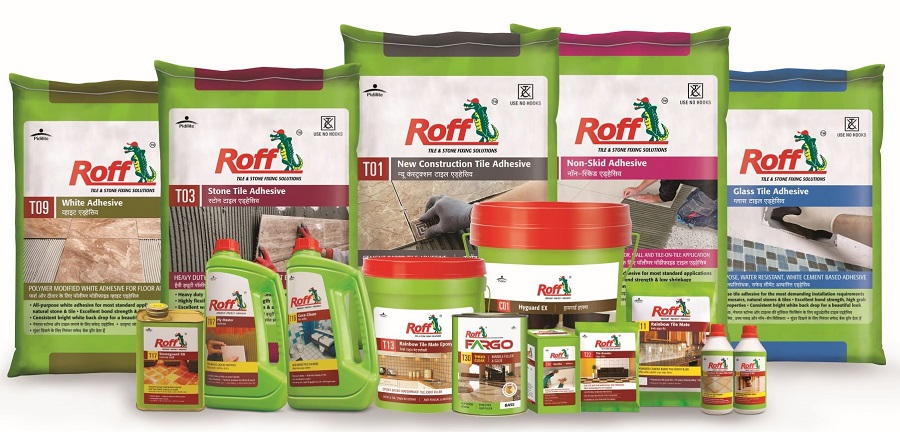 KOCHI:
Roff, a leading tile and stone Solutions brand from the house of Pidilite Industries, has unveiled several initiatives to strengthen its presence in Kerala. It has introduced a complete range of premium products including Master Fix Adhesives (MFA) for fixing tile and stone on diverse surfaces like metal, plywood & drywalls, and Power Fix Adhesives (PFA), a high strength flexible adhesive for external tiles & stones at any height.​ Roff has also launched an easy to clean, high- performance, 2 component Epoxy grout for tile joints with Patented quartz technology which is available in a wide range of finishes. Also, there are many more such best-in-class innovative solutions lined up for launch. This launch of premium products is the result of strong in house R&D and collaboration with leading international partners like Tenax (global experts in stone solutions​), Litokol, an Italian MNC (an expert in tile grouts with patented technologies), and Grupo Puma (a Spanish expert in premium powder adhesives & mortar s).
 
Kerala's love for independent bungalows and houses is well known across the country. Homeowners invest a substantial amount of their time and money in building their dream house and then painstakingly doing up the interiors of their house. But they seldom pay attention to using the right tile solution products. As per the estimates, while doing up the interiors, 90% of the market still uses cement to fix the tiles. That then results in cracked tiles, warping, chipping, debonding, and a whole host of inconvenient and expensive problems. The new range of tiling adhesive from Roff provides long- lasting, durable, and flexible options to the end-customers for all kinds of tile and stone fixing challenges.
 
To further create awareness in the market, Roff has launched 'Rising Kerala', a retail-connect program. This will include extensive Shop branding and educative training sessions for dealers and their linked Contractors (who actually use the product), on the new technologies and correct tiling techniques.
The brand also is running an initiative to raise awareness about the importance of using the correct adhesive and the appropriate application tools while fixing tiles and stones in a home. Titled 'Roff mein hain Magar ki Jakkad', this campaign urges consumers to use the right products instead of cement to ensure the durability of the tiles & stone and avoid future cost and damage. As part of this campaign, for the first time, Roff has also launched a consumer initiative in the Kerala market.
Debashish Vanikar, President – Tile & Stone Solutions, Pidilite Industries Ltd said, "Kerala has been an important market for us and is one of the highest contributors to Roff's overall sales. The customers here are discerning and well-informed. They want the best cutting-edge solutions for their dream homes. Through this campaign, we aim to raise awareness about the ill effects of using just cement instead of an adhesive for tiling. We, at Roff have the right solution for every kind of tile and stone fixing challenge faced by the customers. Roff provides long-lasting and durable solutions for tile and stone fixing."
Tiling trends are changing fast to keep pace with shifting consumer trends. Today, customers are shifting from ceramic tiles to vitrified tiles and from small-sized tiles to large size tiles (greater than 2'X2'). They now prefer composite stones over natural stones and from Indian marble to imported marble. There is also a shift in terms of tiles being used today on exterior walls instead of only interior walls. Customers are also using a wide variety of substrates like plywood, metal, cement board for affixing tiles instead of the earlier predominantly concrete substrates, making tiling even more complicated. "In these demanding applications, the conventional method of fixing tiles with cement is not appropriate and leads to frequent failures. Roff has a range of tile adhesives that are specially designed for the different kinds of tile and stone fixing applications," added Vanikar.
With these changing trends and large-sized tiles, there is a need to maintain tile gaps that are to be filled with more durable and long-lasting Epoxy Tile Grouts. Roff's Rainbow Tile Mate Epoxy Grout and Starlike, which are crack-free, waterproof, stain and chemical resistant, and come in a wide range of colours, offer the ideal solution. Starlike comes with the added advantage of being very easy to clean due to its patented quartz technology and completely UV resistant making it the best Epoxy Grout in the market. 
Overall, Roff offers a wide array of products in the categories of tile / stone-fixing and care, grouting, and cleaning solutions.