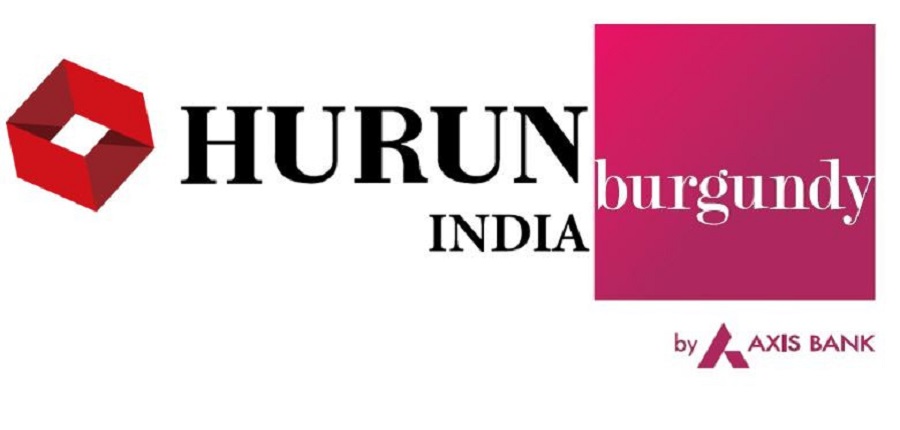 MUMBAI:
Burgundy Private, Axis Bank's Private Banking Business and Hurun India launched the first edition of the '2021 Burgundy Private Hurun India 500', a list of the 500 most valuable companies in India. These companies are ranked according to their value, defined as market capitalization for listed companies and valuations for non-listed companies. The cut-off date to arrive at this list was 30 th October 2021. This list refers to companies headquartered in India only; state-owned companies and subsidiaries of foreign companies are not included.
To make it to the '2021 Burgundy Private Hurun India 500' list, companies require to have a minimum value of INR 5,600 crore, equivalent to US$ 750 million. On an average, companies from this list were founded in 1982 and are worth a total of INR 228 lakh crore (US$3tn) today, up by 68% YoY. Surprisingly, there has been no slowdown in a year dominated by Covid-19. Both the BSE SENSEX and NIFTY 50 rose by more than 50% YOY, whilst the S&P BSE 500 was up 69% over the same period last year.
Amitabh Chaudhry, Managing Director and Chief Executive Officer, Axis Bank said: "Burgundy Private is delighted to partner with Hurun India in celebrating India's 500 most valuable companies. We salute the leadership of these companies who have ably steered their businesses through the ravages of the pandemic, adopting new ways of serving their customers and emerging as winners. As India's leading wealth management franchise, Burgundy Private has witnessed this value creation from close quarters. The total value of the 2021 Burgundy Private Hurun India 500 companies is close to INR 228 lakh crore
(US$3tn), which is higher than India's GDP for FY21.
The top line of these 500 companies is equivalent to 29% of India's GDP and they employ up to 1.5% of the total workforce of the country. What is most
heartening is that nearly 10% of these companies are younger than 10 years, representing India's vibrant tech ecosystem. We believe that India's new economy companies will witness greater representation in this list in the times to come. Axis Bank has been a partner to many names that find a mention in this report, and through our integrated 'One Axis' approach, we look forward to working closely with them as they achieve greater milestones in their journey ahead."
Anas Rahman Junaid MD and Chief Researcher, Hurun India said: "It is easy to see why Burgundy Private Hurun India 500 represents the most powerful group of companies in India. With a total value of US$3tn, which is more than India's current GDP, they make up the backbone of India's economy. Together, these 500 companies had combined sales of US$770bn, and employed 6.9 million staff, which is more than the working population of United Arab Emirates. Hurun India is delighted to partner with Burgundy Private, Axis Bank's Private Banking Business to release the 2021Burgundy Private Hurun India 500."
"The 2021 Burgundy Private Hurun India 500 added US$1.2tn in value. Stock markets rose to record heights on the back of a fast-growing digital economy coupled with increased optimism for the post-Covid growth trajectory of the Indian economy. In terms of fastest-growing industries, Financial Services,
Software & Services and Healthcare sector cumulatively added INR 40 lakh crore"
"The report also throws insights on the economic winners and losers of Covid-19. The 2021 Burgundy Private Hurun India 500 saw their value go up 68%, or a massive INR 90 lakh crore, to a total of INR 228 lakh crore. Half of that came from companies based in Maharashtra. INR 46 lakh crore came from just
four companies, the so-called 'India's Big Four' or Reliance Industries, Tata Consultancy Services, HDFC Bank and Infosys. 14 Tata group companies added INR 8.5 lakh crore and accounts nearly 10% value of the 2021 Burgundy Private Hurun India 500"
"India's most valuable companies keep getting more valuable, with the total value of the 10 most valuable companies rising five times in the last decade."

"Value is perhaps the best way to measure a company's performance, since value takes into account not just the current performance of a company but also its future potential. Curiously, many of the India's most valuable companies had surprisingly low sales. For example, Fintech platform CRED, whose sales
were only INR 108 crore in FY 21, was worth INR 30,000 crore. Some companies have high sales, while their market value is relatively small."
"Other state governments should take note of the fact that Mumbai is home to 33% of the 2021 Burgundy Private Hurun India 500 and Maharashtra to 40% of the list. What makes Mumbai and Maharashtra different? What should other states and city governments do to attract the 2021 Burgundy Private Hurun
India 500 to set up a regional HQ or facilitate the growth of homegrown companies that could feature in Burgundy Private Hurun India 500?"
"271 companies on the 2021 Burgundy Private Hurun India 500, which is ranked by value, are not on the 2020 Fortune India 500, which is ranked by sales. The difference came from Hurun excluding companies like Reliance Capital or Future Retail, which had large sales but did not generate enough value to takethem over the INR 5,600 crore threshold. Another reason is that the 2021 Burgundy Private Hurun India 500 does not include state-owned companies like State Bank of India and Oil and Natural Gas Corporation. 51 listed state owned companies would have achieved the threshold valuation, of INR 5,600
crore, to feature in 2021 Burgundy Private Hurun India 500."
"Hurun has been promoting entrepreneurship through its lists and research since 1999. Starting with the rich list and philanthropy lists, Hurun has gone on to rank unicorns and recently the 500 most valuable companies, on a global level as well as for individual countries, most significantly China and India"
"Regional governments from around the country and beyond are competing to attract the most valuable companies in the country, companies from the Burgundy Private Hurun India 500 list. These companies represent the biggest opportunity for tax revenues, quality employment and industry leadership"
"From the 2021 Burgundy Private Hurun India 500, we can see the booming private economy in India. The value of Reliance Industries, for example, has exceeded the combined value of the top ten state- owned enterprises"
"The 2021 Burgundy Private Hurun Indian 500 shows the concentration of economic power. Just 500 companies had sales of INR 58 lakh crore between them, equivalent to 29% of India's GDP last year, employed 69 lakh people, equivalent to 1.5% of India's total work force and paid 62% of India's corporate
income tax."
"Whilst the valuations of the 2021 Burgundy Private Hurun India 500 might appear at first glance to be huge, it is worth comparing against the Hurun Global 500. Apple's current valuation is about US$2.5tn, just a little under the total valuation of the 2021 Burgundy Private Hurun India 500. Currently, 12 Indian
companies make the 2021 Hurun Global 500, placing India 9th in the list led by the USA with 243 followed by China with 47"
"India's start-ups are producing some significant companies. Just under 11% of the 2021 Burgundy Private Hurun India 500 are less than 10 years old, led by Mensa Brands, Apna, CRED, BharatPe, Mobile Premier League and Zetwerk. Of these startups, 53 are Unicorns and 1 is a Gazelle."
"Women make up 16% of the board of directors from the 2021 Burgundy Private Hurun India 500. As India's economy grows and Burgundy Private Hurun India 500 becomes bigger, expect this percentage of women board directors to grow too. The 2021 Burgundy Private Hurun India 500 are some of the biggest employers of women in the country, led by Tata Consultancy Services with just under 2 lakh women employees."