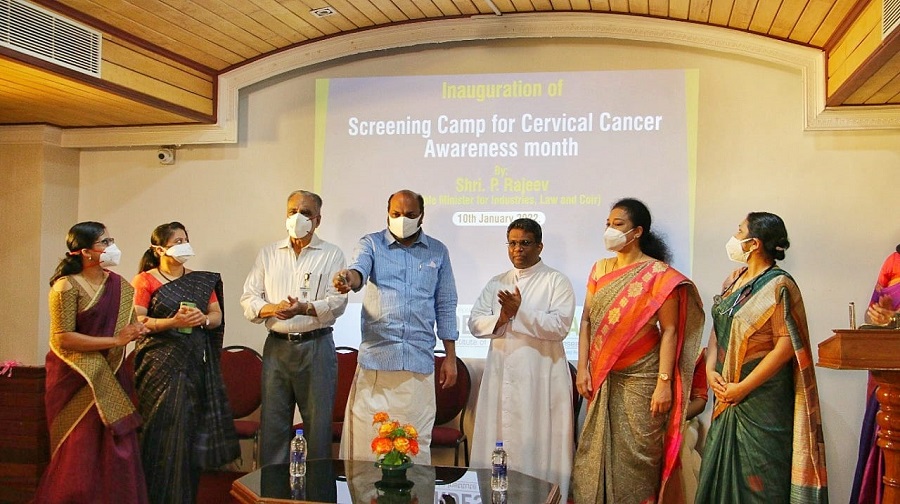 KOCHI:
Lourdes Hospital Ernakulam is conducting the Cervical Cancer screening camp from 10th January to 17th February 2022. Minister of Industries, Law and Coir P. Rajeev declared the camp open and reinstated the importance of the screening camp while emphasizing on early detection of cervical cancer for better management and effective control of the disease.
He congratulated Dr. Praveena Elizabeth Joseph (H.O.D and Senior consultant Obstetrics & Gynaecology) and her highly skilled team of Gynaecologists for supporting and spearheading the social cause.Talking on this occasion, Dr Praveena said almost all Cervical Cancer cases are linked to infection with High-Risk Human Papilloma viruses (HPV); an extremely common virus transmitted through sexual contact.
Fr. Shaiju Augustine Thoppil brought to light that Cervical Cancer is the fourth most common cause of Cancer in women. Cervical Cancer awareness drive had been conducted last year also at the Lourdes Hospital and was well attended.
Camp for screening of Cervical Cancer will be conducted for patients showing symptoms like Abnormal Vaginal Discharge, Uterine Bleeding and Post Coital Bleeding. Dr. Praveena said Effective Primary Prevention through HPV vaccination in girls from 9-15 years by doses 0 and 1, and women between 15-45 years by doses 0, 1, 6 will help in the control of Cervical Cancer cases. Secondary Prevention approaches by screening, treating Precancerous lesions will also help in preventing the majority of Cervical Cancer cases.
The screening will be conducted between 2 pm – 4pm in the OPD. For any queries related to the camp, please contact Lourdes Information Desk – 0484 4121233/34