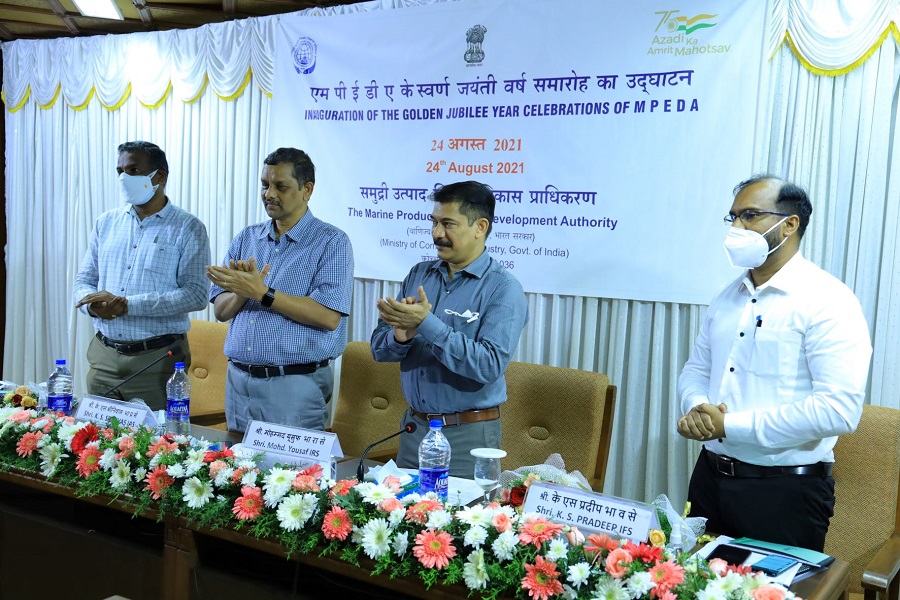 KOCHI:
The Marine Products Export Development Authority (MPEDA) ushered into its 50th year of eventful and glorious existence by launching year-long Golden Jubilee celebrations, the first of its kind in the history of the organisation making way for the participation of hundreds, including pensioners, exporters and all its regional divisions and societies, through virtual platform.
The function, which began on Tuesday, was live-streamed on MPEDA's social media platforms also.
The function commenced with an invocation followed by a silent prayer in remembrance of the departed souls of the organisation. K.S Pradeep, Secretary MPEDA & President, MPEDA staff Club, made the welcome address.
Mohammad Yousaf, Commissioner of Customs, Kochi, who was the Chief Guest, inaugurated the Golden Jubilee celebrations by lighting the lamp in the presence of KS Srinivas, Chairman, MPEDA, who presided over the function.
In his presidential address, Srinivas made a presentation on the growth and achievements of MPEDA in the past five decades and gave insights into a road map for the next 50 years. He emphasised the hard work and efforts of existing and retired employees of MPEDA, exporters and other stakeholders for the exponential growth of seafood exports.
Felicitations were offered by Dr. M. Karthikeyan, Director, MPEDA; Aditya Dash, Vice Chairman; and Dr Ram Mohan M.K, Joint Director (Quality Control), besides Jagadish V. Fofandi, National President, SEAI and Elias Sait, Secretary General, SEAI.
The employees, who completed 25 years of service in MPEDA, were honoured on the occasion.
The Rajeswari Memorial Endowment Awards instituted in remembrance of M. Rajeswari, a former employee of MPEDA, were awarded to the children of MPEDA employees who secured highest marks in the board examinations for 10th and 12th classes.
To mark the occasion, MPEDA has come out with an e-STAT package which automates the export statistics collection and analysis. Anilkumar P, Joint Director (Marketing), MPEDA, gave a brief introduction on the package followed by a presentation on the same.
Mohammed Yousaf, launched the 'e-STAT' package, marking a giant leap for MPEDA.
Nishanth. K.N, Joint Secretary, MPEDA Staff Club, proposed a vote of thanks, marking the conclusion of the event.