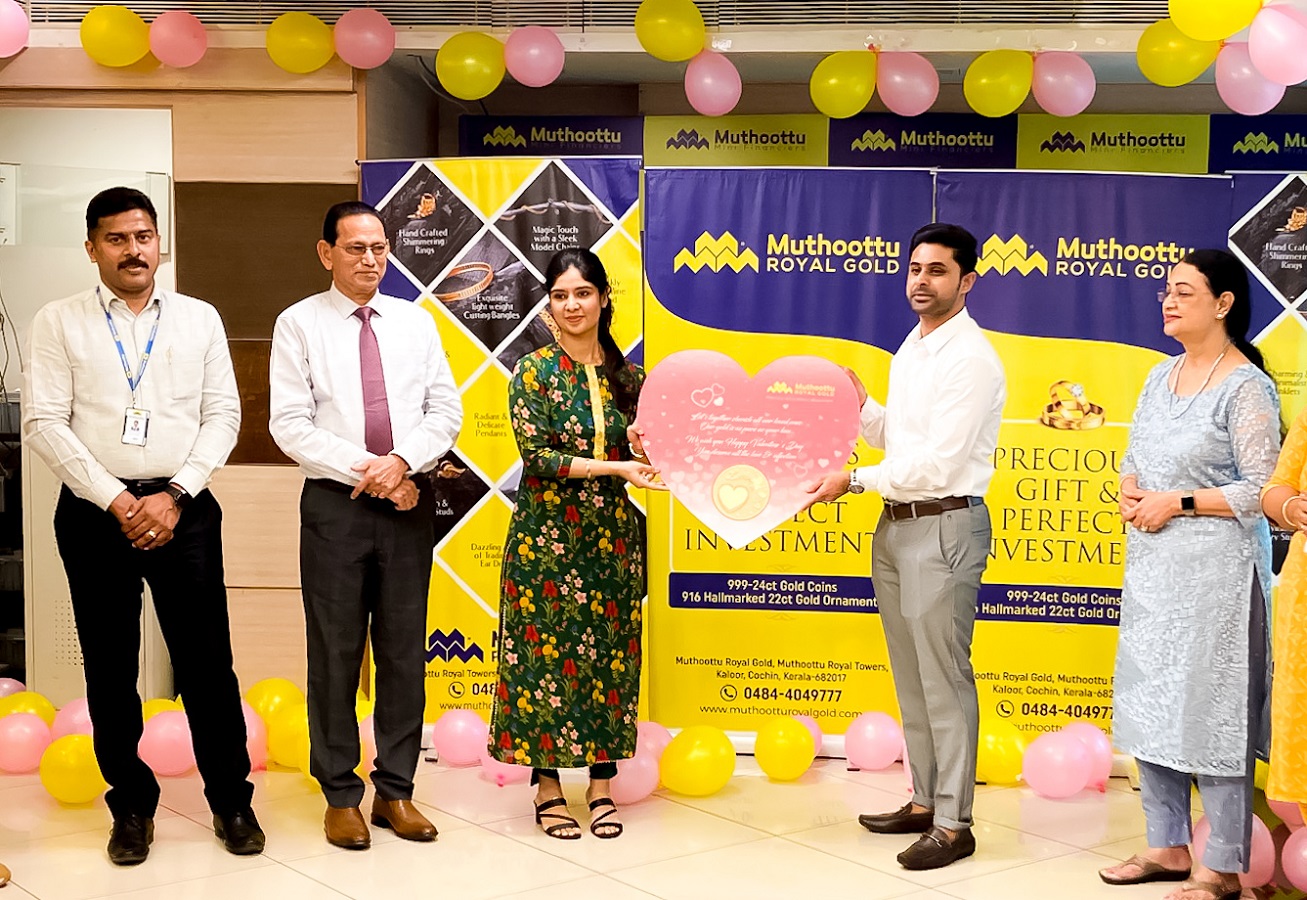 KOCHI:
Muthoottu Royal Gold the new flagship of Muthoottu M Mathew Group, has announced the launch of its special Limited edition 24ct gold coins – "Love Bits Coins". Gearing up for the season of love the coins are crafted to win hearts this Valentine's Day. The launch of "Love Bits Coins" symbolising of Valentine's Day inaugurated by Mathew Muthoottu- Managing Director, Muthoottu Mini Financiers Ltd (MMFL) & Arlin Anna Philip- Founder, Muthoottu Royal Gold (MRG) in the presence of Nizzy Mathew-Chairperson & Wholetime Director (MMFL), PE Mathai-CEO (MMFL) & Jisson Thomas- AVP (MRG).
Muthoottu Royal Gold, have also announced a new range of exquisitely crafted jewellery as a part of Valentine's collection. The exquisitely crafted jewellery comprises of exceptional artisans cut bangles, hand-crafted shimmering rings, radiant & delicate pendants, stylish & glitzy studs to form symbols of love. Keeping up with the 2023 current trends, the collection provides a variety of finely crafted refreshing design jewelleries crafted in 22K gold.
The special Valentine's Day edition composes of 24ct gold coins put together with a perfect blend of love, huge heart, a cupid and a love letter carried by 2 love balloons. The limited edition offers pocket-friendly, 0.5 gm and 1 gm 24ct coins that anyone can gift their loved ones, to express their affection this Valentine's Day.
Arlin Anna Philip, Founder, Muthoottu Royal Gold said: "Our exquisite range of hand-crafted jewellery is designed to make this Valentine's Day truly special for everyone. We believe that our beautifully crafted gold coins and jewellery will make a meaningful and lasting impact on loved ones and make
this season of love even more memorable."
Customers can visit any nearest Muthoottu Mini Financiers Branches to book them today.