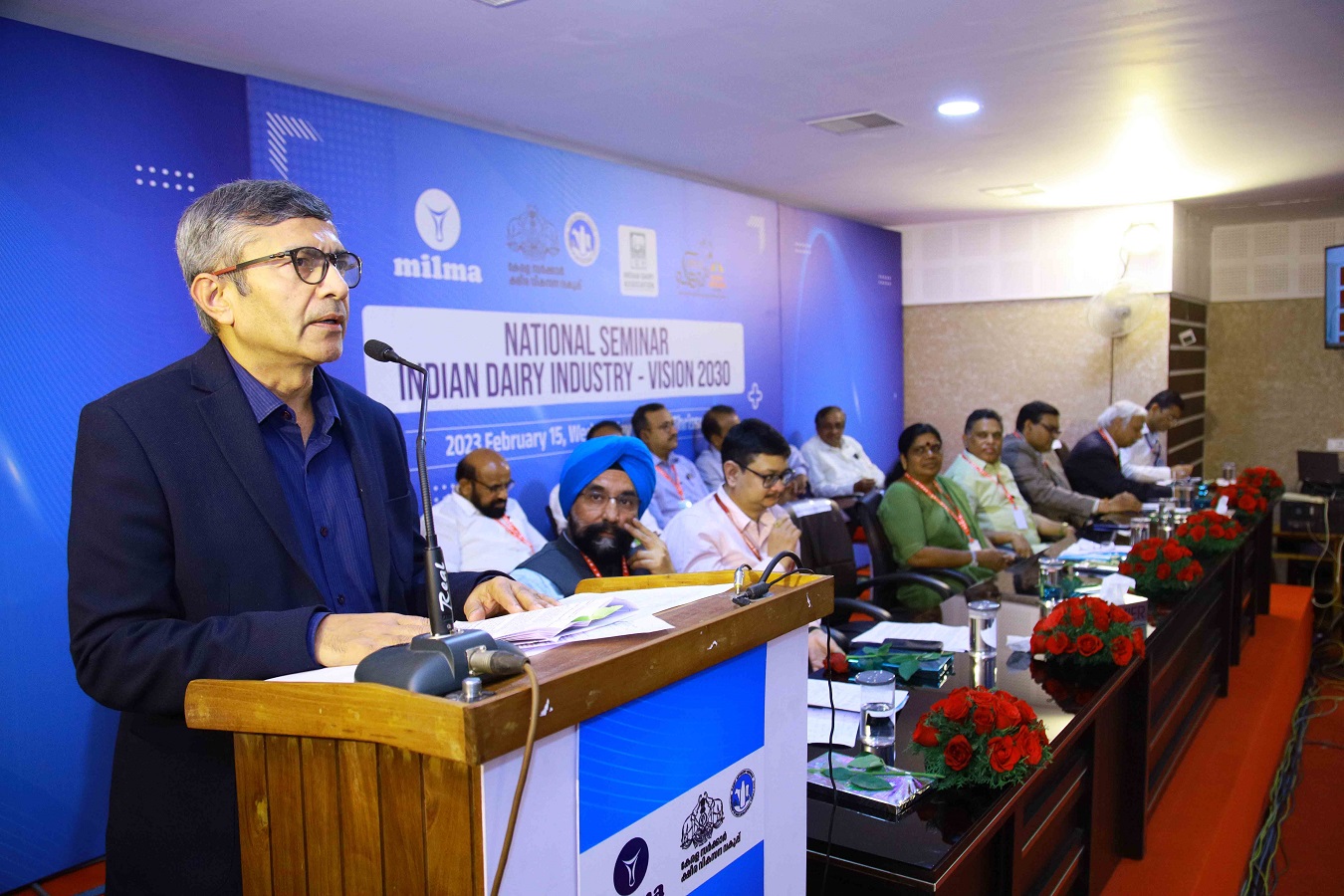 THRISSUR:
The National Digital Livestock Mission (NDLM) is expected to be rolled out in the country by April this year to create a technology-enabled and farmer-centric ecosystem to enable the Indian dairy sector to scale greater heights, R K Singh, Secretary, Animal Husbandry and Dairying, Government of India, said today.
Besides creating a digital database of the country's livestock wealth for planning and strategizing, NDLM will greatly improve delivery of services to farmers and help them receive all information in right time, Shri Singh said in his inaugural address to the national seminar on 'Indian Dairy Industry—Vision 2030' held here on the concluding day of "Ksheera Sangamam 2023', organized by Kerala Dairy Development Department.
The seminar, where speakers shared their perspectives on the dairy sector growth building on the strides made so far, was jointly organized by Milma, Indian Dairy Association and the Department of Dairy Development.
The NDLM is now under way in Uttarakhand on a pilot basis and hopefully it will be rolled out throughout the country by April, Singh said, noting that this would be the world's largest such programme.
The digitization of the livestock will help effective tracking, disease surveillance and information dissemination. This could be implemented easily in a state like Kerala, which has made good progress in tagging its livestock, he said.
Noting that India is now world's largest milk producer, Singh said it is important to tap export potential of dairy products to make the sector a major contributor to the national income and ensure handsome returns to farmers.
Increasing productivity, expanding the organized sector by bringing more farmers into co-operative networks and following sustainable practices are critical for the future growth of the dairy sector, Singh said.
Lauding Kerala's achievements in the dairy sector over the decades and the vital role of Milma in that, Singh said the Centre has provided a mobile IVF unit to the Kerala Livestock Development Board (KLDB).
At the outset, presiding over the seminar, Animal Husbandry and Dairy Development Minister J Chinchurani said the efforts of the state government and Milma in assuring a stable price for farmers and affordable price for consumers were the basic factors for the growth of the dairy sector in Kerala.
The state government is working on a mission for the further growth of the dairy sector by making concerted efforts by taking Milma on board, the Minister added.
Delivering the key-note address, Meenesh C Shah, Chairman, National Dairy Development Board (NDDB), said there are five thrust areas which need attention for further growth of the dairy sector—increasing animal productivity, enhancing quality of milk, tapping export potential, strengthening the organized sector and adopting sustainable practices. These vital factors will together help build an enabling environment for future growth of Indian dairy sector", he said.
The primary focus of dairy development programmes should be on farmers as they are the real growth engine, Shah added.
Pranabjyoti Nath, Secretary, Department of Animal Husbandry & Dairy Development, Govt of Kerala, said that Kerala has successfully initiated a set of projects that will enable the growth of the dairy sector like application of technology, aggressive vaccination programme, entrepreneurial promotion, close disease surveillance and adoption of sustainable practices.
Dr R S Sodhi, President, Indian Dairy Association, said the existence of a strong supply chain built, owned and managed by farmers was the greatest contributor to the success story of Indian dairy sector. This has come a long way when it started in early 1970s with the white revolution, which transformed the country into the world's largest milk producer. Now it is time to launch the second White Revolution.
Greater focus on enhancing export competitiveness, rationalization of GST on dairy products and getting priority sector exemptions to dairy activity are also essential for the future growth, he said. Now dairy sector contributed 5.2 per cent of the GDP and is targeted to be taken to at least 7 per cent by 2030. Keeping milk production commercially viable is vitally important to achieve growth. There should also be adequate budgetary allocation by state governments and the Centre. Severe shortage and high cost of cattle feed is a grim challenge faced by farmers today and this needs to be addressed in all seriousness, Sodhi said.
Dr Rakesh Mohan Joshi, Director, Indian Institute of Plantation Management, said it was the individual farmer who made India the world's biggest milk producer despite confronting serious challenges like low productivity and high input cost.
It is important to scale up competitiveness in all levels to make dairying into one of the prime contributors to the national income and health of the people, Prof Joshi said.
KS Mani, Chairman, Milma, who welcomed the gathering, said it is a matter of pride for Kerala that it is the home state of Dr Verghese Kurien, who is hailed as "Milkman of India".
Dr A Kowsigan, Director, Department of Animal Husbandry and Dairy Development, Asif K Yusuf, Managing Director, Kerala Cooperative Milk Marketing Federation, MT Jayan, Chairman ERCMPU and N Bhasurangan, Convener, Administrative Committee, TRCMPU, were also present.