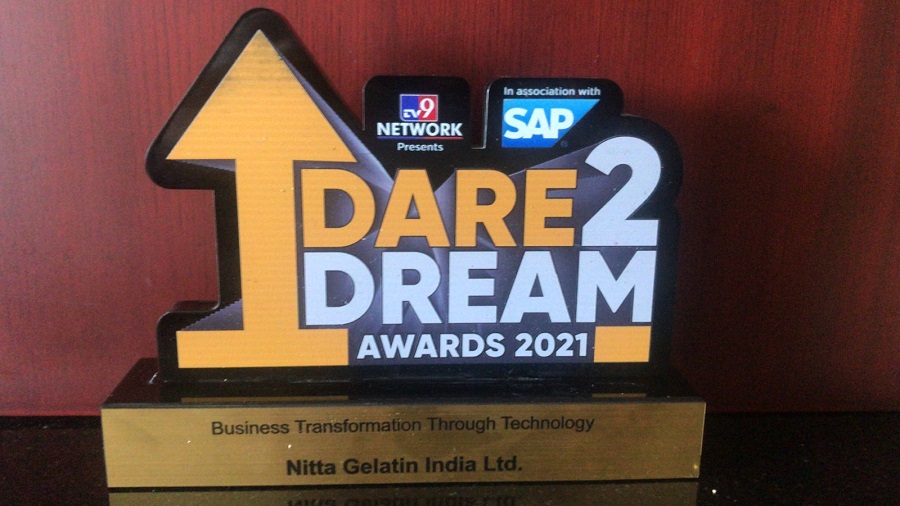 KOCHI:
Nitta Gelatin India Limited has bagged the Dare 2 Dream Award 2021 for business transformation through technology instituted by SAP India and TV9 Network. The awards are given to recognise business leaders who had the resilience to not only tide over the pandemic induced crisis but also come out stronger by resetting their business models. Sajiv K. Menon, Managing Director, Nitta Gelatin, received the award from S. Krishnan IAS, Industries Secretary, Government of Tamil Nadu.
Accepting the award, Menon thanked SAP India and TV9 Network for selecting Nitta Gelatin for the award which he said is recognition of the way the company has been able to manage its business successfully, especially during the last two years when the industry was faced with multiple challenges including soaring prices of raw materials apart from supply shortage. Nitta Gelatin had implemented a number of innovative measures at multiple points in its value chain in areas including cost management, technology innovations and process enhancements, whereby the plants were run at full capacity and customers were serviced with high quality products without any break.
Nitta Gelatin is a Joint Venture of the Osaka headquartered 101 year old Nitta Gelatin Group with the Kerala State Industrial Development Corporation Limited with factories in Alappuzha, Ernakulam and Thrissur Districts in Kerala and also in Gujarat and Maharashtra. Nitta Gelatin is the market leader in gelatin used by the pharmaceutical industry. More than half their production is exported to countries like USA, Japan and in Europe and South East Asia.