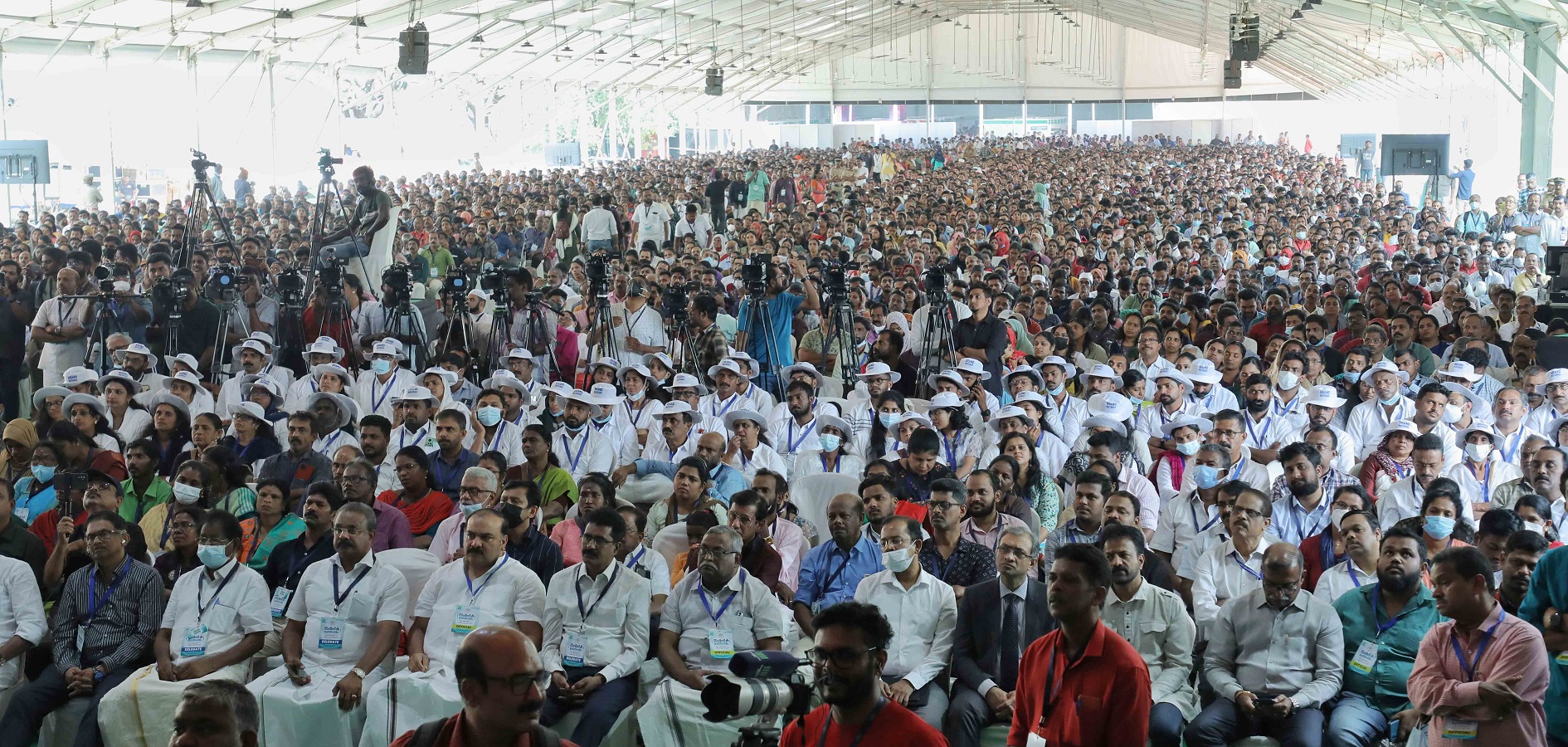 KOCHI:
Giving a huge stimulus to e-commerce operations, the Open Network for Digital Commerce (ONDC), launched by the Central government's Department for Promotion of Industry and Internal Trade, is gaining wide popularity among entrepreneurs for seamlessly featuring their products on multiple marketplaces, according to digital solution providers at an expo here.
Since ONDC goes beyond the current platform-centric digital commerce model, sellers/vendors find it a perfect platform to feature their products that can be sold through several e-commerce platforms across the country, they said while participating in the expo held as part of the 'Vyavasaya Sangamam-2023' at Kaloor International Stadium Ground in Kaloor today.
The mega meet was organised by the Kerala Department of Industries and Commerce to promote businesses by giving practical help and advice to aspiring entrepreneurs in the state.
Noting that the trend is picking up now, Karthik Shreyas, Manager-Customer Success, eSamudaay, Bengaluru, said they provide an e-commerce-related customised software application to a seller to get access to ONDC.
Shreyas said if one wants to build a good software application of one's own, it will cost at least Rs 15 to 20 lakh, but they provide it by charging a one-time fee of only Rs 15, 000 and it will be changed based on the number of logins by the seller.
"In short, we are helping the vendor to join ONDC, which is akin to Unified Payments Interface (UPI) and it is the UPI of e-commerce. Through ONDC, one software application is enough to be featured on multiple marketplaces," he explained.
Currently, there are around 14 software solution providers for joining ONDC.
Shreyas added that about 3,000 sellers had used their digital solutions to access ONDC.
ONDC, launched in 2021 to develop open e-commerce, is building a digital network for the e-commerce industry that allows any online seller to connect with any buyer in the country. The initiative aims at promoting open networks for all aspects of exchange of goods and services over digital or electronic networks.
Similarly, Kerala Government has an e-commerce platform, http://www.keralaemarket.com, exclusively targeting the global market. It is a unique idea of combining everything there is to the industry under one roof. Consumers can easily find what they are looking for and buy online or order from dealers directly and indirectly for inquiries and special offers.
Gitto Pious Peter, Senior Product Consultant, Gofrugal, Chennai, said the flexible terms and conditions in ONDC attract more vendors, who wish for more visibility for their products.
Joe, who represents SellerApp, said a single and unified online platform like ONDC helps consumers to locate all the products in one place.
Functioning similar to unified payments interface for payments, ONDC aims to make e-commerce more inclusive and accessible for consumers.
MSME clinics to help entrepreneurs of medium, small and micro enterprises were the highlight of the event. Through the clinics, the Department of Industries and Commerce gives a single platform for advice on starting business ventures or/and expanding them.
A theme pavilion by the Department of Industries and Commerce showcased products by new enterprises. It was among the 75-plus stalls by the government and private stakeholders at the expo.
The entrepreneurship-promoting stalls at the conclave included National Institute for Inter Disciplinary Science and Technology; National Institute of Fashion Technology (NIFT); Kerala Agricultural University; Kerala University of Fisheries and Ocean Studies; Central Tuber Crops Research Institute; Central Plantation Crops Research Institute; Central Institute of Fisheries Technology; Marine Products Exports Development Authority (MPEDA); and National Bank for Agricultural and Rural Development (NABARD).
The stalls were also set up by Indian Institute of Infrastructure and Construction; Bureau of Indian Standards; Directorate General of Foreign Trade; Agricultural and Processed Food Products Exports Development Authority; Federation of Indian Exports Organisations; National Coir Research and Management Institute; Technology Evaluation Centre; Coffee Board (Kattappana); and MSME Development Institute (Thrissur).
The other stalls of PSUs were Oushadhi, Kerala Academy for Skills Excellence, Steel Industrial Forging, Traco Cables and Kerala Electrical and Allied Engineering Company.