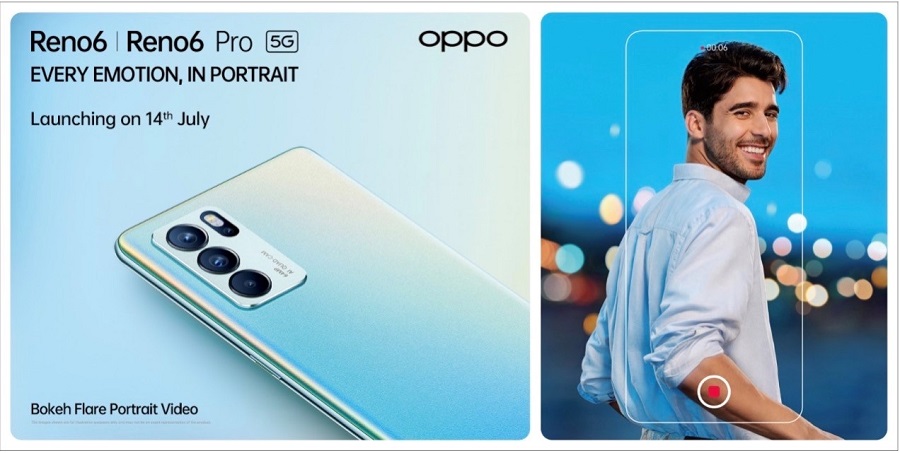 NEW DELHI:
OPPO, the leading global smart device brand, is all set to introduce the most awaited Reno smartphones in India – OPPO Reno6 Pro 5G and Reno6 5G, on July 14th, 2021. OPPO has always been committed towards introducing latest innovations in hardware and software to enhance consumer experience. These much awaited Reno smartphones are the outcome of efforts put in by OPPO's extensive global R&D teams. The super 5G phone OPPO Reno6 Pro 5G and Reno6 5G packs in leading imaging technologies, such as industry-first Bokeh Flare Portrait Video, AI Highlight Video, and additional professional camera features to capture every emotion in a portrait.
Aligned with OPPO's legacy of mastering innovation by bringing in industry-first features with the Reno series, OPPO Reno6 Pro 5G and Reno6 5G will usher in the new era of smartphone videography with its industry-first Bokeh Flare Portrait Video, a cinematic Bokeh Flare Effect that captures professional grade quality videos and is a nothing less than a studio in your pocket! Both the front and rear cameras support the Bokeh Flare Portrait feature, along with video stabilization and video beautification features. The smart algorithm can effectively distinguish people from the background, and it intelligently brightens what you want to capture, while automatically blurring the background, the result is noise-free clear, brighter, clearer and crisp videos.
Further, the industry-first AI Highlight Video feature in the smartphone, powered by Ultra Night Video and Live HDR algorithms optimises video quality, helping you capture true-to-life, brighter, clearer, and stunning videos by intelligently adapting to ambient light conditions, be in low-lit night or day, so you have the perfect video shots in all scenarios. The device also packs in other stellar imaging and videography features, such as Focus Tracking, Colour Temperature sensor, Full Dimension Fusion (FDF) Portrait Video System, and AI Palette, amongst others. The phone also allows for real-time professional video editing whilst filming with its So LOOP offering. One device that fits all your videography needs, filling the role of director, editor, and cameraman – all in one.
Speaking on the soon to be launched OPPO Reno6 series, Damyant Singh Khanoria, Chief Marketing Officer, OPPO India said, "In line with OPPO Reno's rich legacy, the latest Reno6 series with premium flagship videography features, unleashing a new epoch of smartphone videography. The Reno6 series are the perfect for new age video-creators, backed by industry-first Bokeh Flare Portrait Video, and other leading videography features to capture cinematic and professional level videos. Like a studio in your pocket these come with advanced camera and design technology, while guaranteeing a powerful performance, super-fast charging in a sleek and hard-to-look-away design."
OPPO Reno6 Pro 5G bundles in exceptional performance, featuring flagship MediaTek 5G SoC with RAM expansion, which helps you to multi-task, open and operate multiple apps and play games without any lag or screen freeze with extremely low power consumption. Furthermore, OPPO Reno6 series incorporates 65W SuperVOOC 2.0, faster, safer, and more stable low voltage flash charging technology.
Our Reno5 Pro 5G also witnessed a bumper sale with over 100% growth in the first quarter of sales, mirroring the love and confidence of our fans. OPPO Reno series video functions have been appreciated by users around the world, resulting in 200 million videos in a single month. Now OPPO is all set to lay new grounds and redefine the smartphone space with the launch of its 'Most Awaited Reno' smartphones. Block your calendar for complete specification and pricing of the most awaited Reno6 series smartphones on July 14, 2021, during the official launch event.