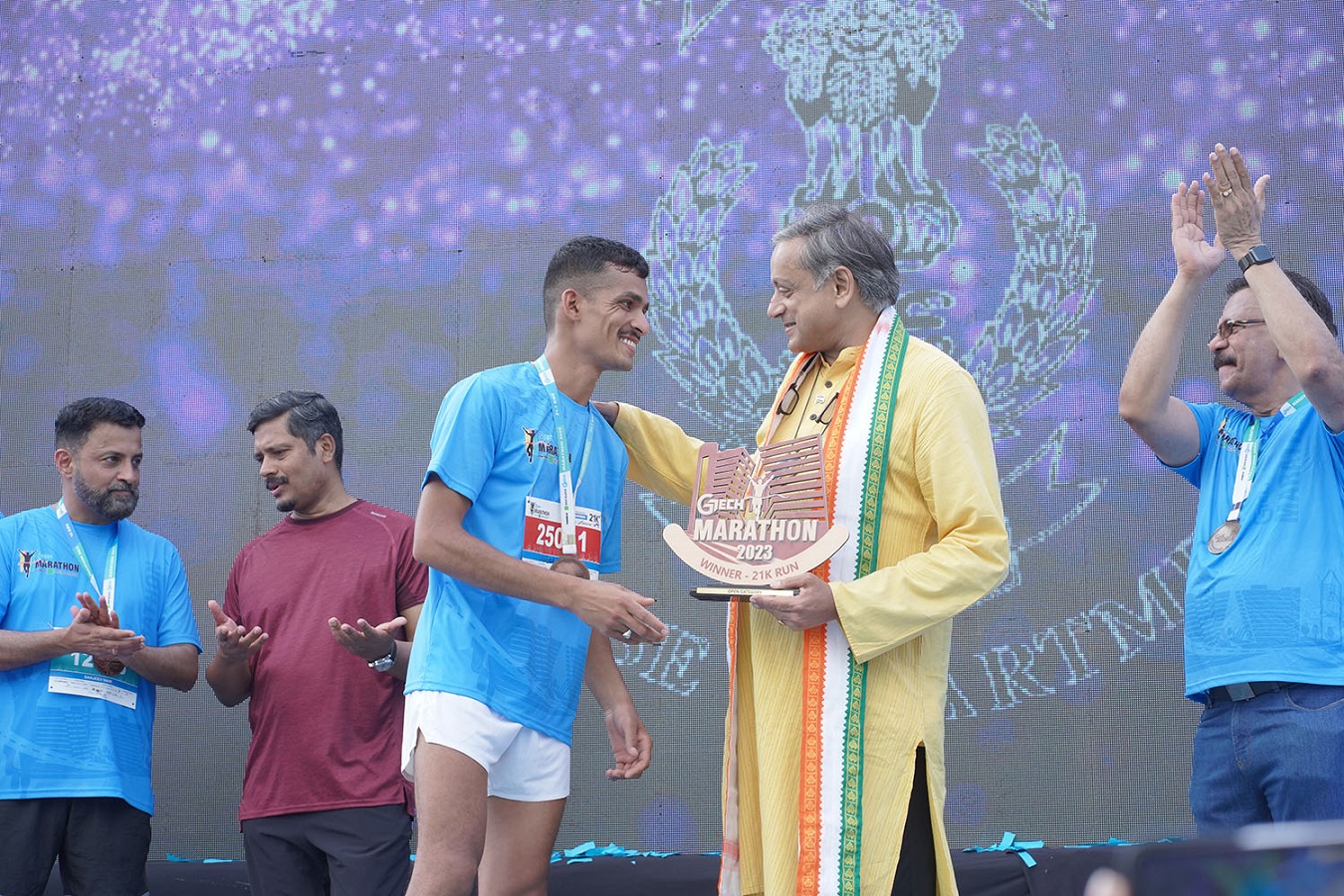 THIRUVANANTHAPURAM:
Bubbling with enthusiasm, over 3,000 people cutting across age, gender and professional barriers participated in the marathon organized in the state capital by GTECH, the industry body of IT companies in Kerala, imparting an added momentum to the "Drugs Free Kerala" campaign rolled out by the State Government.
The early morning marathon, flagged off by former Indian cricketer Tinu Yohannan, had three categories of 21kms, 10 kms and 3 kms run. The participants, some of whom were in their eighties, included nearly 1,000 women and 100 children.
The theme of the marathon was 'Drugs Free Kerala' and aims to create an increased public awareness about the prevalence of drugs abuse in the state, and its ill-effects, especially among young boys and girls.
People from all walks of life including over 100 from the defense services joined the run, the first edition of the annual event organized by GTECH to sensitize the society about emerging social causes.
The award ceremony at the end of the event was presided over by Dr Shashi Tharoor MP, Kadakampally Surendran MLA, Dr Rathan Kelkar, Secretary –IT, Mr Nagaraju Chakilam City Police Commissioner, film personality Basil Joseph, and VK Mathews, Chairman GTECH were also present.
Speaking on the occasion Dr Tharoor said "Over the past few years, there has been a four-fold increase in drug trafficking cases in Kerala, one of the highest in India. The most affected are the youth and it is absolutely important that the right message reaches them. I urge the IT community to make the 'No to Drugs' campaign into a mass public movement. Congratulations to GTECH for this important initiative and wish them all success".
VK Mathews, Founder and Executive Chairman of IBS Software and the Chairman of GTECH said "As a socially responsible organization, GTECH is committed to emerging social causes like drug abuse. The Marathon is a reflection of this commitment. We will have the second edition of the marathon on February 11th in Cochin with a different social message of great relevance to the society."
GTECH has as its members 300+ IT companies comprising of 80% of the IT professionals in the state.