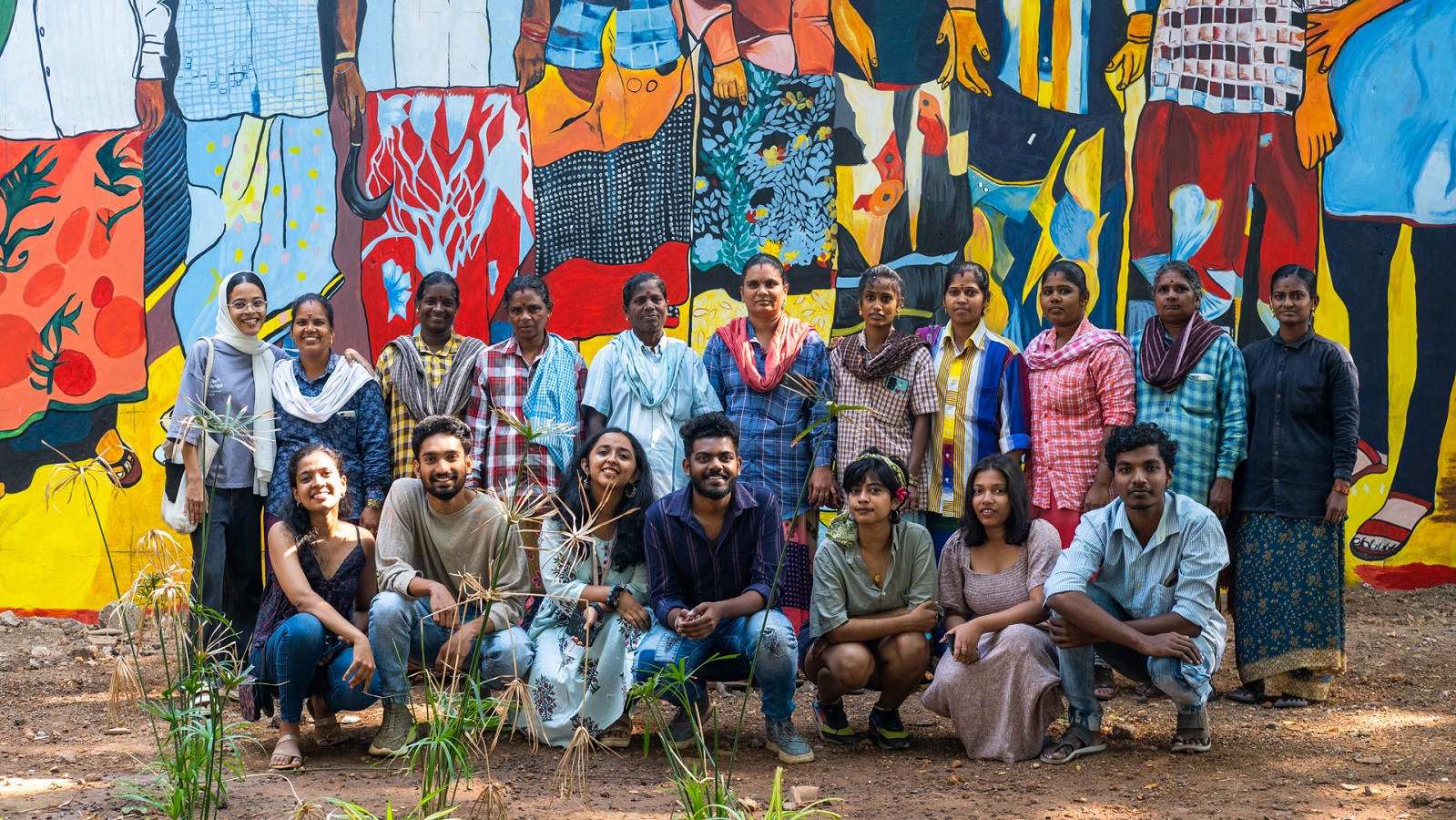 KOCHI:
The Kochi Muziris Biennale celebrated the International Women's day today by creating a huge graffiti titled 'Pakalinte vilakkin toonukal' (Lamp posts in Daylight) to pay tribute to the untiring women workers across the world.
The beautiful painting, drawn on the walls of Fort Kochi Cabral Yard venue using acrylic and emulsion, created awe among the visitors. Biennale Foundation President Bose Krishnamachari led the programme as staff celebrated the occasion by distributing sweets.
The women employees of Tamil origin at the Biennale were depicted in the graffiti work as the lamp posts in the daylight to go with the theme of this year's Women's day – 'DigitALL: Innovation and Technology for Gender Equality'.
The Tamil women staff were selected to represent all the hard-working women employees and hence no face was portrayed in the graffiti.
The picture depicts a group of Tamil women workers before a kolam, a traditional drawing made by Tamil women in their homes. Though they burn and shine, spreading light everywhere, they remain anonymous in daylight. The title 'Pakalinte vilakkin toonukal' declares that the fire inside them does not sway or die away as a normal fire would.
The women staff of Tamil origin and other staff members of the Biennale were present on the occasion as they were left in awe by the 20 feet long and 12 feet high artwork. 'Pakalinte vilakkin toonukal' was created by artists and volunteers Hanoona Melethil, V.N. Abina, Edward Rajan, Diya Malar, K.B. Abhijit, Anna Johnson, Aparna Vishakh and Siddharth S. Hari.
Bose Krishnamachari said that equality and justice is an integral part of the Biennale's true essence and this tribute to women to proclaim the boundlessness of art. This day provides an opportunity to gratefully remember the strength, warmth, dedication and love that women display in whatever they do. Bose added that a special appreciation must be given to the Tamil women workers who keep the Biennale venues and surroundings clean and also for the Biennale volunteers who created graffiti to honor them.
As part of Women's Day celebrations, a group of women workers from NGO Goonj Kochi visited the Biennale.