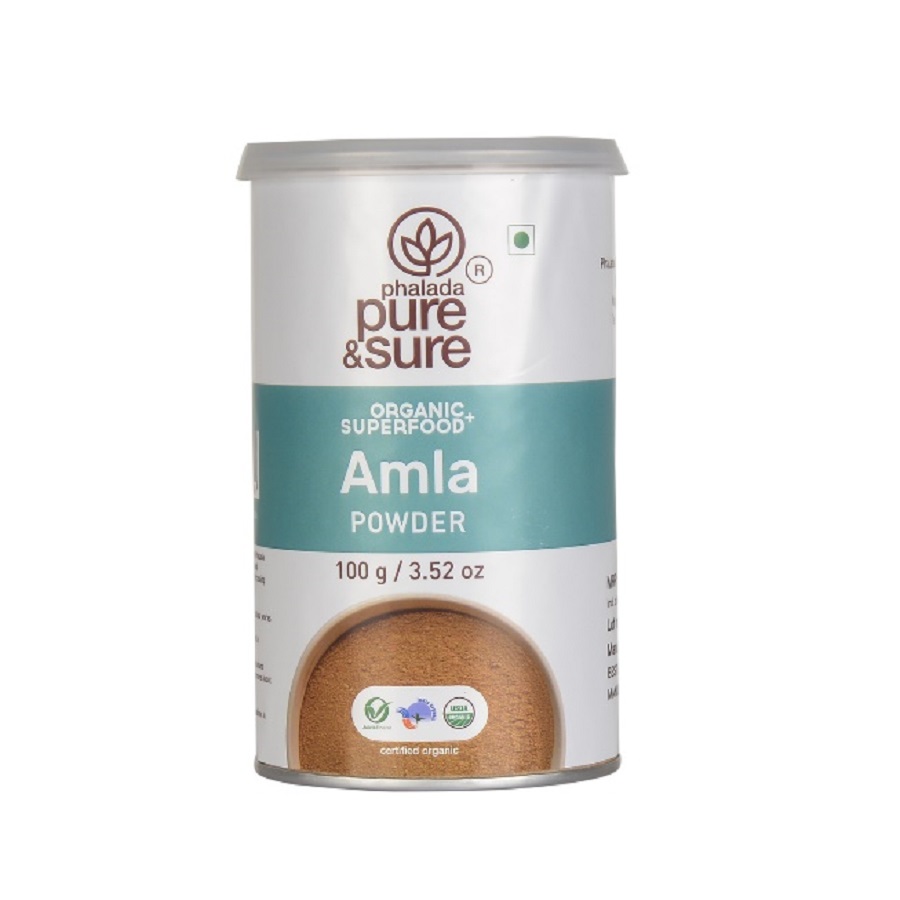 GOA:
Phalada Pure and Sure, India's leading organic foods brand, adds two new superfoods to their brand portfolio. The latest additions Organic Superfood Amla Powder and Organic Superfood Triphala Powder are clean and healthy products that can be consumed to help build immunity and combat infections. Given the current situation, it is imperative to keep high body immunity levels and consume products that are packed with rich nutrients.
The Phalada Pure and Sure Organic Superfood Amla Powder is made from dried Emblica officinalis fruit is rich in Vitamin C and Iron, making the blood vessels stronger and thicker. The rich antioxidants help in fighting free radicals in the body and reduce cell damage and the risk of cancer and inflammation. The high fibre content is an effective cure for constipation and has proven to be a great home remedy for hyperacidity and stomach ulcers. Consuming amla, in any form, daily slows down the aging process and leaves you with beautiful, healthy skin. A teaspoon of the Phalada Pure and Sure Organic Superfood Amla Powder mixed with the Phalada Pure and Sure Organic Honey acts as a great blood purifier. Regular consumption of the Organic Superfood Amla Powder can also help in increase hemoglobin naturally.
The Phalada Pure and Sure Organic Superfood Triphala Powder is a concoction of 3 medicinal plants – Amla (Emblica officinalis), Bibhitaki (Terminalia bellirica), and Haritaki (Terminalia chebula). It has been a staple in Ayurvedic medicine for the treatment of various problems with symptoms ranging from stomach ailments to dental cavities. As a polyherbal medicine, the Triphala Powder promotes longevity and prevents chronic diseases. The antioxidants from the dried fruits of all three plants
perform various protective functions for the body. The Organic Superfood Triphala Powder contains vitamin C, flavonoids, polyphenols, tannins and saponins, along with other potent plant compounds that works as an anti-inflammatory. Regular consumption also reduces the risk of heart disease, certain cancers, diabetes,
and premature aging.
Speaking on the new immunity boosters, Surya Shastry, Managing Director at Phalada Organic Consumer Products Pvt. Ltd. says, "Our mission at Phalada Pure and Sure is to make sure that our consumers have access to clean and healthy food options. Keeping the Covid-19 sentiment in mind, under our Superfoods category, we have added Organic Superfood Amla Powder and Organic Superfood Triphala Powder which have various healing components and are extremely important to build your immunity and fight diseases. Given the current atmosphere, it is necessary we eat healthy and battle against the imminent dangers that this virus poses. Since the raw materials are sourced directly from farmers and processed under our stringent quality measures, our products are packed with the natural nutrients with no added preservatives or artificial ingredients."
The products are available at Phalada Pure and Sure stores in Bengaluru. The brand also retails nationally and internationally through their e-commerce website https://pureandsure.in/ and organic stores.