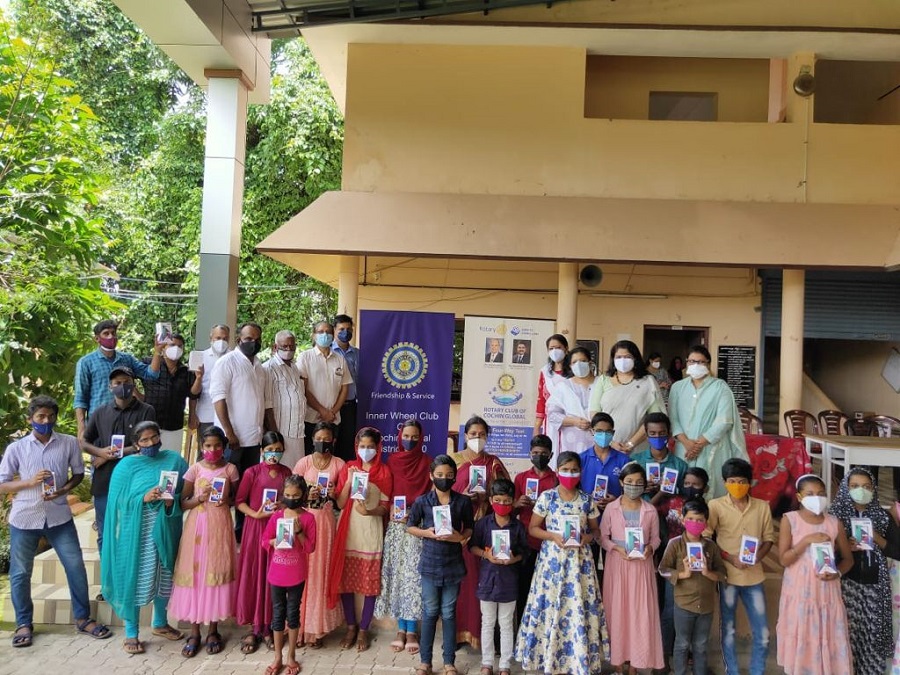 KOCHI:
Rotary Club of Cochin Global along with members of Inner Wheel Club of Cochin Global, who are also the spouses of Rotarians, handed over 33 smartphones to students of Government Higher Secondary School at Edathala near Aluva today, enabling them to attend online classes that have become the norm owing to Covid-19.
Anwar Sadath, MLA, distributed the gadgets mobilised by the Rotarians and their wive's who belong to Inner Wheel Club of Cochin Global, benefiting students who had remained incapacitated to study amid low financial capacity.
The event, which was held at the school on the World Literacy Day, comes as part of a string of measures the Rotary Club of Cochin Global has been carrying out to empower society, the organisation's president Asha Sunil said.
The Club wishes to empower 100 girl children who are from the poor farming background, through Central Government's Postal Saving Scheme- Sukanya Samridhi Yojana. The project though initiated by K S Chitra will be kick started on October 11th, on International Day of the Girl Child, revealed Smt Sunil, who is the first lady president of Rotary Club of Cochin Global and is also the Inner Wheel District chairman elect. The District 320 comprises of regions of Tamil Nadu and Kerala.
Those who attended today's function were Edathala Panchayat President Preeja Kunjumon, GHSS Head Mistress Jiji Mol, Rotary Assistant Governor J P Premlal, Secretary Kala Ravi Shankar and Treasurer Anitha Vinoo, Prasad Kartha, Inner Wheel Club Cochin Global Secretary Sajitha Sebastian and Joint Secretary Radhika Prasad, who is also the Rotary Sargent at Arms.