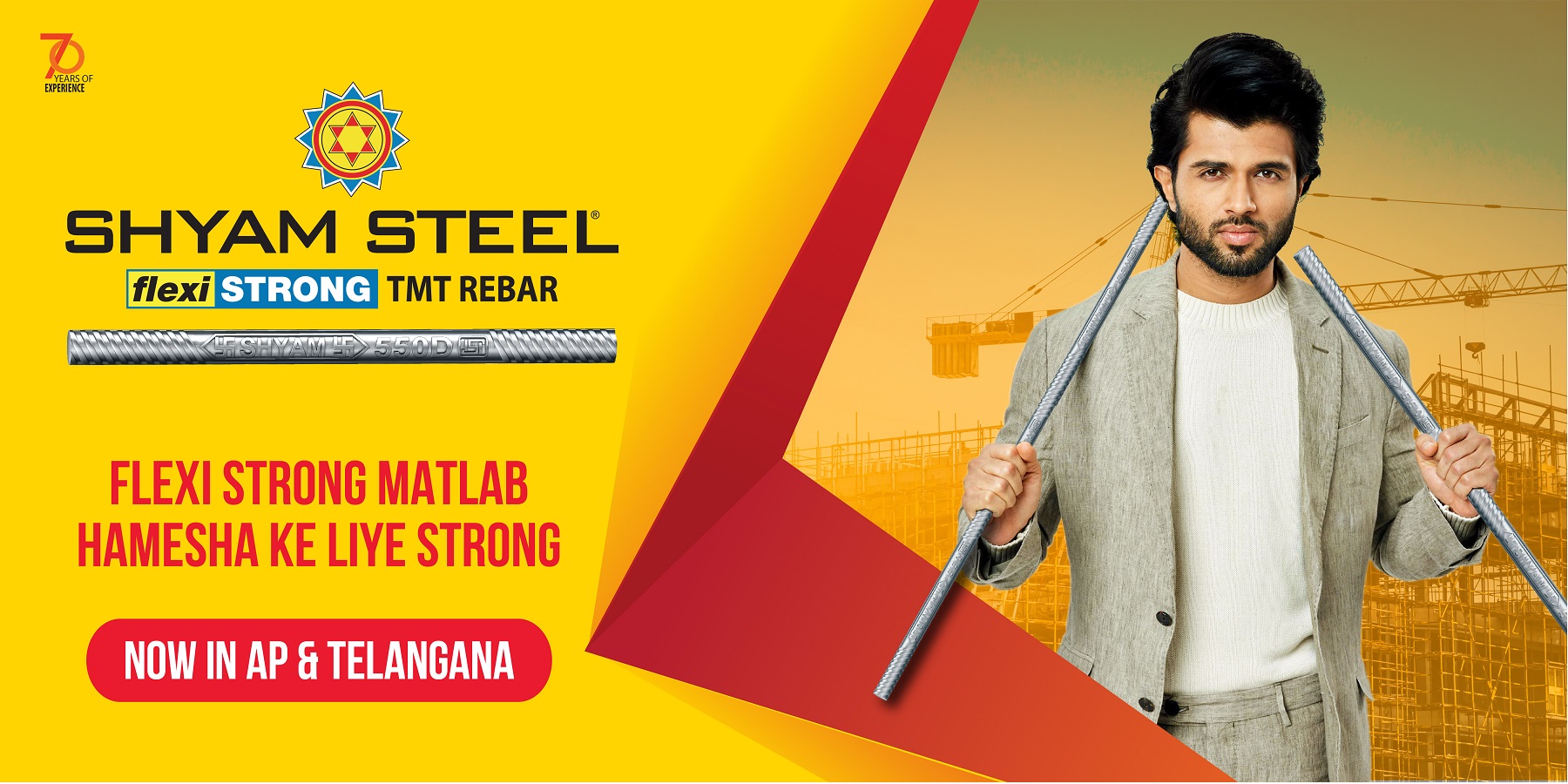 MUMBAI:
Shyam Steel, one of the leading producers and manufacturers of primary TMT Bars, launched its new digital campaign featuring celebrity superstar Vijay Deverakonda. Vijay has been signed as the face of the brand in the Andhra Pradesh and Telangana market to establish a local connect and have a better resonation with the brand. The campaign has been written and directed by Rensil D'silva and Partho Sarkar of Ignition films.
Through the campaign, Shyam Steel represents strength and flexibility with a touch of emotion built around relationships and underlies the message that a flexible approach can lead to the relationship getting stronger. The Andhra Pradesh and Telangana markets have a huge growth potential for steel sector and Shyam Steel aims to be one of the leaders in this sector across the region.
Speaking on the TVC campaign launch, Lalit Beriwala, Director, Shyam Steel said "The digital film reflects the brand's thought in connection with Vijay's exemplary hard work, charm and flexibility in leading the way towards a progressive and unified nation. The campaign will help the brand to build a stronger connection with its target audience in the southern market."
Rensil D'Silva, the writer and director of the campaign says: "In a world where relationships are becoming increasingly fragile, Shyam Steel's new campaign taps into a unique insight: Relations become stronger when they're flexible. This is the real strength of Shyam Steel TMT bars. And it is this insight that is the baseline of this campaign."
Vijay Deverakonda is a heartthrob in the Indian Film Industry and has a huge fan following in the southern market. His immense talent and humble attitude has increased his fan base and helped the audience resonate with his personality. The campaign will be promoted heavily through television, all digital platforms, social media, cinema and other outdoor platforms targeting the key market areas for Shyam Steel.
Shyam Steel with an annual turnover of Rs 5000 crores is now on a steady expansion mode. The Company, an integral partner of building new India, is committed to meaningfully contribute to the realisation of the target of 300 million tonnes steel production by 2030-31. The brand is associated with Virat Kohli and Anushka Sharma as the face of the company in addition to having Sonu Sood as its Build India Brand Ambassadors. The company has also recently launched the Shyam Steel Apna Ghar app to provide consumers with hassle-free purchase of TMT bars and to boost the sales of their dealer distributor network.