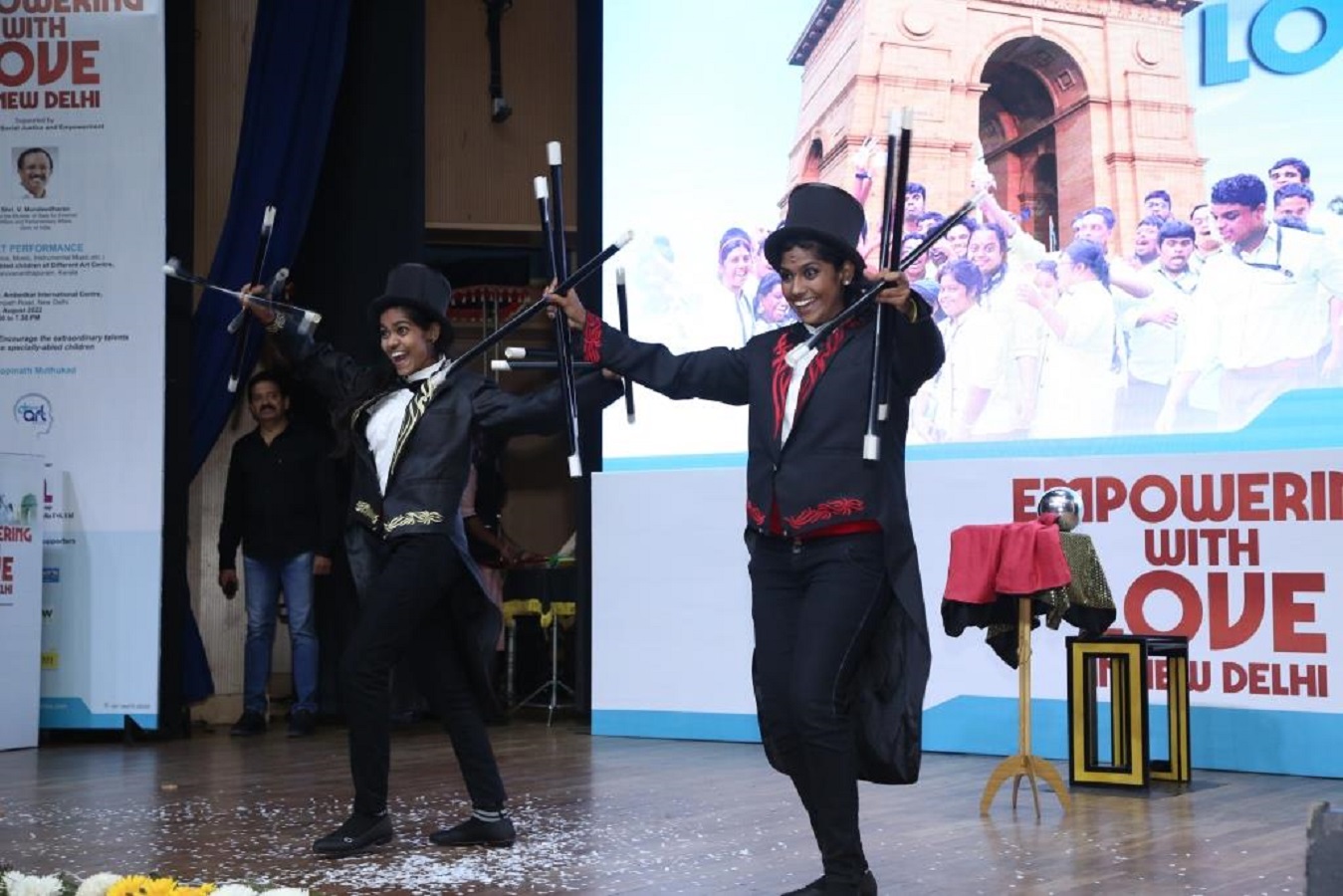 NEW DELHI:
Renowned magician Gopinath Muthukad and 23 specially-abled children of his "Different Art Centre" (DAC) in Kerala were accorded a warm reception by President Droupadi Murmu at the resplendent Rashtrapati Bhavan today.
Former Union Minister Alphons Kannamthanam, who accompanied the team that included former Supreme Court Judge Kurian Joseph anda few teachers and parents, explained to the President the activities of DAC which Muthukad founded four years ago.
Muthukad articulated the fruitful outcome of the art-based training in the Intelligence Quotient (IQ) and Emotional Quotient (EQ) levels of these kids.
Murmu appreciated the dedication and commitment with which Muthukad has been spearheading the institution after foregoing his shining career in magic.
"We cannot actually see God…The smile I am seeing on the face of the children is the result of Gopinath's hard work and sincere efforts. You are next to God. I see God in a person like you," she told the magician, who has performed over 8,000 shows in 54 countries.
The President lauded Muthukad for renouncing his lifelong passion for magic and his wealth for these children. "You will reap in the next birth, the benefits of your good deeds in this birth."
Murmu also said she would see what she could do for the cause espoused by Muthukad. "I will be calling these children for a performance in Rashtrapati Bhavan sometime in future."
At the beginning of the meeting Muthukad performed a short magic item of national integration. The President wanted to see some performance of the children. In response to her wish, one child sang a few lines from a song.
Murmu said the country needed people like Muthukad to send out a message to the society that the specially abled children should be brought to the mainstream.
Muthukad is now using his magic as a therapy for the differently abled with miraculous results. The DAC, which he set up at his magic-themed park 'Magic Planet' in Thiruvananthapuram, focuses on teaching magic and various other art forms to the differently-abled, besides helping them in their daily activities. Currently, there are 200 special children undergoing training at DAC.
"I have been amazed at how magic has helped differently-abled kids. The change in their behaviour can't be translated into words. I intend to invest my whole time into working towards their wellbeing and development," he said.
The centre also helps in enhancing the employability of these children and functions as a training centre during the day and as an entertainment centre in the evening which is entirely managed by these differently abled youth– another of Muthukad's miracles.
"I intend to invest my whole time into working towards their wellbeing and development. My long-term agenda is to set up a mega university for the differently-abled," Mr Muthukad said."It is the music and magic therapy that is helping my children. Today I am the father of 200 children," says Muthukad.
Last evening, the DAC team treated Delhiites to a riveting hour-long magical and cultural show at the Dr Ambedkar International Centre at Janpath in the presence of Union Minister of State for External Affairs V Muraleedharan, Nobel laureate Kailash Satyarthi, former minister K. J. Alphons, Admiral R Hari Kumar, former Supreme Court judge Kurian Joseph and Anjali Bhawra, Secretary, Department of Empowerment of Persons with Disabilities. More than 10 Members of Parliament attended the event, organised with the support of Union Ministry of Social Justice & Empowerment.
Speaking on the occasion, Satyarthi pointed out that Muthukad had proved once again that "nothing is impossible, and that India is a mother of a million solutions. He has created a culture of dignity and respect for these differently abled children. He has empowered them. Sympathy and empathy are not useful if there is no compassion. Compassion is Gopinath's spark to illuminate the world."
The programme started with Muthukad shredding a newspaper with his bare hands and had them back intact, scratch-free, all just under a second. He then took a wristwatch at random from a member of the audience and later pulled it out from a locked-up box much to the astonishment of the owner.
But the evening of miracles received a poignant touch as Muthukad, who has performed over 8,000 shows in 54 countries,narrated a life-changing experience describing it as 'something beyond magic'.A couple of years back at a programme Kasaragod, he noticed a mother ignoring her hungry child wailing for food. Curious, he asked the reason. The distraught mother then explained that the food had to be chewed and masticated by her before it could be fed as the child suffered from a kind of palsy that makes chewing difficult. "How can I chew and transfer the food to the child out here in the public?" she asked.
A shocked and shaken Muthukad then decided to bid adieu to his first love magic, and charted a blueprint to help the needy children. He met Mrs K. K. Shailaja, Kerala's former Health Minister, and launched the Project MPower. He termed it the "noblest moment of my life" and began training autistic children with this "Empowerment of Love".
A scientific study carried out on these very differently abled children by the Institute for Communicative and Cognitive Neurosciences (ICCONS) revealed that 18% showed improvement with a marked reduction in behavioural issues. Looking after 23 such differently abled children, Muthukad is ready to replicate this miracle and magic across India and the world. Many of them have already given several error free stage performances and an astounding 3,500 shows in all!
Four years back teenager Vishnu had serious behavioural issues because of severe cerebral palsy, but he performed difficult magical moves, including 'Levitation' where he made a girl stand on thin air after removing the stool she was using. Another young boy, Amal Kumar, who could not even speak sometime back, can now sing more than 100 songs with ease. Likewise, two teenage girls who are hearing and speech impaired gave a graceful and scintillating performance of a dance drama.
"It is the musical and magic therapy that is helping my children, "Muthukad fondly quips. "I am ready to replicate this miracle and magic across India and the world."