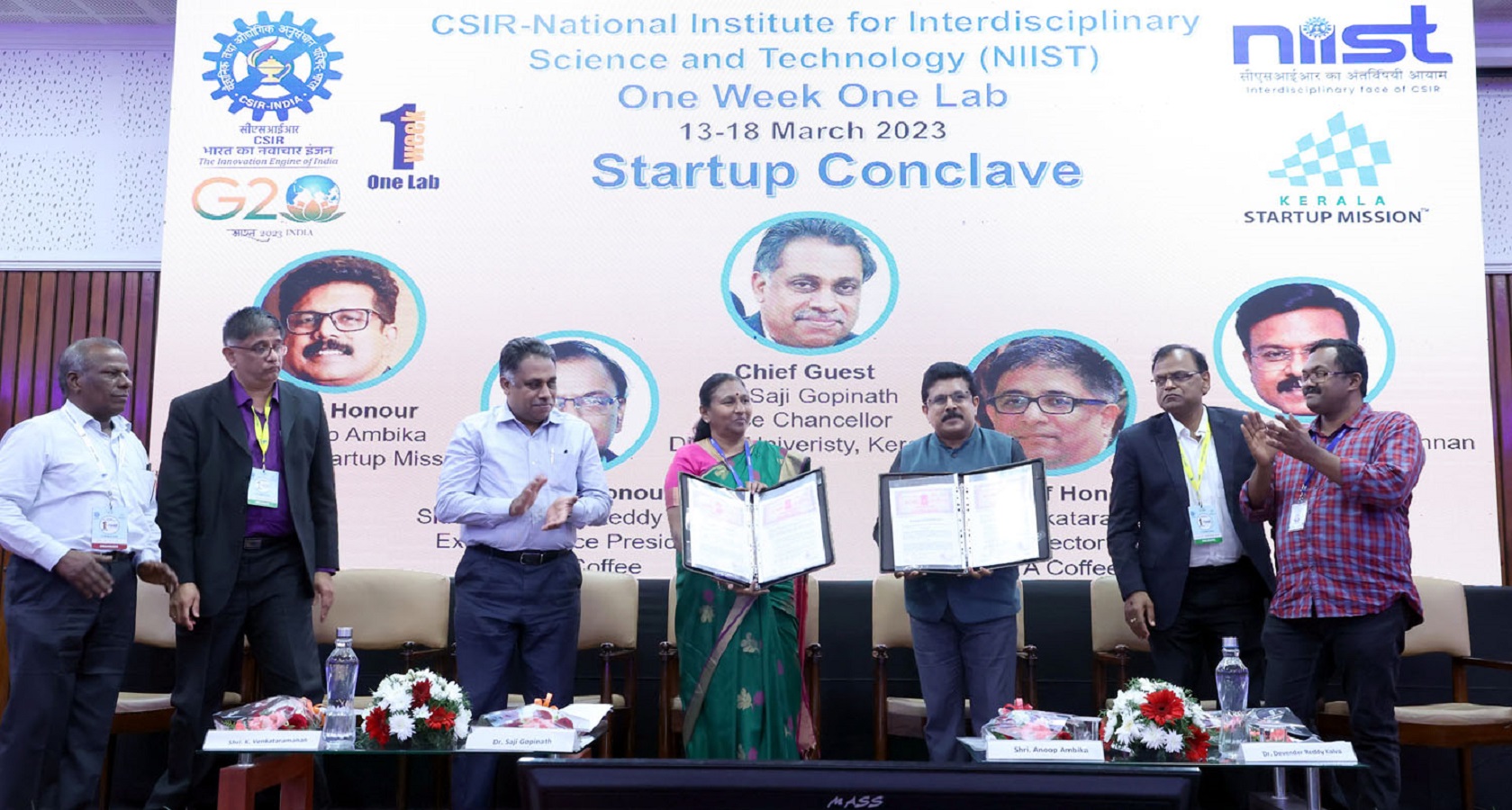 THIRUVANANTHAPURAM:
Identifying and commodifying technologies that have the potential to grow into high-quality startups will bolster Kerala's startup ecosystem, experts said at a 'Startup Conclave', organised by CSIR-NIIST in association with Kerala Startup Mission (KSUM).
"Though India is the third largest startup ecosystem in the world with respect to the number of startups, the country lags behind in creating impactful startups. So, it is significant to identify and commodify technologies that have high potential to grow into a non-linear enterprise," said Dr Saji Gopinath, Vice Chancellor, Digital University Kerala, while inaugurating the conclave, organised as part of 'One Week One Lab (OWOL)' programme that began here on Monday.
Dr Saji Gopinath also stressed the importance of technology transfer. Startups can procure technology from laboratories similar to CSIR's. "As 80 per cent of these technologies will fail in markets when converted to potential products, the State should promote high-quality startups capable of commodifying technology and producing high-quality products," he added.
KSUM CEO Anoop Ambika, while making a strong case for developing an exponentially growing business, said adaptability and innovation play a key role in transferring technology to a potential product.
"Adaptability helps in changing a product through some sort of technology to create an exponentially growing business and, in a larger ecosystem, innovation has a high value," he noted.
Also, by urging researchers to translate their research into a potential product, he said researchers can either join with an entrepreneur for developing a company or else a researcher himself can become an entrepreneur for translating his research into a product.
Ambika also indicated to provide financial and infrastructural support to CSIR-NIIST for implementing new projects.
Dr Devendra Reddy Kalva, Executive Vice President, TATA Coffee, said having a startup mindset for innovation is essential for established companies to grow in the world market. This is because established firms will be challenged by the mindset of startups.
Venkataramanan, Executive Director (Finance), TATA Coffee, said startups in Kerala should be able to use the research products of NIIST scientists effectively. He also stressed the importance of having an ecosystem where startups can be leveraged to bring out innovations.
As part of further associating with KSUM for scientific entrepreneurship and translation of innovative and impactful technologies, an MoU was exchanged between CSIR-NIIST and KSUM during the occasion. The MoU establishes and maintains the scientific research relation between both institutes through collaborative initiatives.
Ambika chaired the session on 'Opportunities and financial support for startups', which witnessed a line-up of eminent panellists, including Dr Ajith Prabhu V of KSCSTE; Sarath V Raj of KIED; C N Bhojaraj, Secretary, Lagu Udyog Bharti, Karnataka; and Dr Nisha Bharati, Head, Department of Agri-Business Management, Symbiosis Institute of International Business, Pune.
Dr Sujata Devi, CSIR-NIIST chaired the session on Technology and R&D requirements of startups in which Renji Chacko, of CDAC (Centre for Development of Advanced Computing); Ramachandran, former CEO, Plant Lipids; Dr Preethi M, of CEO TBIC NIIT Kozhikode; Prabodh Halde, of MSME Federation Mumbai; and Dr Manatesh Chakraborty, ITC, also participated.
As many as 130 representatives from across the country attended the conclave which provided an opportunity for the startups to come together and deliberate on R&D support from research institutes, and financial support from funding agencies.
Also, an exhibition of technologies and products of CSIR-NIIST was held on the sidelines of the event.
Dr S Savithri, Chief Scientist, CSIR-NIIST, presided over the conclave, and R S Praveen Raj, Principal Scientist, CSIR-NIIST proposed a vote of thanks.
In a first of its kind initiative, OWOL seeks to showcase the achievements of major research projects of each of the 37 laboratories of CSIR and their application for social and economic development touching diverse domains.
As part of OWOL, CSIR-National Institute for Interdisciplinary Science and Technology (CSIR-NIIST), a constituent laboratory of Council of Scientific and Industrial Research (CSIR), Ministry of Science and Technology, Govt. of India, is organising a series of high-profile seminars featuring top scientists, technocrats and administrators on its campus at Pappanamcode in the city from March 13-18.