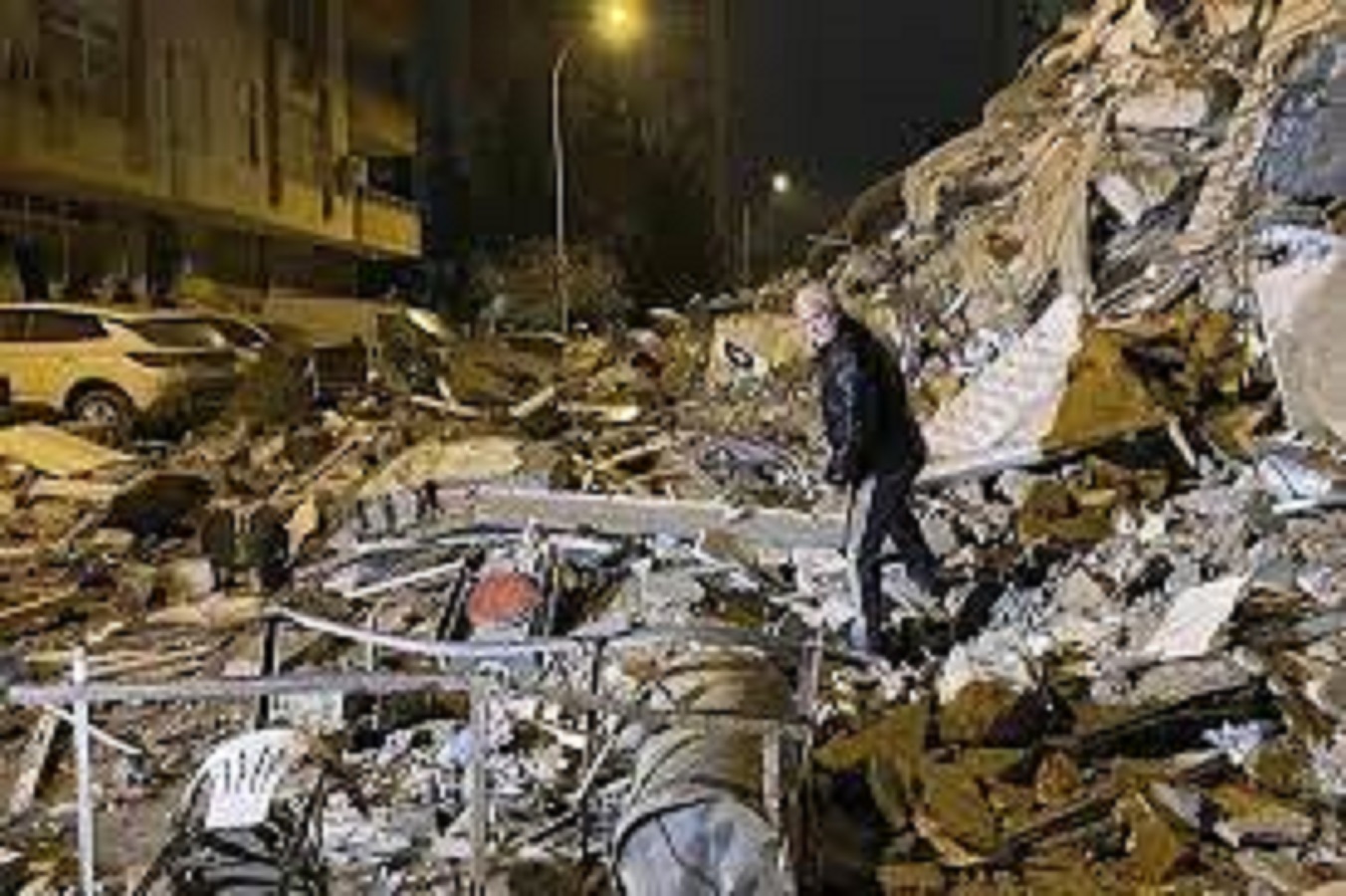 ANKARA/DAMASCUS:
At least 568 people have been killed and thousands injured after a powerful 7.8 magnitude earthquake hit southern Turkey and northern Syria early on Monday, authorities said.
The huge quake toppled buildings, triggering a frantic search for survivors.
The epicentre was near the Turkish city of Gaziantep, a major Turkish provincial capital of more than two million people.
Turkey's Vice President Fuat Oktay told a news conference that the country's death toll had risen to 284, with at least 2,323 people injured across 10 provinces affected by the quake and 1,700 buildings collapsed.
A Syrian health official said more than 230 people had been killed and some 600 injured there, most in the provinces of Hama, Aleppo and Latakia, where numerous buildings tumbled down. The death toll was expected to rise further.
In the Turkish city of Adana, one resident said three buildings near his home collapsed.
"I don't have the strength anymore," one survivor could be heard calling out from beneath the rubble, as rescue workers tried to reach him, said the resident, journalism student Muhammet Fatih Yavus.
Further east in Diyarbakir, cranes and rescue teams rushed people on stretchers out of a mountain of pancaked concrete floors that was once an apartment building.
People search through the wreckage of a collapsed building in Azmarin town, in Idlib province, northern Syria / AP
On the Syrian side of the border, the quake smashed opposition-held regions that are packed with some four million people displaced from other parts of Syria by the country's long civil war.
Many of them live in decrepit conditions with little health care, with Russian-backed Syrian forces surrounding the area and sometimes carrying out airstrikes.
"We fear that the deaths are in the hundreds," Muheeb Qaddour, a doctor, said by phone from the town of Atmeh, referring to the entire rebel-held area.
Raed Salah, the head of the White Helmets, the emergency organization in opposition areas, said whole neighbourhoods were collapsed in some areas.
The quake, felt as far away as Cairo, was centered about 60 miles from the Syrian border, just north of the city of Gaziantep. The region has been shaped by more than a decade of war in Syria.
At least 20 aftershocks followed, some hours later during daylight, the strongest measuring 6.6, Turkish authorities said.
Turkish President Recep Tayyip Erdogan said on Twitter that "search and rescue teams were immediately dispatched" to the areas hit by the quake.
"We hope that we will get through this disaster together as soon as possible and with the least damage," he wrote.
in Turkey, people trying to leave the quake-stricken regions caused traffic jams, hampering efforts of emergency teams trying to reach the affected areas. Authorities urged residents not to take to the roads. Mosques around the region were being opened up as a shelter for people unable to return to damaged homes amid temperatures that hovered around freezing.
In Diyarbakir, rescue teams called for silence as they tried to listen for survivors under the wreckage of an 11-story building. Rescue workers pulled out one man, carrying him on a stretcher through a dense crowd of hundreds of people anxiously watching the rescue efforts. A gray-haired woman wailed before being escorted away by a man, while a rescue worker wearing a white helmet tried to calm a crying girl, who was also being cuddled by two friends.
In northwest Syria, the opposition's Syrian Civil Defense described the situation in the rebel-held region as "disastrous" adding that entire buildings have collapsed and people are trapped under the rubble.
The civil defence urged people to evacuate buildings to gather in open areas. Emergency rooms were full of injured, said Amjad Rass, president of the Syrian American Medical Society.
The quake jolted residents in Lebanon from beds, shaking buildings for about 40 seconds. Many residents of Beirut left their homes and took to the streets or drove in their cars away from buildings.
The White House has issued a statement saying that US president Joe Biden has instructed the federal government to prepare for assistance.
National security advisor Jake Sullivan said: "The US is profoundly concerned by the reports of today's destructive earthquake in Turkey and Syria.
"We stand ready to provide any and all needed assistance. President Biden has directed USAID and other federal government partners to assess US response options to help those most affected. We will continue to closely monitor the situation in coordination with the government of Turkey."
Swedish prime minister Ulf Kristersson offered his support to both Turkey and Syria.
He tweeted: "Saddened about the loss of lives in Turkey and Syria following the major earthquake. Our thoughts go to the victims and their loved ones. I have sent my deepest condolences to Tayyip Erdogan. As partner of Turkey and holder of the EU presidency, we stand ready to offer our support."
British foreign secretary James Cleverly also said the UK stands ready to help, tweeting: "Tragic loss of life in the Turkey and Syria earthquake. Our condolences go to the families of those who died and our thoughts are with the survivors. The UK stands ready to provide assistance."
The earthquake came as the Middle East is experiencing a snowstorm that is expected to continue until Thursday.
Turkey sits on top of major fault lines and is frequently shaken by earthquakes.
Some 18,000 were killed in powerful earthquakes that hit northwest Turkey in 1999.