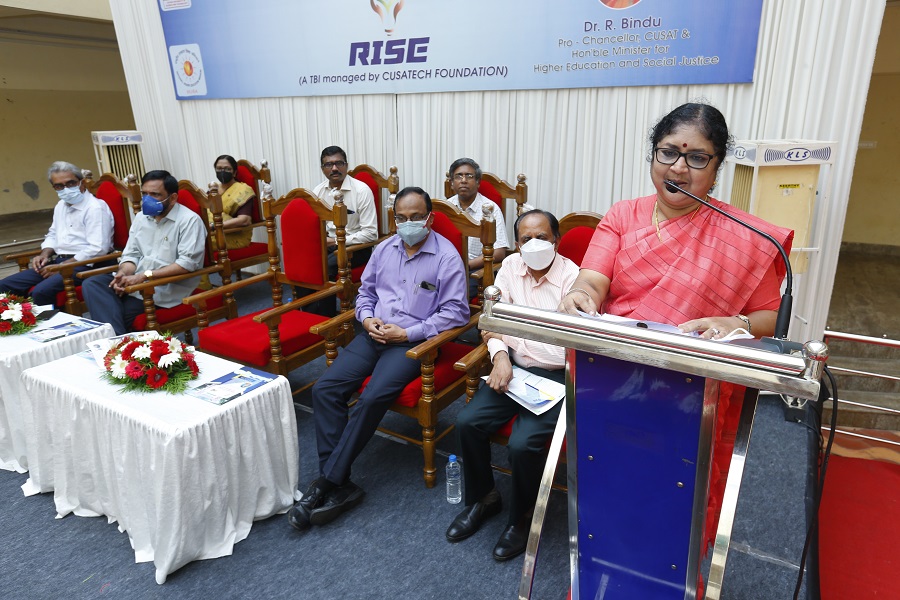 KOCHI:
"We need to think deeply about how we can utilize the products produced by the Universities to improve the quality of life", said Minister for Higher Education and Social Justice Dr. R. Bindu.
She was speaking at the inauguration of the RUSA Innovation and Startup Ecosystem (RICE), a technology business incubator set up at the Cochin University of Science and Technology with financial support from RUSA for hardware and biotech startups. The Minister opined that, 'we should strive to create innovations that can make creative changes based on social justice that transcend commercial interests and bring it to a practical level'.
The government will help to build a campus that create opportunities for students to develop their ideas, she added. Vice Chancellor Dr. K N Madhusoodanan presided and Dr. P G Sankaran, Pro- Vice Chancellor, C J George, Member of Syndicate, CUSAT, Dr. Meera. V., Registrar, Dinesh P Thampi, Vice President, TCS and Member, Advisory Board, CUSAT-TBI, Dr. N Manoj, Coordinator, RUSA and Professor in charge, CUSATECH Foundation and Dr. Sam Thomas, Coordinator, CUSAT-TBI spoke.